It will be wise to always have smoked trout available. So, in this guide, I will be giving the best-smoked trout recipes.
Smoked trout will embellish the dishes in no time for expected guests and add its unique smoky, finger-licking flavor to the otherwise plain salads and omelets.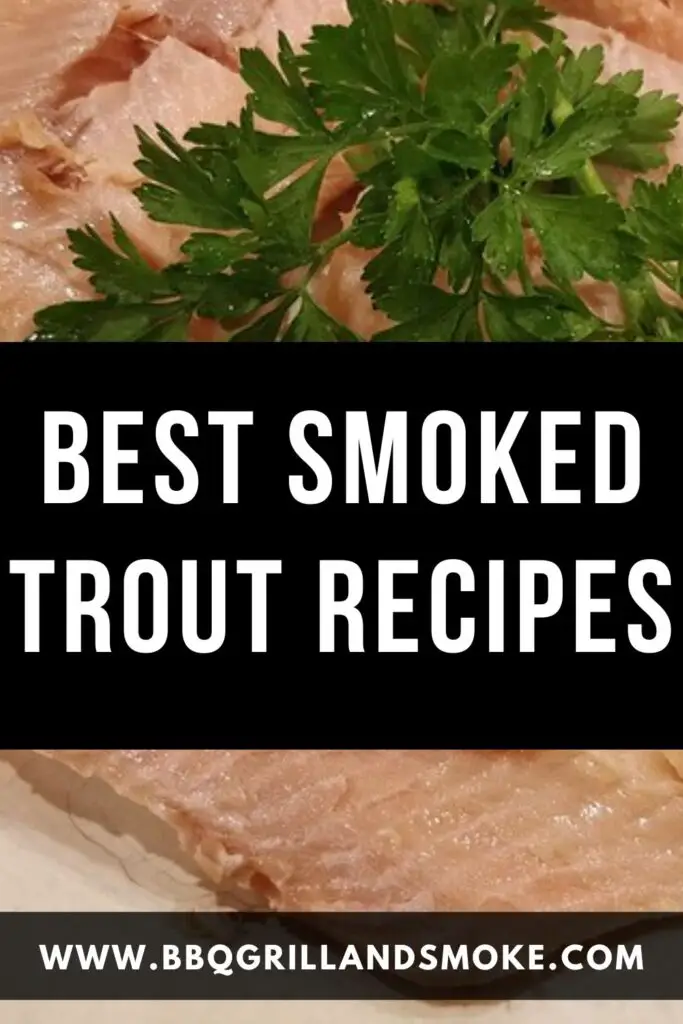 Since you can also make it at home, I suggest you avoid paying extra for smoked fish at the store.
This smoked trout is mouth-watering crumbled over salads. You can also substitute it for clams in your next chowder or make it into a pâté.
Some of my favorite ways to use this exquisite smokey fish include dips, salads, pasta, potato cakes, pate, and so on. It also has how you make yours.
Trouts
Trout is an exquisitely flavored fish ideal for summer salads and healthy suppers, thanks to the fact that it is filled with omega-3.
Get creative with herb-filled fishcakes, a crispy filo tart, classic kedgeree, and so on.
You can start cooking trout with my selection of amazing smoked trout recipes today.
I will be giving you some of the best-smoked trout recipes and also new ways and techniques to go about cooking trout fillets, whether it's pan-fried, grilled, or steamed trout that you love.
Best Trout Recipes
Homemade Smoked Ocean Trout
There's something extremely unique about a feast of smoked ocean trout. It adds a special flavor to several platters.
You can make this at home, and I suggest you serve it warm or chilled with bread and salad, or fresh dill and sour cream.
Hot Smoked Trout Salad
You can never go wrong with hot smoked trout, as it is exactly as it sounds. It has been cured with hot smoke.
This is a technique used to preserve cheese, meat, fish, and nuts and at the same time provide a distinct wood-smoked flavor.
Smoked Trout Potato Cakes
These savory smoked trout fish cakes are mouth-watering and served with a massive chunk of lime to squeeze all over them.
They will make an excellent lunch or even a light dinner, particularly when they're served along with bread and salad.
Thai Trout Salad
For this simple recipe, just mix flaked, hot-smoked ocean trout with mint, coriander, and Thai basil leaves, a handful of salad leaves, sliced cucumber, and halved cherry tomatoes.
With fish sauce, lime juice, garlic, palm sugar, and chili, you can make a classic nuoc cham.
Toss through the salad and serve in gem lettuce cups. Make sure it is sprayed with fried shallots.
Creamed Smoked Trout and Horseradish Pots
This creamed smoked trout on toasted brioche is a simple breakfast. It is perfect when you have guests staying over and cereal won't do the job.
It is a great option to be served on finger sandwiches with thinly sliced cucumber.
Jasmine Tea-Smoked Rainbow Trout
You can make this by mixing ½ cup of jasmine tea leaves, ½ cup of long-grain rice, and 2 tablespoons of brown sugar.
Then, line the base of a wok with a double layer of foil. After that, fill it with the tea mixture.
That being done, you can proceed to place 2 lightly salted fresh rainbow trout in a steamer, then place them in the wok, and cover.
Afterward, smoke for 20 minutes or until it is cooked through.
Grilled Trout with Savory Marinade
A perfect combination is created by trout and summer savor. These two are bland, so they mix exquisitely, neither outshining the other.
You can serve this platter with equally mellow vegetables, like grilled or roasted potatoes and buttered green beans.
Smoked Trout Chowder
This best-smoked trout chowder is made with smoked fish that is already cooked and extremely savory. It is the perfect addition to dishes when it is necessary to move quickly.
Trout is used for this recipe, but you can substitute it with another flaky fish like whitefish or haddock, as they would do the job.
Smoked Trout Salad with Salsa Verde Dressing
Salsa Verde flatters fish or meat exquisitely. And it also provides this salad with an extremely powerful flavor.
Smoked trout is a mouth-watering and convenient ingredient that is always at hand.
However, make sure that during the preparation you get rid of any bones.
Petit Omelet with Trout, Peas, and Crème Fraîche
To make this, you are to melt butter in a small non-stick frying pan, then proceed to pour in two lightly seasoned, beaten eggs.
After that, you are to cook over low heat until the eggs are just cooked on the bottom. However, make sure that they are still moist in the center.
You are to scatter with peeled, hot-smoked rainbow trout, chunks of crème fraiche, cooked peas, and coarsely chopped mint.
To Salt or Brine Smoked Trout
This decision is determined primarily by the number of fish you are smoking and what kind of containers you have.
I suggest you dry salt your fish if you are only smoking a few of them. However, if it is the opposite, I suggest you make a salt-sugar brine and soak the fish.
How Long To Salt or Brine?
Well, in general, I will say around 1 to 2 hours for dry salting. But, for brining it, you can spend a lot of time, as this will form a more cured, salty, and firm product the longer you leave it.
After that, you need a cool place to dry the fish. You can place them on a rack in the fridge and leave them there overnight.
This will help form a sticky, tacky pellicle on the exterior of the fish, which in turn helps the smoke stick to the trout. So, I strongly suggest that you don't skip this step, as it is quite important.
Final Thoughts on Smoked Trout
For how long are you going to smoke your trout? Well, generally, at least an hour.
But the time range for me is between 1 hour and 30 minutes and 2 hours.
This is the timeframe I consider to be perfect. However, ensure that you do not smoke it for more than 4 hours.
And, you can eat your smoked trout warm immediately out of the smoker, or you can eat or serve it chilled.
If you have leftovers, they can last for more than a week in the fridge, and they also freeze nicely.
However, make sure your stuff paper towels in the cavity of the fish if you are freezing some.
This will help block out the air, which can cause the freezer to burn over time.
Well, it is time for you to cook the trout you want, as you now have the best-smoked trout recipes, so you can choose the one you love or prefer.