This is a Korean BBQ guide that has everything on KBBQ, including what it is, how to set the table, how to make it, what to buy, and so on. Stay with me as I inform you of all you need to know about BBQ in Korea.
When it comes to grilling meat and vegetables at the table, Korean BBQ is a special experience.
It is ideal for fish eaters, vegetarians, and meat lovers, all thanks to its versatility. This is a meal you can even have indoors.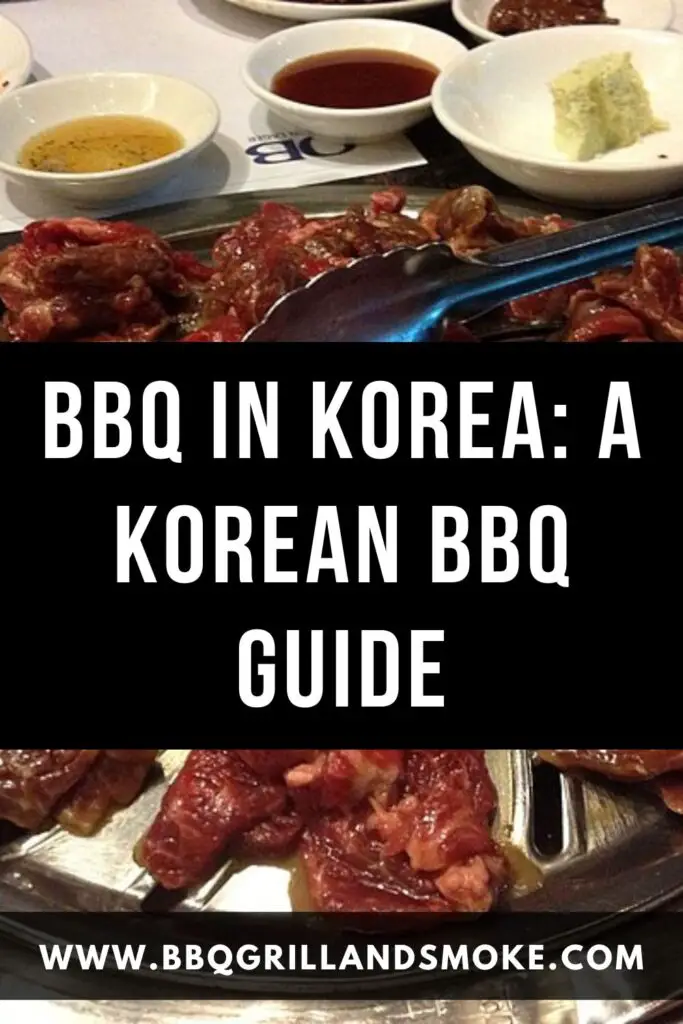 Well, that being said, I'm sure you'd agree that it is extremely important to know how to make Korean BBQ.
And, not just that, make it the Korean way, as this is a way to guarantee the best experience.
This is why this guide on BBQ in Korea is here for you; this is a conclusive guide that will walk you through everything you need to know about KBBQ.
First, you need to learn what meats to grill, what to order, and the etiquette at Korean BBQ restaurants.
Then, with the best recipe for Korean BBQ that will be given in this guide, you will be able to grill your delicious KBBQ at home.
What is Korean BBQ?
Now, using this guide on Korean BBQ, let's look at what Korean barbecue is and why you should even try it at home if that's what you are up to.
Given the fact that Korean BBQ is a shared experience, I consider it to be one of my favorite ways of sharing a meal with friends.
This way, you share dishes, stories, drinks, and, most importantly, cook together.
You would also have satisfied any grilled meat cravings that you might have had and must have had a great time at the end of the night.
This is basically you having a BBQ party at home. Since the Goguryeo era (37 B.C.–668 A.D.), Korean barbecue has been a part of Korean history.
This was when skewers were invented, which we now refer to as bulgogi.
Throughout Korea's history, more dishes such as banchan were added through Buddhist influence.
However, KBBQ contains several parts these days due to the fact that there are multiple choices and a lot of mouthwatering things to eat.
With that being said, below is a breakdown of what normally makes up a full Korean barbecue meal:
Meats and other proteins
Wrap options
Banchan (side dishes)
Vegetables and salad
Drink options
Dipping sauces
A Short History of Korean BBQ
I consider making Korean barbecue in a restaurant or at home to be a hearty experience, and for the best experience, I strongly suggest it is done with a group of people instead of individually.
Most of the time, you can spot people playing drinking games until the break of dawn in Korea.
This is exactly the reason why eating Korean barbecue is well-known in countries that use drinking as a way to bond with others, such as the US or the Philippines.
Typical BBQ in Korea has been around for thousands of years, although it appears to be like an indoor twist to a favorite Western outdoor gathering.
However, the modern K-BBQ can be dated back to the cooking practices of the Maek Tribe of the Goryeo era (37 BC–668 AD).
As previously mentioned, this was when they would pierce the meat and roast it over a fire.
This in turn becomes maekjeok, which is a dish that was believed to be what led to the well-known Korean bulgogi.
Or, the thin slices of tasty beef that are normally grilled but can also be seared.
Although any marinated cut can work, to make this delicious dish, rib-eye, brisket beef, or sirloin are the most traditional.
Other beef cuts, such as the ribs, were not discarded but served raw and cooked individually on tabletop grills as galbi instead.
Other forms of gogi gui (meat grilled), such as the famous samgyeopsal (pork belly) and tangy dak galbi (diced chicken bits), came out of there.
There are a lot of side dishes referred to as ban chan available that are determined by the season but normally include gyeran jjum (steamed egg in a hot pot), kimchi, and oyi namul (stir-fried cucumbers).
On the other hand, Korean BBQ sauces are doengjang (soybean paste), sesame oil, ganjang, and gochujang (red pepper paste) with different amounts of pepper, salt, and garlic.
However, they will be decided by the preferences of the group. Another excellent dipping sauce for Korean barbecue is gochujang aioli.
Wrapping meat with leafy veggies into tacos called ssam is something Koreans love.
Fortunately, most restaurants offer dried seaweed, lettuce, or napa cabbage for this. However, as of late, people are particularly in love with perilla leaf, thanks to its minty licorice taste that pairs well with meat.
How to Make Korean BBQ
A Few Hours Before You Want To Eat
You are to first marinate the meats, prep the vegetables, buy the banchan, and make the sauces a few hours before you want to eat.
And you can also do this the day before. If you need, you can also buy the liquor and refrigerate it, given the fact that, if it can be avoided, no one should drink warm soju.
When You Are Ready To Eat
After that, you are to make the rice and the noodles, then proceed to set the table up with dipping sauces, rice, noodles, and banchan when you are ready to eat.
Heat Up Your Grill Or Hot Plate
Now is the time to fire up your grill or hot plate. However, you need to ensure that the windows are open. This is if you are indoors.
Brush Some Oil
Make sure you brush the top of the grill with some oil.
When It's Hot
You can now proceed to add some slices of meat to the grill when it's hot, and make sure you turn the meat over as required.
As The Pieces Are Cooked
Remove the pieces from the grill immediately after they are cooked and wrap them up. Also, make sure you top them, sauce them, and now enjoy.
There's also another way to go about it, and that is to take the cooked pieces off the grill and place them on a plate. So, basically, just cook, eat, and repeat.
How to Order Korean BBQ
Menus at KBBQ restaurants list popular dishes such as bulgogi along with more venturesome options such as squid, small intestine, beef tongue, and pork jowl.
However, they are very likely to be costly. Well, there are diners who love to experiment and might be tempted to try everything on the menu.
But my advice to you is to make sure that you don't become too enthusiastic.
Also, keep in mind that the amount of meat in each serving will not be specified in the restaurant's menu.
So, I will urge you to go wisely and start small. Just order one serving of meat for each person.
Then, you can always order more if you need it. However, at the top of your list should be the short ribs and pork belly.
How to Cook and Eat Korean BBQ
Normally, you cook the meat on a small grill attached to the table.
Korean barbecue is traditionally cooked over charcoal, but some restaurants go with a simple burner.
You will also be given tongs at most BBQ restaurants in Korea to use to turn over your meat and remove it from the grill immediately after it's been cooked to your satisfaction.
Although your server will always step in if you are not comfortable turning over your own meat.
Your server will also use a pair of scissors to slice the bits of meat into smaller, splittable pieces.
However, when you switch from beef to pork, the grill tends to change itself, or at least clean itself, throughout your meal.
In the case of galbi, they are cooked in long bits on the grill. After that, they are cut into pieces with scissors.
I strongly suggest you eat your galbi in a lettuce wrap (ssam), as it is best enjoyed this way. Furthermore, make sure you top it with ssamjang.
Bulgogi, which is considered to be the most popular Korean barbecue dish, requires just two quick minutes to cook on the grill.
It can also be relished with scallions or sesame seeds. Just like galbi, bulgogi can also be enjoyed in a lettuce wrap.
It is also considered good luck when you eat ssam in one bite.
The Best Types of Meat for KBBQ
As you know, meat is the center of attention at all Korean barbecues, and when it comes to KBBQ, there are different types of options for grilling meat.
So, in this Korean BBQ guide, below are some of my favorites:
Bulgogi (Thinly Sliced Marinated Pork or Beef)
This is marinated beef or pork that has a sweet and tasty flavor.
You will find it in thinly sliced pieces that will get grilled to succulent and stir-fried perfection.
However, except if you don't mind cleaning or changing out your grill, I strongly suggest that you save all marinated pieces for last.
This is because the marinade will blacken the grill quickly.
Galbi (Bone-In Beef Short Rib)
It is also marinated in a similar sauce to bulgogi, although it's a different slice of meat but just as mouth-watering.
During the cooking process, you will need scissors to cut the bones off, given that this is a bone-in cut of meat.
However, for some people, munching on the bones is also extremely satisfying.
Chadol Baegi (Brisket)
This is a non-marinated, extremely thin cut of beef. Ensure that you purchase pieces of meat that are marbled to get an offset.
It can become tough if it is too lean, and it can become chewy if it has huge chunks of fat.
Seafood
If you want something other than beef and pork, some seafood options include cuttlefish, salmon, and shrimp.
These options are perfect for fish eaters or if you just love variety.
Sometimes H-Mart provides affordable deals on salmon strips. They are also perfect for grilling (or shabu).
Samgyeopsal (Pork Belly)
These are slightly thick slices of pork belly, and they are non-marinated. They are grilled, then sliced into smaller chunks after grilling.
When teamed with grilled kimchi, it is perfect to offset the fattiness of the pork belly.
Other Proteins
You will also find other types of protein, such as dak-gui (marinated chicken), large intestine, small intestine, and beef tongue.
Easy Korean BBQ Recipe
With the help of this Korean BBQ guide, the right preparation, and equipment, cooking Korean BBQ at home can be easy.
So, with this simple recipe below, you can learn how to grill Korean barbecue meats at home.
I suggest you marinate your meats for 30 minutes before grilling. If you would like to do so.
Although you should know that you can enjoy barbecue meats without marinating. So, let's get right into business.
Course: Main Course
Cuisine: Korean
Servings: 4 servings
Prep Time: 25 minutes
Cook Time: 5 minutes
Total Time: 30 minutes
Ingredients
Meats
2 lbs. of bone-in short ribs (thinly sliced)
1 lb of pork belly (thinly sliced)
1 lb. of brisket (thinly sliced)
Sauces
Wasabi and soy sauce
Toasted sesame oil
Ssamjang
Sides/Banchan
1 basket of lettuce
4-6 cups of cooked rice
1 small bowl of kimchi
1 basket of perilla leaves
1 cup of crispy veggies
1 small bowl of pamoochim
Equipment
Grill pan
Tongs
Butane stove
Laid-Out Instructions
First, marinate your meats with your preferred marinade overnight. However, this is optional.
After that, you are to pick your choice of marinated or non-marinated meat, then proceed to fire up the grill.
With that being done, you can now preheat the grill on high heat for 10 to 15 minutes. Also, make sure that you turn the heat down to medium.
Proceed to first cook your non-marinated meat and grill each side of the meat for around 2 to 3 minutes.
Now, go for the marinated meat and grill each side of the meat for about 2 to 3 minutes. Then, if required, slice the meat pieces.
Get a plate and place the cooked meat on it, or just leave them at the edges of the grill, as this will help keep them warm.
Make sure the side dishes and dipping sauces are prepared on the table. Get a leaf of lettuce and place it on your palm.
Afterward, for double wrapping, you are to add a layer of perilla leaf. Then, you can proceed to add a piece of meat or two.
And, before you wrap them up into a packet, just add some sauces and vegetables.
Then, you can go ahead and top them with ssamjang or another preferred sauce.
That being said, you can now pop it into your mouth and enjoy every bite.
And if you want to enjoy the KBBQ meats without wrapping, then you can skip the steps that involve wrapping.
So, you can just enjoy your Korean barbecue at home with other side dishes like noodles or rice instead.
Notes
If you use boneless short ribs, make sure that the portion of short ribs is reduced to 1 lb.
You can also substitute brisket for ribeye or sirloin.
As previously mentioned, the meats can either be marinated or non-marinated.
Grilling times can differ, as they are also based on preference.
A Korean BBQ Guide: What to Drink With KBBQ
A lot of people love drinking beer or soju. I will also suggest makgeolli, which is a sweet, milky rice wine that is also extremely popular.
You can also go for mixed drinks such as Melona and soju, soda and soju, or Yakut and soju.
However, just go for iced teas, as they are the perfect option if you want something non-alcoholic.
Tips for Making the Best Korean BBQ
Wear Casual Clothes and Leave Your Eyeglasses in a Safe Place
It is sure that you will smell like barbecue from head to toe. So, it's best if you wear something that you can throw into the laundry.
And also, don't make plans to go anywhere fancy afterward, and this is for the same reason.
Pull That Hose Down Close To The Grill
You can adjust the length of the hose by pulling it. It is what you will find hanging from the ceiling. It is an outlet that sucks out smoke.
Use Your Chair (Stall) If It Opens Up
You will find a huge plastic bag inside; keep in mind that this is not for trash. You can close the stall lid after you put your jacket and bag in the plastic bag.
It will, in turn, protect your belongings from smoke and odors penetrating.
Add More Side Dishes
Normally, restaurants in Korea refill side dishes at no additional cost. They are important to enjoying your BBQ in the ssam style, so enjoy yourself.
Cut Your Meat with Scissors
When it comes to BBQ in Korea, this is the preferred way to cut your BBQ meat, although this might appear unusual to foreigners.
But don't be shy; go enjoy yourself. Just lift the meat up with tongs after it is cooked, and then proceed to use the scissors to cut it into little pieces.
When Your Grill Grate Starts Charring, Ask for a New One
I'm sure you'd agree that burnt meat does not taste good. In addition, inhaling the smoke is also not a good thing.
Final Thoughts on BBQ in Korea
Just find a local Korean grocery store and get everything you need to make this Korean BBQ.
You will also find readily available meats that have marinated, frozen, or fresh options for sale.
Also, a myriad of freshly made rice papers, banchan, and vegetables. You will also find grill plates, serving ware, and stores available.
You can go to Zion Market, Airirang, and H-Mart. Other Asian markets, such as Seafood City and 99 Ranch, are likely to have most of the meat and cooking tools you would need if you can find a Korean market nearby.
You can also fill in with online purchases for some condiments or specific tools, such as grill plates.
Now, with all that being said, this will be the conclusion of this guide on "BBQ in Korea: A Korean BBQ Guide."