This smoked salmon on bagels with cream cheese is fast and simple to make. I consider it to be the perfect brunch recipe.
It is filled with fresh flavors, and I can assure you that every single bite of this treat is mouth-watering.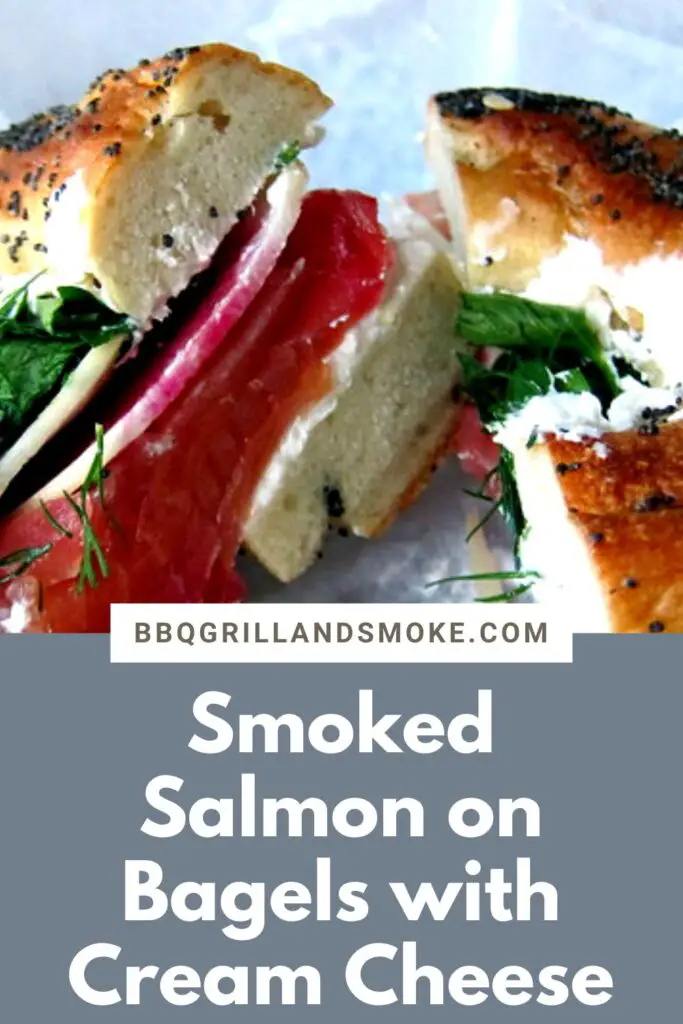 If you are looking for a delicious breakfast or a lazy Sunday brunch, this recipe for smoked salmon on bagels with cream cheese is your best bet.
This cream cheese and smoked salmon bagel is extremely appetizing. There's one flavorful bite, as it is accompanied by fresh flavors of lemon and dill.
Smoked Salmon and Cream Cheese Bagel
Prep Time: 25 minutes
ook Time: 0 minutes
Total Time: 25 minutes
Servings: 4 servings.
Make these delicious bagels filled with smoked salmon, cream cheese (or schmear), and a quick homemade pickle, which will result in a classic snack that really fills a hole.
"Schmear" is a borrowed word from Yiddish, and it refers to the cream cheese spread in this first-rate bagel combination.
Or, you can try a toasted bagel topped with ricotta and strawberries, resulting in a delicious version of this snack.
This easy recipe for smoked salmon on bagels with cream cheese is an excellent option for brunch gatherings and bridal or baby showers, as previously stated.
You can also go ahead with turning the assembly process into a bagel bar, as this will permit the guests to build their own bagels.
This is rather easy to set up, and luckily, which is also an interesting fact is that it requires no cooking.
For perfect freshness, I recommend you buy fresh bagels the morning of the party. Also, bagel bars are not seasonally dependent.
This means that they can work throughout the year. You can easily get a few gluten-free bagels and provide toppings that are dairy-free, like tofu-based spreads or hummus, if you are expecting gluten-free, dairy-free, or vegan guests.
You can also avoid that ingredient and modify the bagel to your guests' liking if they are not lovers of smoked salmon.
Ingredients
4 bagels, halved and toasted
Lemon wedges (to serve)
180g of cream cheese
A few fresh dill sprigs (optional)
200g of sustainable smoked salmon
1 – 2 tablespoons of capers, rinsed and drained
For the Quick-Pickled Cucumber and Red Onion
1 tablespoon of caster sugar
1 teaspoon of grated lemon zest
1 teaspoon of salt
4 tablespoons of apple cider vinegar (or any vinegar you have available)
A small handful of finely chopped dill (or, if you don't like dill, you can go for parsley)
1 cucumber, peeled into long ribbons.
½ small red onion, finely sliced
Laid-Out Instructions
The first step of this process, if you want to make the quick pickle, is to blend all the ingredients with the exception of the cucumber and onion.
Mix them all in a medium glass or ceramic bowl and whisk them. This is to dissolve the sugar and salt.
The cucumber and onion can now be added after that. With that, toss the vegetables to coat them in the pickling liquid.
Afterward, for at least 15 minutes, you are to set aside the pickle. Now, you can spread the bottom half of the toasted bagels with cream cheese.
Then, you can top it with a few slices of smoked salmon and a scattering of capers. When that is done, you can now stack them on a mat of pickled veg.
After that, season with black pepper and a few dill sprigs. This is based on your preference.
Now, top with the bagel lids, then proceed to slice each bagel sandwich in half and serve with lemon wedges for squeezing.
Tips on Smoked Salmon on Bagels with Cream Cheese
If you intend to create cucumber ribbons and onion slices, then a mandolin slicer is your best bet.
All you need to do next time is substitute smoked salmon for hot smoked salmon, mackerel, or trout.
You can also do this ahead of time. You can cover the quick pickle and allow it to chill for up to 4 days.
So, for 1 to 2 people, it can make 2 servings. The longer the vegetables are kept, the longer they will lose some of their crunches. However, the flavors will develop more fully.
Bagel Brunch Board Ideas
For a bagel brunch, this smoked salmon bagel is the perfect option. You can make a big dish with bagels and different types of cream cheese and bagel toppings.
This is also perfect for a lazy brunch with friends. Or, you can also make it for baby showers, Mother's Day, Easter, and more.
Below are some ideas for what you should have available for a bagel brunch:
You are to have toasted bagels of several flavors, which include plain, everything, onion, and so on.
Smoked salmon
Nut butter such as almond butter, walnut butter, peanut butter, pistachio butter, cashew butter, or pecan butter.
Honey
Whipped spreads such as whipped cottage cheese or whipped ricotta
Homemade cream cheeses such as veggie cream cheese, herb cream cheese, or smoked salmon cream cheese.
Vegetables such as capers, tomatoes, English cucumbers, red onions, or radishes.
Pineapple, banana, orange, apple, or pear slices.
Berries such as blackberries, blueberries, and strawberries.
Tips for Making the Bagel Sandwich
Toast Your Bagels
Toasting your bagels adds another texture and enhances their flavor.
However, you can choose to have your bagels untoasted, but I will suggest that you toast them, as they are much better this way.
Soften the Cream Cheese before Combining
Doing this will allow the ingredients to blend in more easily and evenly.
I will strongly suggest that you remove the cheese from the fridge 30 minutes before you make these.
Use Fresh Lemon Juice Instead Of Bottled
Going for fresh lemon juice is a much better option, as it is so much fresher and zingier. It also consists of more vitamins.
Use the Freshest Ingredients
I suggest you use the freshest ingredients for this simple bagel. Go for the top-quality ingredients that are available for the best sandwich.
Final Thoughts: Smoked Salmon on Bagels with Cream Cheese
Well, let's talk about the best-smoked salmon to use. For the best flavor and quality, I suggest you go for a natural or organic smoked salmon.
Norwegian is also a good option. Pick the one that has no added preservatives or flavorings.
You can also add any toppings you prefer to this. Although I recommend adding some crispy toppings, such as red onion and cucumber, thanks to the fact that the smoked salmon and cream cheese are both soft in texture.
A poached egg or avocado is also a great option. And with that, this guide to smoked salmon on bagels with cream cheese comes to an end.