Smoked Pork Belly Burnt Ends are captivating, finger-licking bites of delicious meat, the same type used to prepare bacon.
They are rubbed in spices, filled with smoky flavor, and thrown in a fantastic barbecue sauce.
They are perfect to be an appetizer, and you can serve them by skewering them with toothpicks, or you can just toss them in salads or tacos.
Or, onto buns to make pork belly sandwiches, or simply over nachos. So, let's get into the details on how to make yourself some mouth-watering smoked pork belly.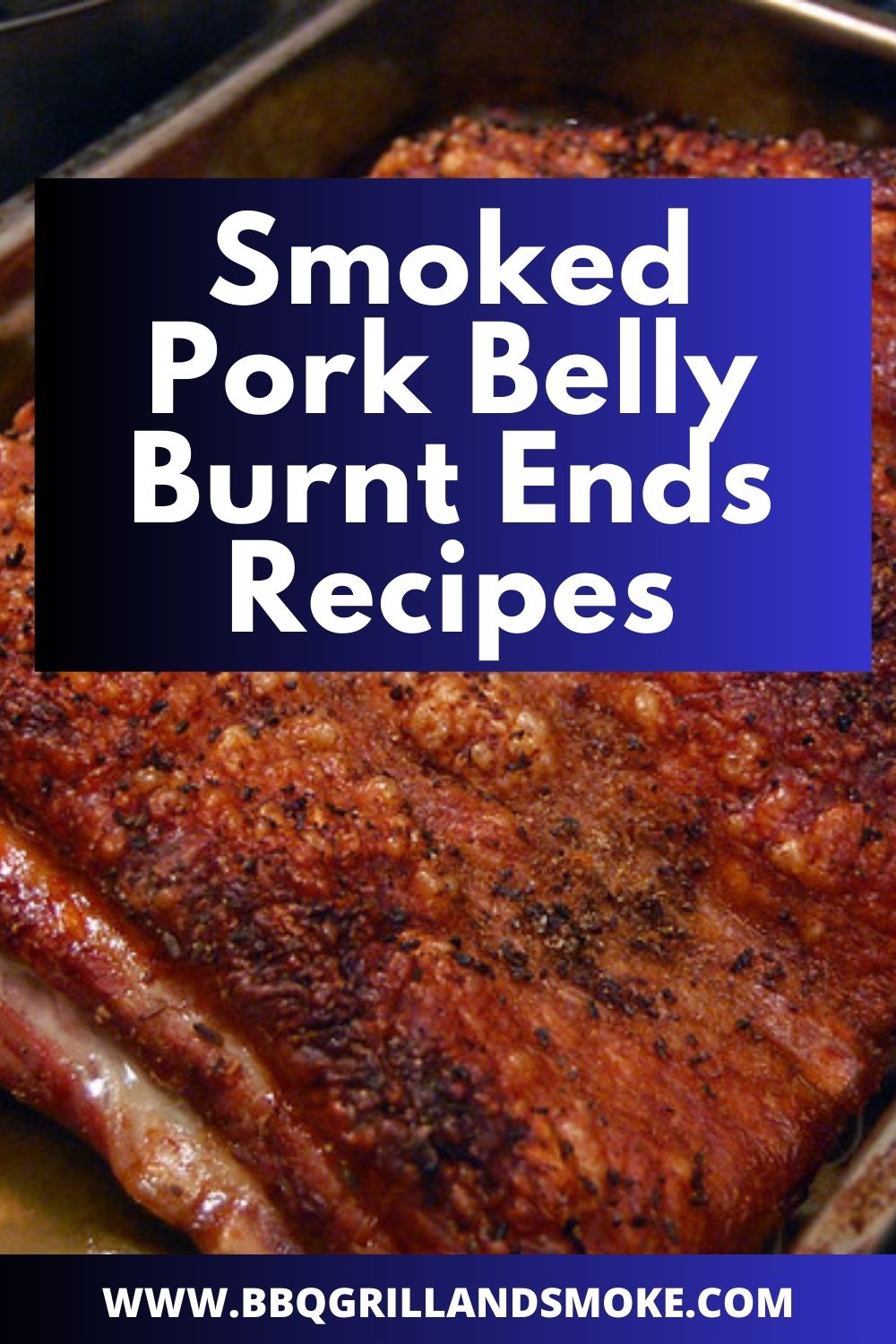 What Is Smoked Pork Belly?
Smoked pork belly is a BBQ-friendly preparation of fatty pork. It has to do with cooking the meat low and slow in a wood pellet smoker, electric smoker, or charcoal grill.
A pork belly is a prime cut of meat gotten from the underside of the animal. This is where you can find its fattiest meat.
Compared to other parts, the tender cut possesses a higher fat content, such as side, loin, or pork chops.
Smoking pork belly always results in very soft and juicy meat imbued with a smoky flavor.
Smoked Pork Belly Recipe
BBQ Smoked Pork Belly
Smoked Pork Belly is the next big trend in low and slow barbecue. It is mixed with everything you love in a good BBQ.
It has the delicious smoky flavor of slow-barbecued pork oozing with mouth-watering juiciness.
Course: Main
Cuisine: American
Prep Time: 15 minutes
Cook Time: 8 hours
Resting Time: 15 minutes
Total Time: 8 hours, 30 minutes
Servings: 8 people
Ingredients
4 pounds chunk pork belly (uncured)
½ cup of BBQ sauce
¼ cup of Signature Sweet Rub
2 cups of apple juice (divided use)
Laid-Out Instructions
The first step here is for you to light up your smoker and preheat it to 225 degrees Fahrenheit.
After that, you are to cut the top layer of fat on the pork belly into 1-inch squares using a sharp knife.
However, make sure you don't cut too deeply, just scarcely into the muscle. Also, make sure you season generously on all sides with the Sweet Rub.
That being done, you are to place the seasoned pork belly on the grill. Then, smoke until the internal temperature gets to 165 degrees Fahrenheit.
This should take around 6 hours. When that is done, proceed to spray with the apple juice every hour while it's cooking.
Remove your pork from the grill immediately after it reaches 165 degrees F. After that, wrap it in heavy-duty tinfoil along with ½ cup of apple juice.
After that, completely seal the edges of the foil, then place it back on the grill. Leave it there until the internal temperature reaches 200 degrees F.
Now, remove the belly from the foil. Make sure this is done carefully. Then, sprinkle with the apple juices from the foil.
When that is done, place the pork back again on the grill and brush it with BBQ sauce. Then, cook on the grill for an additional 10 minutes.
Afterward, you are to get a cutting board and place the finished pork belly on it. Then, before serving, proceed to allow it to cool for 10 to 15 extra minutes.
When that is done, you can now cut up your belly like pulled pork or just cut it into cubes to serve.
Storing and Reheating
You can store your mouth-watering smoked pork belly by placing it in a tightly sealed container immediately after it cools, then proceeding to place it in the refrigerator.
Doing it this way will make it last for up to 4 days. Also, place any leftover pork belly in a freezer-safe container or heavy-duty freezer bag.
But, before you do, make sure you wrap the leftovers tightly in foil or plastic cling wrap.
It can last for up to 6 months, which is when you can still get the best flavor and texture.
However, it is still safe for consumption for longer than that. And, before reheating, defrost frozen pork belly in the fridge.
Reheating Smoked Pork Belly
Reheating any leftover smoked pork belly in the microwave in 30-second increments until you've gotten what you desire is the easiest way to go about it.
On the other hand, you can just quickly stir-fry slices until hot and crunchy.
Serving Suggestions
Pork belly would make a perfect awe-inspiring main course with sides such as corn on the cob, baked beans, and mashed potatoes.
However, that's not all you can serve your delicious smoked pork belly with. You can serve it any way you want.
Some suggestions include:
Cut up the meat and pack it into quesadillas and tacos. You can also cut it up for a BLT sandwich or a pork belly sandwich.
With BBQ sauce for dipping, you can slice it into pork belly cubes for an appetizer. And you can add some to a bowl of udon noodle soup.
You can whisk the pieces into omelets, ramen, fried rice, baked beans, black-eyed peas, or pasta.
And, lastly, you can also use the shreds as toppings on creamy soups, wedge salads, or chicken Cobb salads.
Recipe FAQs for Smoked Pork Belly Recipes
Can I Make These Pork Belly Burnt Ends Without Sauce?
The short answer to this is yes. You can leave off the sauce and have sauce-less burnt ends if you intend to have the rub without making them spicy.
Can I Make This Recipe On A Regular Grill With Wood Chops?
Well, yes, you can make this simple recipe using a gas or charcoal grill and make it into a smoker with the help of soaking wood chips and then placing the pork over indirect heat.
The soaked wood chips are what will produce the smoke required to imbue that deep smoky flavor into the pork belly cubes.
What Kind of Wood Pellets Should I Use in Our Traeger Pellet Grill?
I suggest you use cherry wood for smoking your pork belly burnt ends. You can also consider using pecan, maple, hickory, or any other fruit wood of your choice.
Other great options are apple and peach, particularly for this slice of meat.
Final Thoughts on Smoked Pork Belly Recipes
This best smoked pork belly recipe will be your latest favorite thing you can make with your smoker.
And this will be thanks to the fact that it is extremely simple to make and amazingly mouth-watering.
This tasty smoked pork belly is flavor-filled. I consider it an extra special treat for meat lovers.
Cut it thinly to make the perfect pork belly sandwich, or enjoy it as it is.
That being said, this concludes this guide, as you now know how to make the best smoked pork belly.