This guide will give you all the knowledge and a better understanding of how to smoke pork ribs confidently. Consider this smoked ribs recipe as your precise guide to smoking ribs. This is to do with everything that will result in the best-smoked pork ribs.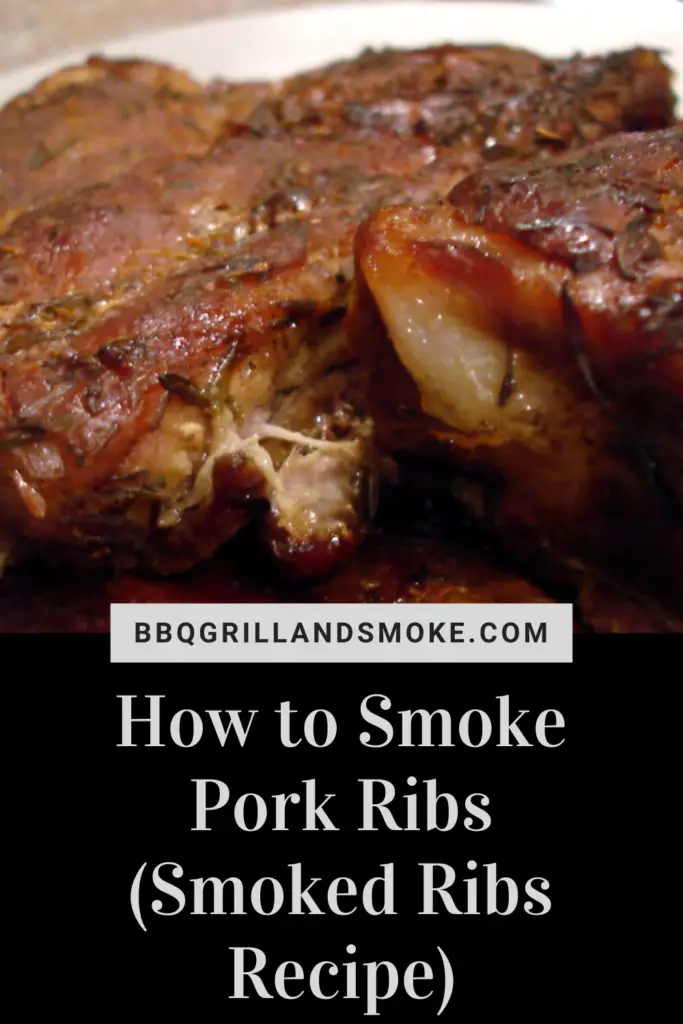 Smoked Ribs Recipe
This smoked ribs recipe will result in fall-off-the-bone low and slow-smoked pork ribs coated with spicy homemade BBQ sauce.
Course: Main Course
Cuisine: American
Preparation Time: 15 min.
Cook Time: 6 hours
Total Time: 6 hours and 15 minutes
Servings: 8
Ingredients
Ribs Ingredients:
8 Ibs rack of spare ribs
½ cup of brown sugar
3 tablespoons of honey.
3.5 oz. of unsalted butter
1 tablespoon of apple cider vinegar.
Spritz Ingredients:
50% of water
50% of apple cider vinegar
Rib Rub Ingredients
8 tablespoons of smoked paprika
6 tablespoons of brown sugar.
3 tablespoons of kosher salt
2 tablespoons of black pepper (freshly grounded)
1 tablespoon of ground cumin
1 tablespoon of mustard powder.
1 tablespoon of garlic powder.
1 tablespoon of onion powder.
¼ tablespoon of hot cayenne pepper
Sauce Ingredients:
1 cup of ketchup.
1 ½ cups of apple juice
¼ cup of apple cider vinegar
½ cup of brown sugar
4 tablespoons of Worcestershire sauce.
2 tablespoons of garlic powder.
3 tablespoons of onion powder.
1 tablespoon of kosher salt
½ tablespoon of black pepper (freshly ground)
¼ tablespoon of hot cayenne pepper
Laid-Out Instructions for Smoked Pork Ribs
First, get your ribs and trim the excess fat off them, and then get rid of any loose bits of meat. Also, from the back of the ribs, get rid of the membrane.
Afterward, get all the dry ingredients for the rub and mix them all together. And, then proceed to apply them all over the ribs.
You also have to make sure that you apply them all over the sides. After doing that, get your smoker and set it up to a temperature of 225 degrees Fahrenheit.
And, once your smoker is stable, proceed to place the pork ribs in the smoker. Check the ribs for any dryness. This should be done after 2 hours.
Then, if required, spray with a 50/50 mixture of water and apple cider vinegar. When that is done, proceed to take the pork ribs out of the smoker.
Make sure this is done after 3 hours. Subsequently, place the meat side down on 2 layers of foil.
You have to make sure that this foil has sugar, honey, butter, and apple cider vinegar on it.
Then, at the back of the pork ribs, add honey, sugar, and butter. Afterward, ensure that you wrap it up tightly.
And, for another 2 hours, you are to place the ribs back in the smoker. Get all the BBQ sauce ingredients and place them in a thick-bottomed saucepan.
With that being done, proceed to stir them over low to medium heat, and this should go on for 15 minutes.
Afterward, you are to allow them to cool, then get a sauce bottle and transfer them into it.
Subsequently, proceed to take the ribs out and unwrap them. This should be done after 2 hours. Then, proceed to turn the ribs over.
Make sure the meat is exposed and proceed to coat it with the BBQ sauce. You are to then put them back into the smoker.
Let this go on for another hour. Then, get the ribs out of the smoker, and slice in between the bones. Make sure this is done an hour later and enjoy.
To Serve Smoked Pork Ribs
You can serve your smoked pork ribs with potato salad and cornbread, and also on a platter with brisket, hot links, and wings.
Frequently Asked Questions about Smoked Pork Ribs
How Can I Get Over A Temperature Stall When Smoking Ribs?
You are to make use of our method, which has to do with getting the foil and wrapping the ribs in it. This should be done if the temperature of your pork ribs stalls and your pork ribs will not keep increasing their internal temperature.
Doing this will allow you to get over the temperature stall and then proceed to cook your ribs to mouth-watering perfection.
What Kinds Of Wood Should I Use To Smoke Ribs?
You might also want to ask the question about what kinds of wood you should use to smoke ribs.
Well, for excellent smoked pork ribs, I would strongly suggest you go for hickory, oak, apple, mesquite, grapevine, pecan, and cherry wood chips.
When Are Ribs Done Smoking?
Let's go to when to know that your ribs are done smoking. When the meat is soft and succulent and the internal temperature of your pork ribs has reached 180 degrees Fahrenheit, you should know that the ribs are done smoking.
Much preferable, but depending on the size of your rack of ribs, humidity, air temperature in the environment, and so on. You can decide to cook the ribs for 6 to 8 hours.
What Ribs Are Best For Smoking?
The truth is that there's no precise rack of ribs that is best for smoking. There are a great number of factors that make up the best ribs, personal preference and taste included.
Baby back ribs are the most popular of all pork ribs, and they are also soft and lean. Normally, these are the types of ribs you will find at family BBQ joints.
When smoking pork ribs for the first time, I recommend you go for baby back ribs as they are a good choice.
I would also recommend St. Louis-style ribs or spare ribs as they have a delicious taste. Both of them are nice and meaty.
They also come with a pleasant flavor, so you can be sure that they are absolutely worth trying out.
This will make more sense and be more of an adventure if you are on a journey to determine which ribs are your favorites and the ones you consider to be the best for smoking.
In conclusion, all styles of ribs are excellent, and you can be sure that when cooked on a smoker, they will work well, so you might as well try them all out.
Conclusion on How to Smoke Pork Ribs (Smoked Ribs Recipe)
And, to decide what you are going to serve with your smoked ribs, although some examples have already been given.
Smoked ribs are a great treat, coated in your favorite sauce or simply falling off the bone in a mouth-watering rub.
However, you will also love serving your smoked ribs with one of your favorite BBQ sides, and they include cool and creamy potato salad and a delectable and hearty smoky bean bake.
Your pork ribs will also go well alongside a spicy, peppy, creamy cucumber salad, and melt-in-the-mouth crispy grilled potatoes, with a simple and easy chili.
Or, you can go for some no-knead jalapeño cheddar bread. With all that being said, you now have full knowledge and a better understanding of how to smoke pork ribs, and you also have the smoked ribs recipe to make perfect smoked ribs.