This tasteful smoked salmon dip recipe is mouth-watering on crackers, and you can choose to serve it on a brunch buffet with bagels.
This smoked salmon dip will surely be your best bet if you ever need or want a festive and tasteful dish to make for a party.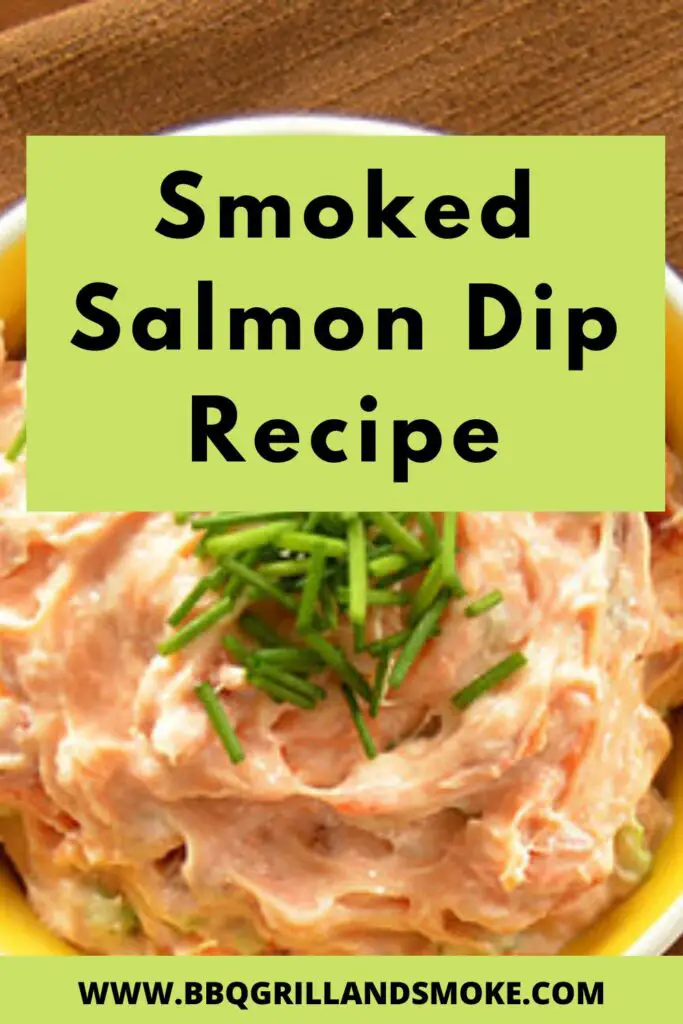 As mentioned above, you can serve it with crackers and cocktails, or you can just place it on a brunch buffet along with bagels and other add-ons.
Well, either way, you serve it, this easy smoked salmon dip is always a crowd-pleaser.
In comparison with this best-smoked salmon dip recipe, you can't buy a smoked salmon dip with a flavor this elegant.
It certainly tastes like smoked salmon. It is tender and rich, with a sophisticated tang from cream cheese and lemon and the freshness of dill. This is a dip to crave.
Smoked Salmon Dip Recipes
Prep Time: 10 minutes
Cook Time: 0 minute
Total Time: 10 minutes
Yield: 2 cups
Course: Appetizer Recipes
Ingredients
8 ounces of smoked salmon, finely chopped
8 ounces of cream cheese (softened at room temperature)
2 tablespoons of small capers
1 tablespoon Dijon mustard
2 lemons
1/8 teaspoon of black pepper
½ cup of sour cream
3 tablespoons of finely chopped chives (plus more for garnish)
½ teaspoon of Aleppo pepper or a pinch of cayenne, to taste (optional)
Special Equipment
Stand mixer or food processor
Laid-Out Instructions
Blend the Cream Cheese and Sour Cream
You can start this by beating the cream cheese and sour cream in a bowl of a stand mixer with the paddle attachment on medium speed.
Continue beating them together until they become extremely smooth. You can proceed by adding the mustard, capers, zest, chives, juice from 1 lemon, and black pepper.
The addition must be done with the mixer on low. Now, mix them until they are well combined.
You can use a food processor for this step and then transfer it to a bowl. Or, you can use some elbow grease to beat the mixture until it is very smooth.
You must select one of these options because the method to be used is entirely up to you.
Fold In the Chopped Salmon
With all that being done, you can now proceed to get the bowl from the stand mixer. After that, fold in the salmon and cayenne pepper or Aleppo, if you are using them, by hand.
Taste and add juice from the remaining lemon, 1 teaspoon at a time, according to your preferences.
Serve
When that is done, you can now spoon the dip into a serving bowl and then spray with chives.
Now, you can serve your easy smoked salmon dip immediately or you can decide to keep it until serving time. Make sure you refrigerate it while doing so.
And, when it is time to serve, proceed to serve it with slices of baguette or crackers. You can store the spread in the refrigerator for up to 5 days. Make sure it is covered.
Variations of Smoked Salmon Dip
This simple recipe for a smoked salmon dip can go well with so many variations. Below are a few of my favorite suggestions:
You can try this simple smoked salmon dip recipe with other fresh herbs such as parsley, dill, chervil, green onions, and chives.
Along with the chopped salmon, you can add a spoonful of horseradish. As you know, this is your choice to make.
You can also relish it with lemon slices. Or, just go ahead with adding freshly grated lemon zest or a spoonful of capers.
You can skip the sour cream if you don't like it. You can alternate it with full-fat plain yogurt.
And, if you don't have smoked salmon, you can go with well-cooked salmon, canned salmon, or even smoked trout.
How Long Does a Smoked Salmon Dip Last?
You might be worried about how long your simple smoked salmon dip might last.
Well, if you store it in a sealed container in the refrigerator, your smoked salmon dip should last up to a few days.
Although there's a very slim chance of you having any leftovers if you are serving it at any social gathering.
Can You Freeze Smoked Salmon Dip?
Well, yes, but I definitely do not recommend it. So, stay away from freezing any smoked salmon dip that has cream cheese as its foundation.
The texture is very likely to become less rich and more crumbly immediately after it's defrosted.
What Goes Well with Smoked Salmon?
The smokiness of smoked salmon combines gorgeously with the mild tanginess of cream cheese and the brininess of capers.
Using fresh herbs and lemon zest in this simple recipe helps add a beautiful brightness to the dip.
Tips for the Perfect Smoked Salmon Dish
I will strongly suggest that you go for high-quality smoked salmon. And I prefer wild-caught salmon compared to farmed salmon.
I frequently find wild-caught salmon to taste better. You can find out the source of the salmon on the package.
Also, to avoid ending up with lumps in your dip, ensure that your cream cheese is extremely soft.
You can go with the technique of putting the cream cheese in the microwave in 15-second increments until it becomes soft, as this will help quicken the process.
Fresh herbs are your best bet in this healthy dip. Although there are other alternatives, I won't suggest alternating dried herbs.
What Is Salmon Dip Made Of?
Well, this simple salmon dip is made up of a cream cheese and sour cream base. Also, with flavorings that include herbs, lemons, and chopped salmon.
What Crackers Go With Salmon Dip?
I prefer a nutritious cracker to serve with this dip. And, that includes a wheat cracker or just crackers with seeds like everything bagel crackers. I also consider water crackers to be an excellent choice.
Can I Use Homemade Smoked Salmon?
Sure, you can use homemade smoked salmon for this healthy recipe.
But it is very possible for your salmon not to have as much salt in it compared to the packaged smoked salmon. So, make sure you taste it and salt it if there's a need for that.
Conclusion: Smoked Salmon Dip Recipe
As you know, this easy smoked salmon dip is delectable spread on bagels.
For building sandwiches, you can also try this dip by relishing it with a bit of chopped dill.
And you can provide sliced tomatoes, capers, and sliced red onion.
Well, there are other options, and one of them is to serve this delicious dip with latkes for a special Hanukkah brunch.
You can also try it with crostini, bagel chips, baguette slices, or crackers.
Well, when you take a bite, you will know that this is the perfect and best-smoked salmon dip recipe to serve as an appetizer.