This recipe for pasta with smoked salmon will be your new favorite 10-minute meal. I can guarantee that your family will definitely love this.
It is light, fresh, and ready in no time. I always crave this for a midweek dinner. It will be ready in no more than 10 minutes, and no grand effort is required.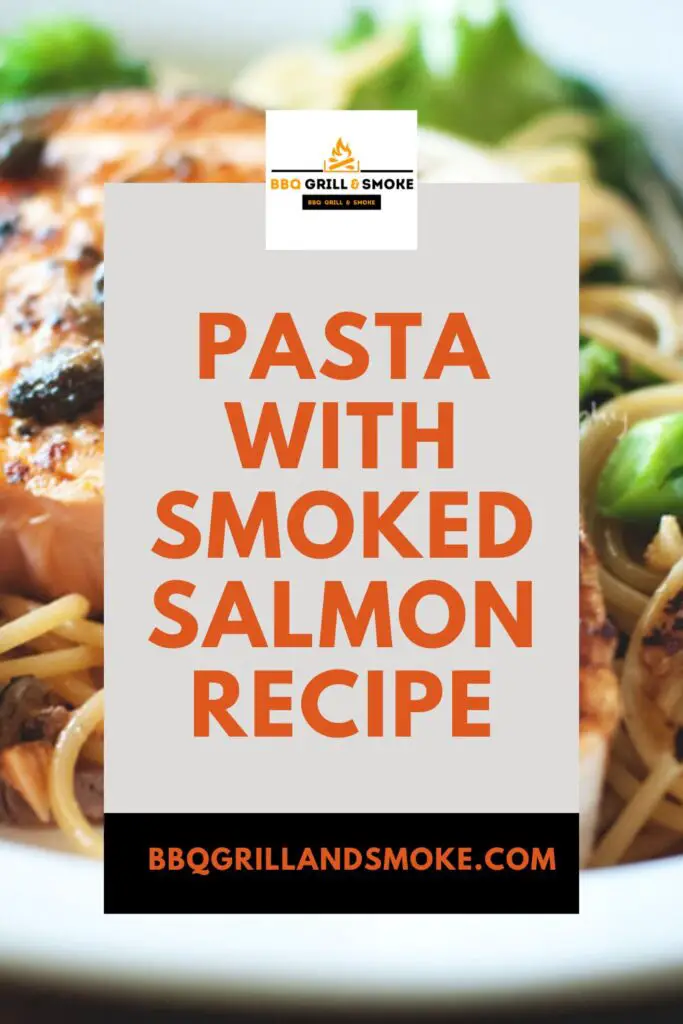 This easy smoked salmon pasta recipe is your best bet if you are attempting to consume a bit less meat. This is a good and simple way to introduce a piece of fish into your diet.
Also, smoked salmon freezes well, so I store a pack of it in the freezer to be prepared for this.
Recipe for Smoked Salmon Pasta
This is the best recipe for pasta with smoked salmon in a sauce of garlic, shallots, lemon, cream, and white wine, along with toasted pine nuts and parsley.
I love the fact that you can make this simple recipe in no time. I also love the ingredients used to make it.
There's a chance to exploit this in this healthy recipe. You can add more or less wine or cream to taste; you can skip the pine nuts if you want to; you can also add some cream or asparagus if you like; or even use smoked trout or sturgeon rather than the salmon.
The vital ingredients are pasta, smoked fish, lemon, and garlic, along with some wine, olive oil, or cream tying them together.
Preparation Time: 10 minutes
Cook Time: 30 minutes
Total Time: 40 minutes
Servings: 2 to 3 servings
Course: Main Course
Ingredients
8 ounces of spaghetti or other pasta
4 ounces of smoked salmon, sliced into bite-sized pieces
¼ cup of pine nuts
Freshly ground black pepper
2 cloves of garlic (minced)
¼ cup of cream
1/3 cup of chopped shallots or onions
2 tablespoons of chopped fresh parsley or dill
1 tablespoon of lemon juice
2 tablespoons of lemon zest (divided)
1/3 cup of dry white wine (can alternate pasta cooking water with 1 tablespoon of lemon juice)
2 tablespoons of extra virgin olive oil
Salt
Laid-Out Instructions
Put Pasta Water On To Boil
You are to start the process by heating to a boil a large pot with at least 4 quarts of salted water in it.
This will be around 2 tablespoons of salt for 4 quarts of water.
Toast the Pine Nuts
Go ahead and brown the pine nuts while the water is heating. You are to then place the pine nuts in a single layer in a large skillet.
Proceed to heat on medium heat, stirring from time to time, until sweet-scented and lightly browned.
After that, you are to remove the pine nuts from the pan and set them aside.
Start Cooking the Pasta
You are to add the pasta to the pot immediately after the water is boiling. Cook on high heat at a rolling boil and make sure it is not covered.
Set the timer for 8 to 10 minutes, or whatever your pasta package recommends for al dente, or cooked but still slightly firm.
With all that being done, you are to scoop out one cup of the pasta cooking liquid and reserve it before you proceed to drain the pasta immediately after it is done.
Prepare the Sauce
You are to prepare the sauce while the pasta is cooking. Heat the olive oil on medium heat in a large skillet.
Then, add the garlic and shallots and cook for 2 minutes. After that, you can now add lemon juice, white wine, and 1 tablespoon of lemon zest.
Afterward, increase the heat and allow it to boil down by half. Just add the cream and allow it to boil for a minute more if you want a slightly creamy sauce.
The sauce should be ready about the same time the pasta is done. Take it off the heat if you get ready before the pasta.
Add Pasta, Some Pasta Cooking Liquid, Smoked Salmon, Toasted Pine Nuts, Parsley, and Relish to Sauce
Add the pasta to the skillet with the sauce after you drain it. Then, proceed to add some of the pasta cooking liquid back to the pasta.
Do this if it appears to be a little dry. Also, add the smoked salmon, toasted pine nuts, parsley, and the remaining lemon relish. You are to garnish with freshly ground black pepper.
Optional Add-Ins
Capers, black olives, or Kalamata olives offer Mediterranean flavor. To get an earthy feel and texture, I suggest you go for asparagus.
Cooked the asparagus in the pasta water and then proceeded to add it to the salmon.
Leeks, garlic, or other members of the allium family can be added with or in place of the onion.
To make crunchy salmon skin "bacon," all you need to do is remove the skin from the fillet and crisp it in a skillet with a little oil.
Then, proceed to cut it and add it to the top of the pasta at the end.
What Kind of Smoked Salmon to Use
There are just two types of smoked salmon. They include lox, which is cold or cured salmon. And, hot or BBQ smoked salmon, this is what I will suggest you go for.
The flavor is perfect for this best recipe pasta with smoked salmon. You can purchase it in the fresh seafood department.
They are available as BBQ Salmon Tips, BBQ Chum, or Hot Smoked Salmon. As previously stated, it also freezes extremely well.
So, I recommend you purchase extra so you will have some available next time you feel like eating smoked salmon pasta.
Can I Make Smoked Salmon Pasta without Dairy?
This is a frequently asked question. And, in a nutshell, the answer is yes. You can make this platter without dairy.
All you need to do is substitute the crème fraîche and cream for a non-dairy substitute. This is based on your preference.
Can You Cook Smoked Salmon?
Well, the straight answer to this question is yes. You can smoke salmon, but the truth is that it does not need to be cooked.
Although you can go ahead and cook it, I suggest you add it late in the process, as this will help avoid overcooking it.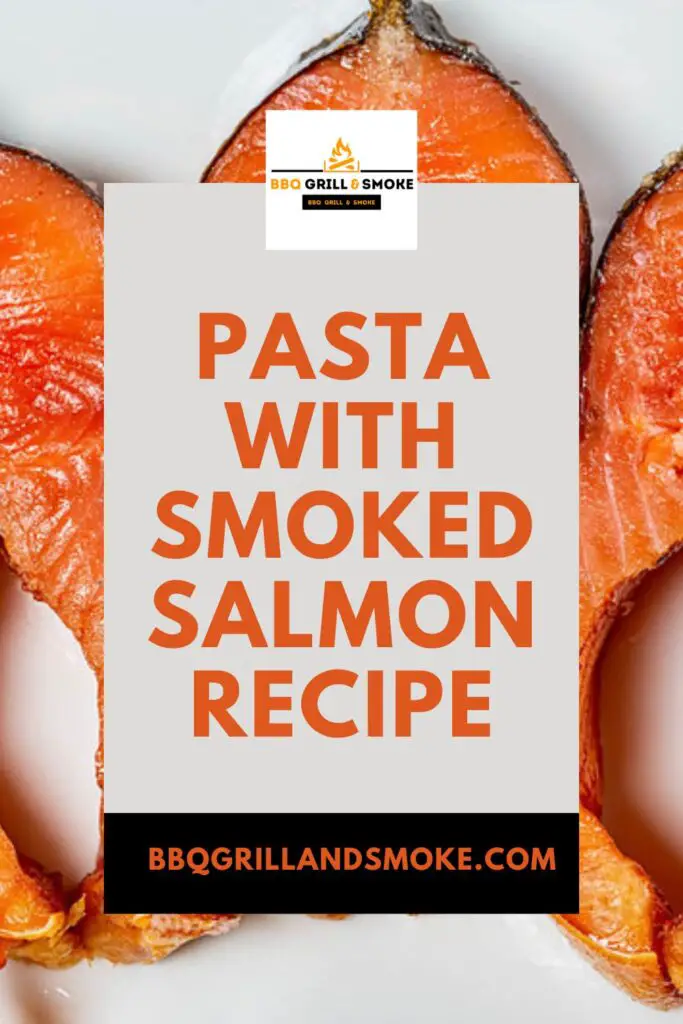 Conclusion: Recipe Pasta with Smoked Salmon
A few suggestions of what goes well with this easy smoked salmon include white wine, eggs, avocado, asparagus, sour cream, cucumber, dill, creamy sauces, lemon, potatoes, and black pepper.
You can also store the leftovers of your healthy smoked salmon pasta in a sealed container, but you need to eat them within 4 days.
However, you can freeze the leftovers in the freezer, and they will last for up to 3 months.
And, when you are ready to eat them, reheat them in the microwave in one-minute increments.
Or, you can just go ahead and add a little bit of milk or cream and proceed to seethe for 2 minutes in a saucepan on the stove.
This will be the conclusion of this guide, as you now have your best recipe for pasta with smoked salmon.