Traeger Smoked Cornish Hens are a quick and simple dinner grilled on the Traeger wood-pellet grill.
They are generously relished with Traeger chicken rub. So, I will be giving you the simple Traeger Smoked Cornish Hen recipe.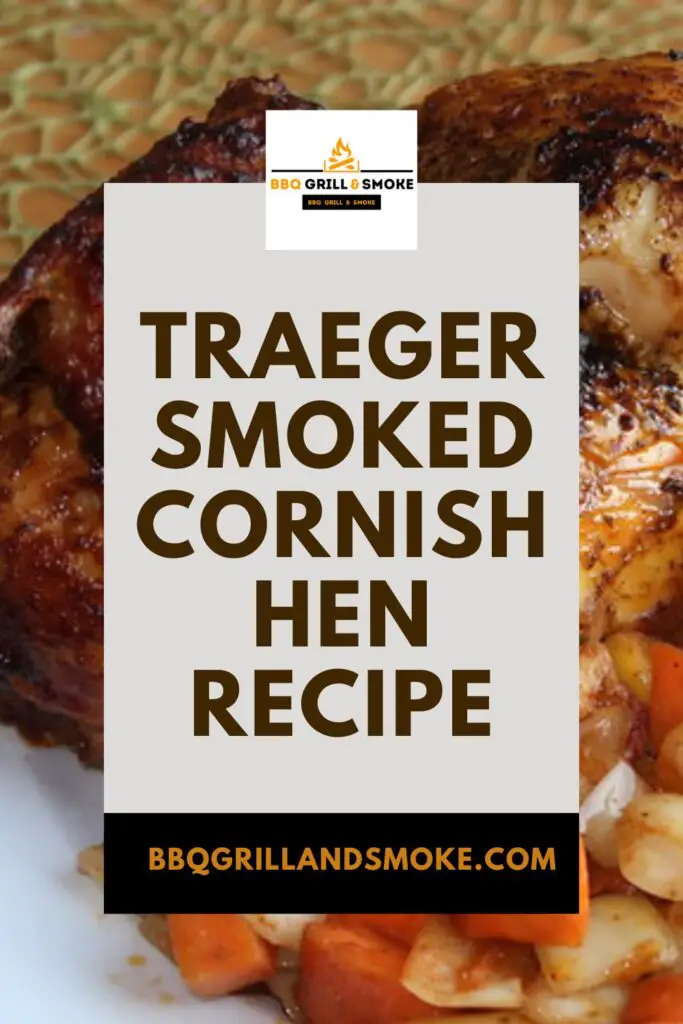 These little grilled Cornish hens are practically individual portions, given the fact that they are so tiny.
Compared to a larger bird, the smaller size has the advantage of cooking faster.
Normally, a Cornish Game Hen is around 4 – 5 weeks old when they are harvested.
What Are Cornish Game Hens?
Cornish game hens are basically small, mature chickens. They were originally crossbred between regular Cornish chickens and White Plymouth Rock hens in the 1950s.
The rapid maturity of the subsequently dubbed "Cornish game hen" results in a healthier flavor with large breasts and fatty skin.
The Cornish game hens get their luscious texture from this, and this is something that can be absent in larger chickens.
Cornish game hens must have a weight of around one to two pounds and be butchered before five weeks of age. And they can either be male or female.
Traeger Smoked Cornish Hens
Serving tasty smoked Cornish hens will definitely make your guests feel like VIPs, as they will be served a personalized chicken.
Cuisine: American
Course: Main Course
Prep Time: 10 minutes
Cook Time: 1 hour
Total Time: 1 hour and 10 minutes
Pellets: Mesquite
Servings: 4
Ingredients
4 (1 ¼ pounds each) Cornish game hens
Traeger chicken rub (to taste)
4 sprigs of fresh rosemary or sage (add more for garnish)
4 tablespoons of unsalted butter (melted)
Instructions
The first step of this process is to set the Traeger temperature to 375 degrees Fahrenheit when you are ready to cook.
You are to preheat for 15 minutes. However, make sure that the lid is closed. After that, you are to rinse the Cornish game hens under cold running water, inside and out.
Check the cavities of the bird before rinsing, although game hens normally do not come with giblets.
However, freeze the giblets for chicken stock if you find any. This is also based on your preference.
That being done, using paper towels, you are to dry thoroughly. Then, tuck the wings behind the back and tie the legs together with the butcher's knot.
When that is done, you can now proceed by getting the melted butter and rubbing the exterior of each hen with it.
Also, season with Traeger chicken rub. And, then, slip a sprig of rosemary into the main cavity of each hen.
Afterward, you can now place the hens directly on the grill grate. Proceed to insert the probe into the thigh of a hen.
Then, close the lid and start roasting the bird until the juices run clear and the internal temperature of the bird gets to 165 degrees Fahrenheit.
This should happen in the space of 50 to 60 minutes. Now, you can remove the smoked hens from the grill and allow them to cool for 5 minutes. And before serving, garnish with more rosemary, and then enjoy.
How to Store a Traeger Smoked Cornish Hen
You can actually store these delicious Traeger Cornish game hens in the fridge, which will make them last for up to 3 to 4 days. And, you can also keep them in the freezer for up to 2 to 3 months.
How to Reheat Traeger Smoked Cornish Hen
Reheating these birds is quite easy. Just toss them in an air fryer if you have one for 15 to 20 minutes at 340 degrees Fahrenheit.
After that, go for 5 minutes at 400 degrees Fahrenheit. The skin will get re-crisped this way, and it will also make them just as delectable as before.
However, you can also reheat them in an oven if you do not have an air fryer. Reheat them in the oven at 380 degrees Fahrenheit for 20 to 25 minutes.
Serving Suggestions
Air fryer parsley baby potatoes are a perfect side dish for these delicious smoked Cornish hens.
The parsley and salt imbue the potato's skins. And, in the air fryer, they are fried to a crisp.
So, I would suggest that while the Traeger is making your tasty smoked Cornish game hens, you also put your air fryer to work on these parsley baby potatoes.
And, while your Traeger is up and running, you can opt for jalapeno popper mac and cheese. The taste of a jalapeno popper is in every bite.
Also, the smokiness from the Traeger is perfect, which makes it a great combination with the Cornish game hens.
Frequently Asked Questions About the Traeger Smoked Cornish Hen Recipe
How Long Does It Take To Smoke A Cornish Hen?
Well, how long it will take to smoke a Cornish hen is determined by a number of different factors.
So, I would strongly suggest that you always cook your Cornish hen to temp and not by time.
This fact is very true in grilling and particularly in smoking. The temperature of your grill will vary based on the outside temp, the type and size of grill you are using, how often the lid is opened, the amount of food inside the grill, and so on.
Trying to figure out the timeframe for cooking something like this suggests that you are very likely to end up with something overcooked or undercooked.
I will say that birds are fully cooked when their internal temperature reaches 165 degrees Fahrenheit.
What's the Difference Between a Chicken and a Cornish Hen?
There's actually very little difference between these two. As a matter of fact, a Cornish hen is a type of chicken.
This is to say that Cornish hens and chickens are not entirely different. It tastes like chicken, given the fact that it is chicken. It is just a young chicken.
How Old Is A Cornish Hen?
Normally, as previously stated, a Cornish game hen is around 4 to 5 weeks old when they are harvested.
And this is why they have their signature size. They also have a higher ratio of dark to light meat and a higher skin-to-meat ratio, thanks to the fact that they are small.
Final Thoughts on Traeger Smoked Cornish Hen
However, on which side do you cook your Cornish hens? Personally, I always cook all of my birds with the breast side facing up.
I believe it cooks more evenly that way. And, with the breast side facing up, the breasts are not likely to dry out while the dark meat finishes cooking.
I turn these little birds over halfway through the cooking time. This is to ensure that both sides get equal time facing down.
Although, generally, I always make sure that they spend more time with the breast side facing up.
This concludes this guide on the best Traeger smoked Cornish hen recipe, as you now have detailed information and tips on how to make it.