In this guide, you will learn how to make pork burnt ends in the oven. These pork belly burnt ends are butter-like and succulent.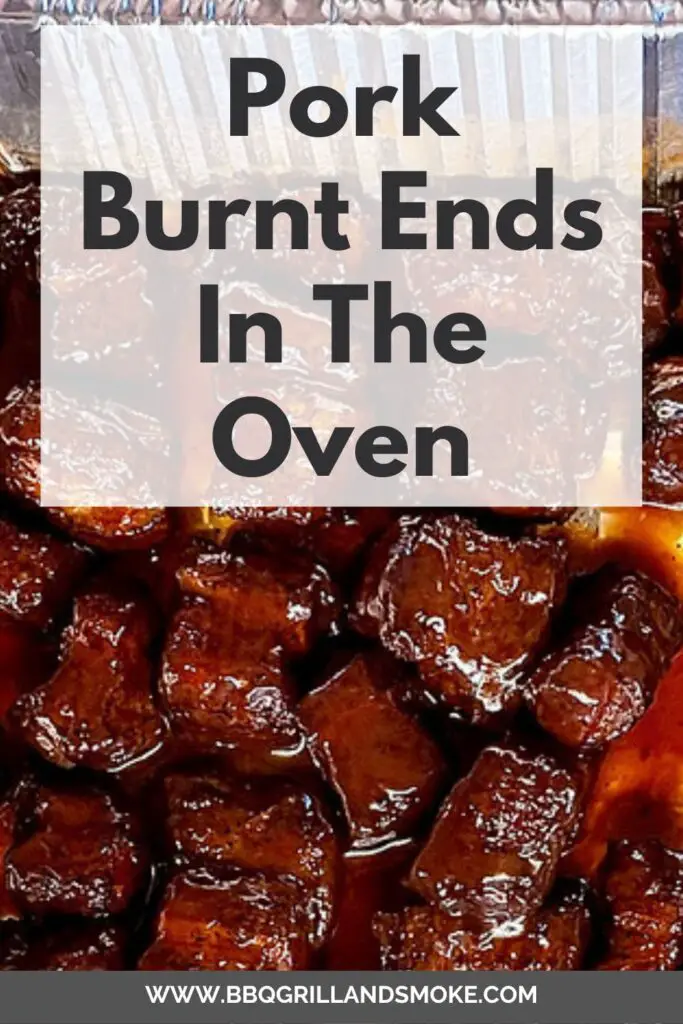 They are coated in spices and delicious barbecue sauce. They are also smoked to a mouth-watering crispness, which is ineluctably good.
These delicious burnt ends are amazing with a side of cornbread muffins and homemade mac and cheese.
What Are Burnt Ends?
Burnt ends are basically from the brisket cut of beef. This simple recipe for pork burnt ends in the oven takes pork belly, which is gotten from a pig, and is not marinated, and produces some poor man's burnt ends.
In general, pork belly is a cheaper cut compared to brisket where I live. It has a high content of fat which also makes these an excellent keto snack.
However, I advise against eating these daily due to their high-fat content. These are the perfect option as a snack on game day.
They can also be served on their own, along with a delectable, tacky dipping sauce. Or, you can go ahead and coat them in the same tacky sauce.
You can also serve these as a pork belly appetizer; this is based on your preference. I have even served these as part of a main course.
Some were in the sauce, and some were not. I serve them with some roasted potatoes and roasted asparagus.
I can assure you that you will enjoy these scrumptious pork belly treats. So keep reading to find out how to make pork burnt ends in the oven.
Tips for Making the Best Pork Burnt Ends In The Oven
I trimmed off a bit of the fat; you can do that too, but that is your choice to make.
Although trimming all the fat off is not something I would do as it adds so much flavor to the dish that it melts when cooked.
You can't really go wrong with burnt ends, as they just have a few steps. And their internal temperature is not something you need to worry about.
Even so, the internal temperature of your pork should never be lower than 165 degrees Fahrenheit.
The 3-hour cook time is more than enough to properly cook the burnt ends. And, as previously stated, go for the BBQ sauce of your choice.
Although you can use Blue's Hog brand, you can still use whichever you prefer.
Choose pork belly that resembles thick strips of bacon for this easy pork burnt-ends-in-the-oven recipe.
Frequently Asked Questions
What Do You Serve with Burnt Ends?
You can serve these delicious burnt ends as a main platter stacked on top of white bread and southern sides.
You can also pair this juicy, meaty smoked pork belly with mac and cheese or macaroni salad, collard greens, and creamy potato salad.
Or, you can just serve it as an appetizer with tangy mustard, pickles, sharp cheddar cheese cubes, and Ritz crackers or saltines.
How Can I Keep My Burnt Ends Moist?
Normally, pork belly contains a decent amount of fat, but I will consider it sad if you find yourself with some really lean meat.
Given the fact that you will need some help to stop the burnt ends from drying out.
So, I consider filling a clean, food-safe spray bottle with apple juice and spraying the pork every 20 to 30 minutes during the first 2 hours of cooking to be the best way to keep your burnt ends moist.
The meat will be kept moist this way, and it will also have a pleasant broiling layer of flavor.
As a matter of fact, for this reason, even if your meat is not too lean, it is a very good idea to give it a periodic spray.
Storage of Pork Burnt Ends
You can store any leftover pork belly burnt ends in the refrigerator. Make sure it is in a tightly sealed container.
It will last for up to 4 days. You can also reheat it in the oven, on the stovetop, or in the smoker until it is warmed through. If required, you are to add some additional sauce.
Freeze
You can freeze your burnt ends for up to 3 months immediately after they've cooled.
Get them in a freezer ziplock bag or container, then proceed to freeze them.
And, when you are ready to reheat them, you can defrost them overnight and reheat them when you are ready to serve them.
Conclusion: How To Make Pork Burnt Ends In The Oven
These tasty and best recipes for pork burnt ends in the oven are ideal and can be served with all kinds of salads, veggies, sides, and so on.
You can pair them with all your favorites. For meat, you can serve these burnt ends with smoked dishes such as smoked chicken wings, smoked ribs, smoked beef brisket, and smoked chicken thighs.
For the salad, you can enjoy them with pesto pasta salad, potato salad with baked salmon, avocado corn salad, or coleslaw.
For your side options, you can serve this meat with baked beans, easy homemade mac, and cheese, or crispy air fryer French fries.
And, lastly, for this guide, this dish, the best oven-baked pork burnt ends can be served with cornbread muffins, moist buttermilk cornbread, or hot water cornbread.
This concludes this guide as you now have the perfect guide on how to make pork burnt ends in the oven.