Smoked beef brisket Traeger recipe is a quick recipe that will result in a smoky, fall-apart, finger-licking, extremely mouth-watering smoked beef brisket.
This can definitely be the best part of your weekend. So, try out this recipe for smoked beef brisket Traeger.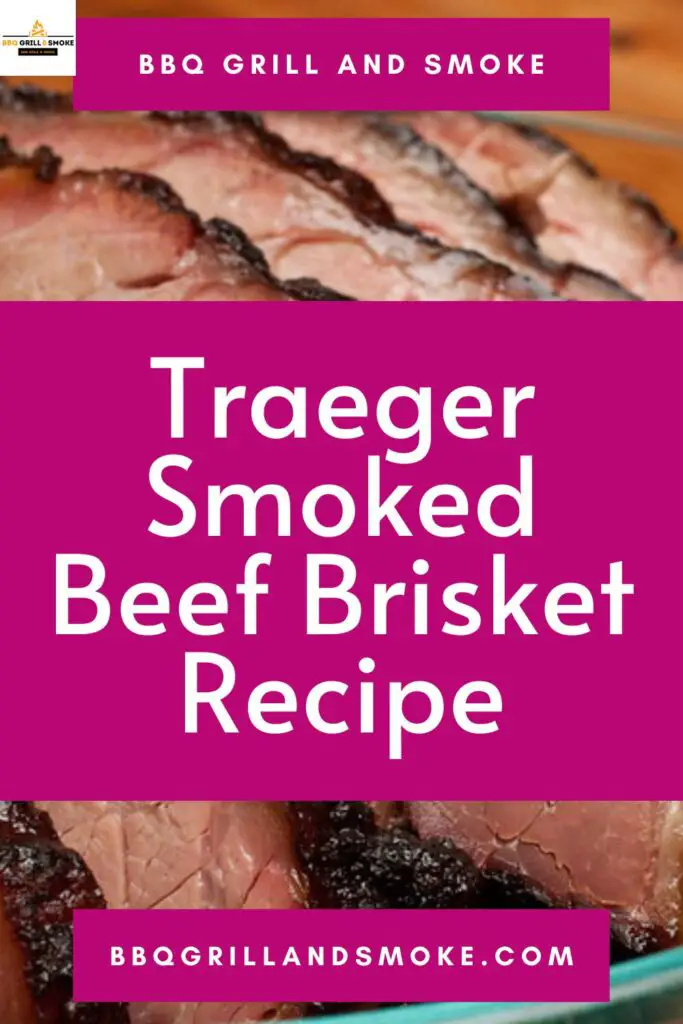 I'm sure you will love the delicious thick bark that forms on a brisket, thanks to the long smoking.
This helps add flavor and also helps retain all the tasty juices inside to cook and break down the brisket.
And, I will strongly suggest that you low-and-slow cook your brisket.
The Traeger grill will help you hold a constant temperature and also monitor the internal temperature of the brisket.
What Is Brisket?
A whole brisket is commonly referred to as a packer brisket or a full packer. It is gotten from the chest, or pectoral muscles of the cattle.
It is also referred to as "120 beef brisket, boneless, deckle-off." This is what the North American Meat Processors Association calls it.
As the name implies, a '120' brisket is boneless, and the first 4 ribs have been detached.
And, for comparison, a No. 118 is a bone-in beef brisket. The hard area of fat between the rib cage and the pectoralis muscle that has also been detached is called the 'deckle.'
So, whatever trimming is left before you get to cooking is now based on your preference.
Traeger Brisket
This easy smoked beef brisket Traeger recipe is cooked on a Traeger Pellet Grill and I can guarantee that it will be one of the best meals you've ever had.
An excellent way to make a soft, juicy, and mouth-watering brisket is by cooking it in the Traeger.
Traeger brisket is simple to make and always yields the perfect melt-in-your-mouth smoky barbecued meat you crave.
Prep Time: 10 minutes
Cook Time: 7 hours, 30 minutes
Total Time: 7 hours 40 minutes
Course: Main Course
Cuisine: American
Servings: 8 servings
Ingredients
6 pounds of whole brisket (trimmed)
For The Dry Spice Rub
3 teaspoons of onion powder
3 teaspoons of garlic powder
2 tablespoons of paprika
1 tablespoon of ground black pepper
Smoky Bourbon BBQ Sauce (optional)
2 tablespoons of brown sugar
1 ½ tablespoons of salt
3 teaspoons of mild chili powder
1 teaspoon of mustard powder (optional)
Equipment Needed
Laid-Out Instructions
The first step is for you to get all the seasonings in a bowl and mix them together. Then, proceed to use all the seasoning mix to season the brisket.
After that, you are to wrap the brisket and then refrigerate it for at least 2 hours, or just leave it overnight if that's possible.
With that being done, you can now set the Traeger temperature to 225 degrees Fahrenheit when you are ready to cook.
Now, preheat for 15 minutes, and make sure the lid is closed. Afterward, it's time to unwrap the brisket and place it on the grill.
However, make sure it is fat-side down. Then, get a meat thermometer probe and insert it into the thickest part.
After that is done, you can now close the lid and cook for around 5 hours. Or, you cook until the internal temp gets to 160 degrees F.
And, after that, remove the brisket and wrap it using butcher paper or tin foil, as this will help produce a packet around the meat.
That being done, you are to place your meat back on the grill at 225 degrees Fahrenheit until the internal temperature reaches 203 degrees Fahrenheit.
Afterward, you can remove it from the grill and allow it to cool for at least 30 minutes to 2 hours before slicing.
However, ensure that it is still wrapped; after that, you can serve this delicious smoked beef brisket with smoky Bourbon BBQ sauce.
How to Store Smoked Beef Brisket Traeger Recipe
After using this best recipe for smoked beef brisket Traeger to make yourself a treat, you have some leftovers. The question is, how do you store them?
You can get a shallow, tightly sealed container and place the leftover Traeger smoked brisket inside it, then place it in the fridge.
This will make it last for up to 4 days. And do make sure you use heavy-duty freezer bags if you intend to freeze the leftovers.
Also, get all the air out as much as possible. This will make it last for up to 3 months.
How to Reheat Smoked Beef Brisket Traeger
When you are ready to reheat, just defrost the frozen leftovers in the fridge overnight. After that, wrap the meat in foil and then place it in a baking dish.
That being done, for 20 minutes, place it in the oven at 300 degrees Fahrenheit (150 degrees Celsius) or just until it is cooked through.
How to Serve Traeger Brisket
You can serve your mouth-watering Traeger brisket with these side dishes, which include grilled broccoli, smoked cauliflower, smoked cornbread, or smoked cheesy potatoes.
You can also pair it with smoked mac and cheese or smoked baked beans. Another excellent serving option is a fresh garden salad.
You need nothing else when you have a perfectly smoked Traeger brisket.
And, you can cook smoked cheesecake or smoked chocolate chip cookies if you intend to make your dessert on the Traeger as the brisket is smoking.
Smoked Beef Brisket Traeger FAQs
Is Corned Beef The Same Thing As Brisket?
The short answer to this question is no. Although corned beef begins as a brisket, it is later brined and cured.
The result will be an entirely different flavor if you cook corned beef, thanks to the fact that it is filled with spices.
Can You Season the Brisket With Any Other Spice Mix?
The short and straightforward answer to this is yes. You can season the brisket with any spice mix of your choice.
I'm sure you are also aware that you can get premade brisket spice mix from the grocery store. And, you can use spice mix such as jerk seasoning too.
Conclusion on Smoked Beef Brisket Traeger
You can also try the following side dishes with your Traeger brisket; pear and gorgonzola salad, corn and black bean pasta salad, crispy broccoli salad, classic wedge salad, and bacon, jalapeno, and corn salad.
There are also other options, like popcorn soup and butternut squash soup.
And, lastly, pair your best-smoked beef brisket Traeger with crunchy roast potatoes, shaved asparagus with pesto, roasted asparagus with cranberries and feta, and roasted green beans and mushrooms.
That being said, this will be the wrap-up of this guide, as detailed information on the smoked beef brisket Traeger recipe has been given.