In this guide about "Where does corned beef come from", I will be discussing the origin of corned beef, and other things to know.
This means you will get to learn where corned beef comes from. Corned beef is made from beef, or more specifically, beef brisket.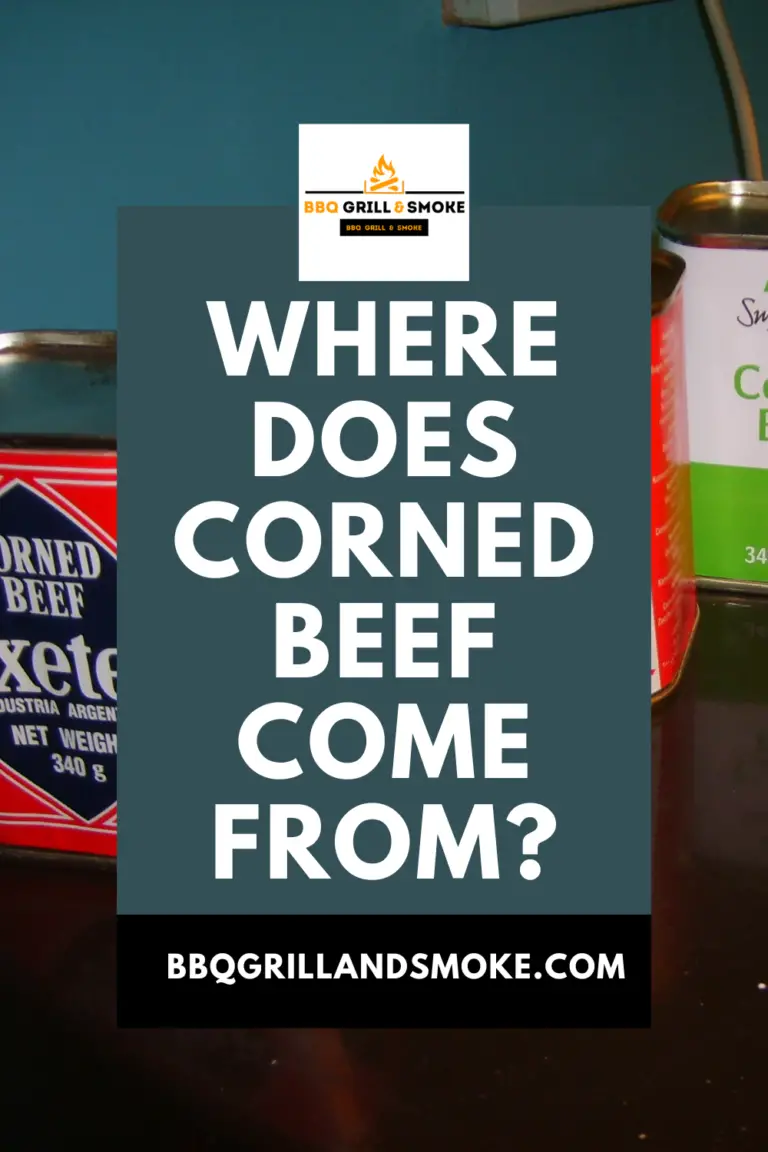 In the United Kingdom and Ireland, corned beef is frequently an affordable, mass-produced food. It is also related to Saint Patrick's Day.
In this place, it may be eaten on that particular day and also served at other times. This might be on some days of the year as a unique meal.
In the United Kingdom or Ireland, a lot of people commonly refer to it as "stewed beef" or "salted beef."
They do this because their forefathers relocated from countries where it was called for. In this guide on "Where do corned beef come from?" you will get to find out more about corned beef.
What Is Corned Beef?
Corned beef is meat that has been cured in a salt solution. For meat to be preserved, it was salted and cured. This was before refrigeration.
Historically, it is known that any type of meat could be put through the process of curing, resulting in what we now acknowledge today as corned beef.
However, corned beef is made from beef brisket in the United States. You may have seen it in some familiar places, such as the Jewish deli.
And, this is because, traditionally, the brisket is a kosher cut of meat that is cured to make it tender.
You can find corned beef and cabbage around St. Patrick's Day, and this is because Irish immigrants frequently lived near Jewish immigrants.
So, they bought their meat from kosher butchers, which then included potatoes and cabbage.
In the meat walkway at a lot of supermarkets, you can find vacuum-sealed pieces of corned beef there.
Corned Beef and Cabbage Recipe
Yield: 6 to 8 servings
On St. Patrick's Day, corned beef and cabbage have become the main platter. So, in this guide, you will also learn how to make them.
A 4 lb flat cut of corned beef will give a bit over 2 lbs of cooked meat.
Preparation Time: 10 min.
Cook Time: 5 hours
Total Time: 5 hours and 10 minutes
Ingredients
4 Ibs. flat cut of corned beef brisket, alongside juice and spice packet
1 to 2 quarts of water.
1 onion (quartered)
2.5 lbs. of red potatoes (quartered)
1 Ib. of carrots (you are to slice it in 2 parts)
1 small cabbage (to be sliced into wedges)
Laid-Out Instructions
First, you are to get a large stock pot and place the beef brisket in it, then proceed to cover it with water.
Afterward, you are to boil the water, then uncover it for around 5 to 10 minutes. And, you are to also remove any foam that you find formed on the top of the water.
And, with that being done, you are to get the spice packet and onion and add them to the pot. After that, reduce the heat to medium-low.
Then, cover it up and allow it to simmer. The timeframe for this should be 3 hours. After that, you are to also get the potatoes and carrots.
If necessary, I would suggest that you add some extra water to make sure that the vegetables are covered for the most part.
And, when that is done, you are to go ahead and cover it again, then allow it to continue to simmer for an hour.
Afterward, you are to also get the cabbage and then proceed to add it. When that is done, cover it and for an extra 20 minutes, you are to allow it to simmer.
Or, you can allow it to simmer until the cabbage is gleamingly colored and succulent. After that, you can now serve it with Irish soda bread.
Notes
In the Crock Pot
As instructed in step one, you are to boil the beef brisket, and the timeframe for this should be around 5 minutes.
Then, you are to get your crock pot and proceed to add the par-boiled beef alongside the remaining ingredients—all except the cabbage.
And, with that being done, you have to make sure that you use enough water to cover most of the ingredients.
Then, proceed to cook over low heat. Allow this to go on for around 8 to 10 hours. Or, if you prefer high heat, you are to allow it to go on for about 5 to 6 hours.
After all that, you can now proceed to get the cabbage and add it to top of everything. Then, allow it to cook for an additional 20 minutes. This should be done before you proceed to serve the meal.
Where Does Corned Beef Come From?
For centuries, corned beef has been around. But, contrary to popular belief or misconception, it was not invented in Ireland.
During the Irish migration, the first generation of Irish Americans came to America. They looked for the Irish-inspired foods of their mother country.
On St. Patrick's Day, they then made a meal that contained boiled bacon and cabbage.
Although the high price of bacon and pork could not be afforded by the immigrants.
Alternatively, to have a traditional meal, they went for the most economical meat and then proceeded to cook it alongside cabbage.
New York, Manhattan's Lower East Side, to be precise, is where the first corned beef was made.
This community was home to millions of new immigrants who were from Germany, Italy, Ireland, Poland, and other countries.
Irish butchers began to make corned beef all by curing leftover brisket in the year 1875. And, this is done with large grains of rock salt, brown sugar, and spices.
The salty meat made an invigorating change from the bland salted pork which was frequently eaten at the time.
The production of corned beef was easy in the community butcher shops, and its popularity spread and proliferated.
The cost of corned beef was also low. And, with refrigeration, it can be kept for months. In the 1930s, canned corned beef became available.
Nevertheless, the greatest popularity of the product was enjoyed during World War 2.
This was when meat rations from the war were given out to families to add to American meals.
Final Thoughts: Where Does Corned Beef Come From?
In conclusion, you now have a better understanding that corned beef was not invented in Ireland but the United States.
This American meal, corned beef, is enjoyed on St. Patrick's Day and is also used for various dishes.
And, as to where you can find the best-corned beef, you can get it in a deli or online. I would strongly suggest you go to City Landing if you live in the Boston area.
You will find that their corned beef is mouth-watering, and their service is perfect.
So, this will be the wrap-up, with all that being said, and the question "Where does corned beef come from?" answered in detail.