You will learn how to make beef burnt ends in the oven using this guide on "Beef Burnt Ends Recipe Oven."
Chuck Roast Burnt Ends, also known as Poor Man's Burnt Ends, have the incredible flavor and taste you love.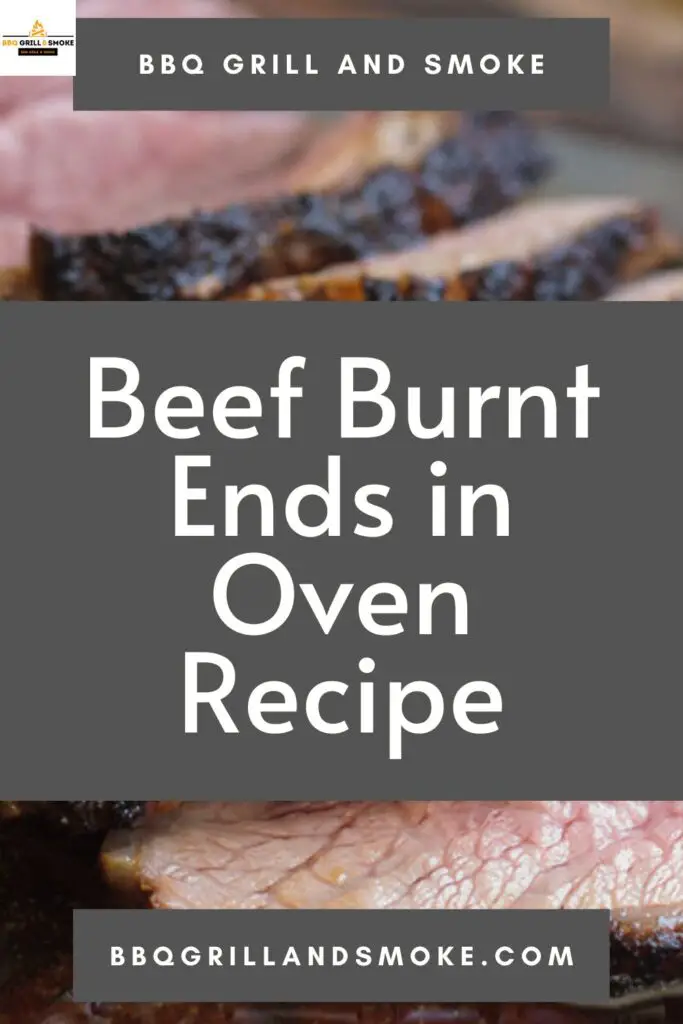 And, in comparison with the traditional burnt ends, you will cook this in no time. You will also be able to save money.
The Difference Between Beef Chuck and Beef Brisket
You need to understand that brisket and chuck are two different cuts of beef that are gotten from different parts of the cow.
Beef Chuck
This cut is obtained from the shoulder of the cow. It is a highly used muscle set. If you cook it quickly, the connective tissues make it challenging.
You'll need to low- and slow-cook this cut to break it down. This will make it soft and juicy. It is sold whole, as a roast, or ground. And it is a low-cost cut of beef.
Beef Brisket
This cut is obtained from the front legs of the cow. The muscles are used the most. If you also cook it quickly, the connective tissue will make it challenging.
Low and slow cooking will be required to break it down and make it succulent. It is normally sold as a whole brisket and is a low-cost cut of beef.
Poor Man's Burnt Ends
Poor Man's Burnt Ends are dry-rubbed, soft, and juicy beef chuck. And, for a crunchy exterior, they are cooked low and slow. I'm confident you'll enjoy this oven beef burnt ends recipe.
Prep Time: 10 minutes
Cook Time: 3 hours, 30 minutes
Total Time: 3 hours and 40 minutes
Course: Main
Cuisine: American
Method: Oven
Servings: 5 people
Equipment
Wire rack
Kitchen knives
Rimmed sheet pan
Ingredients
BBQ Spice Rub Ingredients
1 teaspoon of smoked paprika
1 teaspoon of onion powder
1 tablespoon of paprika
½ teaspoon of cayenne pepper
1 ½ teaspoons of sea salt
1 teaspoon of coarse black pepper
1 teaspoon of garlic powder
1 teaspoon of chili powder
½ teaspoon of dried mustard
Burnt Ends Ingredients
3 pounds of chuck roast
8 tablespoons and 1 stick of salted butter, sliced into 1 tablespoon pats
1 – 2 cups of barbecue sauce (I recommend Sweet Baby Rays)
2 tablespoons of spice rub
Laid-Out Instructions
The first step is to get a small bowl, then proceed to get the ingredients for the spice rub. Now, mix them in the bowl.
Whisk until they are well blended. After that, you are to measure out 2 tablespoons and proceed to store the remaining rub in a tightly sealed container.
With that being done, you can now preheat the oven to 275 degrees Fahrenheit. Afterward, lavishly spray 1 – 2 tablespoons of spice rib over the whole chuck roast.
That being done, you are to rub it with your hands, as this will help to fully coat all sides. It is time to place the seasoned roast on a roasting rack placed over a sheet pan.
Then, proceed to bake for more or less 3 hours. After that, you can now remove the roast from the oven.
Slice into 1-inch cubes. Get the baking sheet, spread the meat chunks over it, and then toss it with BBQ sauce.
Now, you are to place the pats of butter over the meat and then return the sheet pan to the oven.
After that, bake at 450 degrees Fahrenheit for roughly an additional 30 minutes. This should go on until the edges of the meat are crisp and deeply seared.
At the 15-minute mark, you are to stir the meat halfway through cooking. So, based on your preference, you are to serve it with extra BBQ sauce.
Notes
The recipe for spice rub makes roughly ¼ cup. This is enough for two roasts.
During cooking, normally, a chuck roast loses 30 percent of its weight. So, you should expect a 3-pound of chuck roast to yield around 2.1 pounds (34 ounces) of eatable meat after cooking.
And, as a general rule, I recommend cooking the roast for 1 hour for every pound of meat.
For easy cleanup, I recommend lining the sheet pan with aluminum foil. And this simple recipe is keto-friendly if you use sugar-free BBQ sauce.
Where Does Chuck Roast Come From?
This has been briefly answered above. Well, the chuck roast is gotten from the shoulder part of the cow.
This area is right above the brisket. It has an excellent beefy flavor. But you should also keep in mind that, since it is a heavily exercised muscle, it can be tough.
This cut is perfect for slow cooking. A lot of people use chuck for stews and other similar types of cooks.
The way to make the connective tissue melt as the chuck parboil is to slow cook it. This helps the meat become extremely succulent.
There are some other roasts cut from the chuck, and they include Boston Cut, English Roast, and Cross Cut.
How Should I Serve Beef Burnt Ends?
Well, now you have the best recipe for oven-roasted beef burnt ends, but another question here is how you should serve your beef burnt ends.
The truth is that these Poor Man's Burnt Ends can be served in a lot of ways, but you need to be careful with them as they are extremely mouth-watering, which might cause you to eat them all straight out of the pan.
However, I still have some ideas for you if your delicious burnt ends do make it to a plate:
First, you can actually serve these simple burnt ends with your favorite barbecue sides, such as potato salad, coleslaw, or baked beans.
You can also serve them on a bun along with sliced onion and pickles. This is for a smoked burnt ends sandwich.
Lastly, for barbecue nachos, you can stack these oven-baked beef burnt ends on top of tortilla chips, sour cream, shredded cheddar, queso cheese, and green onions.
Final Thoughts: Beef Burnt Ends Recipe Oven
You know you can always store these irresistible snacks in the refrigerator if you have any leftovers after you bake and eat what you can eat.
Although I doubt you'll have any leftovers because they're so good. Storing them in the refrigerator will allow them to last for up to 3 days.
However, before transferring them to the refrigerator, place them in a tightly sealed container.
And to reheat the leftovers, you can do that in the microwave. Make sure it is in 30-second intervals.
This is important because when it gets too hot in the microwave, there's so much sugar that will splatter.
Also, cover it, as this will make the cleanup easier. This brings us to the end of our guide on the "Beef Burnt Ends Recipe Oven."