Read through to get the best smoked corned beef brisket recipe. Good corned beef is a salty, savory relish.
It goes well on a sandwich or just plain sliced. And the interesting part is that smoked corned beef is even better in comparison.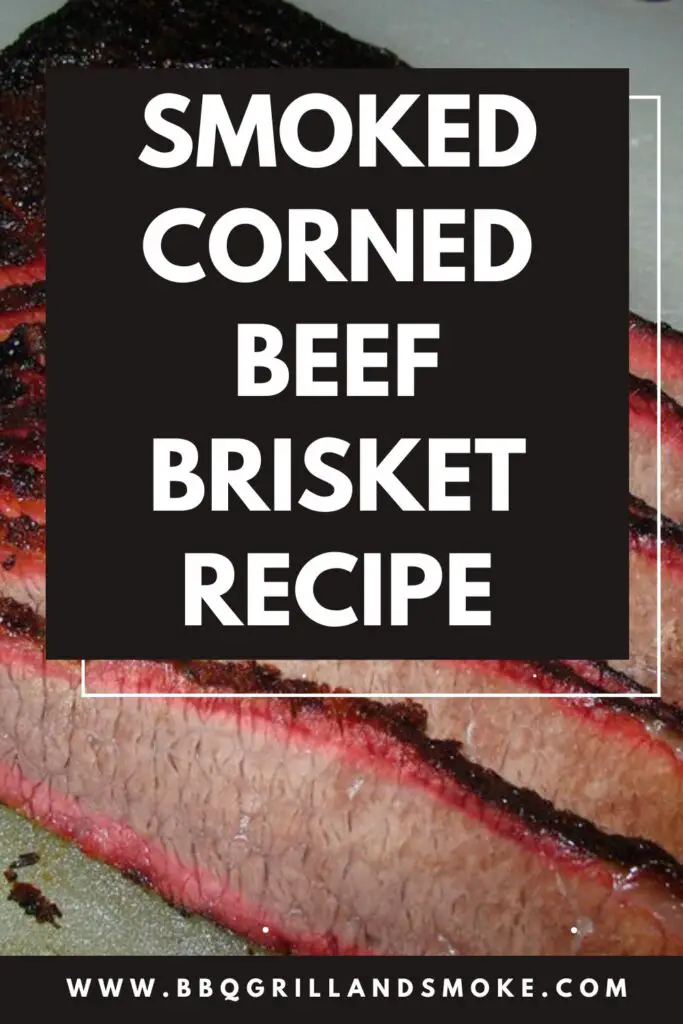 And this is thanks to the fact that the smoke induces a flavor that only boosts the flavor of the meat.
Also, to give the meat a different dimension and even more flavor, I suggest you add a generous rub.
In the smoker, corned beef gets another dimension of flavor. So, let's check out how to make smoked corned beef brisket with the help of this simple recipe for smoked corned beef brisket.
Recipes for Smoked Corned Beef Brisket
This smoked corned beef brisket is relished with a simple BBQ dry rub and also slow-smoked until both sides are soft, juicy, and scrumptious.
For St. Patrick's Day, I suggest you stack it into sandwiches and remember the homemade honey mustard sauce for dipping.
Course: Main Course
Prep Time: 15 minutes
Cook Time: 6 hours
Soak Time: 2 hours
Total Time: 8 hours and 15 minutes
Servings: 6 people
Ingredients
3 – 5 pounds of corned beef brisket
2 cups of beef broth
Spice Rub
1 tablespoon of garlic powder
1 tablespoon of onion powder
1 tablespoon of black pepper
2 tablespoons of brown sugar
1 tablespoon of ground coriander
Honey Mustard Sauce
½ cup of honey or agave
¼ cup of Greek yogurt (optional)
½ cup of brown mustard
Laid-Out Instructions
The first step is to remove the corned beef from the packaging, then get rid of the spice packet, if added.
After that, you can now proceed by soaking the corned beef in water. This should take at least 2 hours, but you can do it overnight.
Also, make sure you change the water a few times. When that is done, you are to remove the corned beef from the water and pat it dry using paper towels.
That being done, preheat your smoker to 175 degrees, and at the same time, get a small bowl and mix the spice rub ingredients in it.
Then, you are to whisk them until they are well combined. After that, you can coat the corned beef with spices.
Afterward, you are to place the corned beef on the smoker and make sure the fat side is up. Then, cook for 2 to 3 hours until the temperature gets to 160 degrees Fahrenheit.
Get a disposable aluminum foil pan and pour the beef broth into the bottom. After that, add the brisket to the pan.
Also, make sure the fat side is up. Cover the pan with aluminum foil and ensure that it is tightly covered.
Now, you can continue smoking for 2 to 3 hours, until the internal temp of the meat reaches 205 degrees Fahrenheit.
With that being done, you can now remove the brisket and allow it to cool for around 15 to 20 minutes.
At the same time, you are to make the honey mustard sauce, and you can do that by mixing the honey, Greek yogurt, and mustard together.
That being done, you can now cut the corned beef against the grain into ¼-inch-thick pieces. Then, proceed to serve with the honey mustard sauce and enjoy.
How to Use and Store Smoked Corned Beef Brisket
A hamburger or cheeseburger is an excellent substitute for bacon. And, you can also use the smoked corned beef in wraps and sandwiches, as previously stated.
I suggest you start simple and serve your corned beef with mustard on rye or pumpernickel, and relish every bite.
You can also place your corned beef into a Reuben sandwich along with sauerkraut, Swiss cheese, and Russian dressing on rye.
You can serve it in the morning along with eggs and breakfast potatoes, or you can just do it in an omelet or hash.
You can store your smoked corned beef brisket in the refrigerator, which will make it last for up to four days. However, make sure you keep it in a tightly sealed container.
Does Corned Beef Really Need to Be Soaked Before Smoking?
If you don't know what corned beef is, it is a brisket that has been cured in a salt brine, which creates an extremely salty cut of meat.
Normally, while the corned beef cooks in a traditional way, this salt leaks out. The traditional way, like a low boil in water.
Well, the meat sits directly on the grill, given the fact that no water is used on the smoker. So, this is where presoaking comes in, as it helps get rid of the salt.
This is a necessary procedure. To get rid of even more salt, you can soak it longer than 2 hours, even up to 8 hours.
And I strongly advise you to change the water every 1 or 2 hours to get the most out of it.
What is the Difference Between Corned Beef and Pastrami?
Smoked corned beef is actually pastrami. The main difference between these two is that pastrami uses certain spices, such as paprika and herbs. After that, it is steamed after being smoked.
How Long Do I Smoke Corned Beef?
You are to cook to temperature and not to time. This goes the same for any type of smoked beef recipe, which includes this simple smoked corned beef brisket recipe.
Although, generally, the cooking time for corned beef should be around 6 to 9 hours for the meat to be fully cooked.
At What Temperature is the Corned Beef Done?
You can know that your meat is done when it reaches an internal temp of 205 degrees Fahrenheit or 210 degrees Fahrenheit.
You will know that the smoked corned beef is done when you cut through it like butter. This is a good indicator if you don't have a thermometer.
Final Thoughts: Smoked Corned Beef Brisket Recipe
For smoking, you can go for oak or cherry wood. For the smoky flavor, I'm sure what you want is good hardwood.
If you don't want to make your own spice rub, you can buy it in a store.
And, as previously mentioned, place the scrumptious corned beef in a large container of water for 2 hours or even more if you think it can be too salty.
This will help remove some of the salt, although there are people who like the saltiness; you might be one of them.
And, before you serve your delicious corned beef, I suggest you allow it to cool for 30 minutes, as this will allow the juices to stay inside.
Now, that being said, you now have the best smoked corned beef brisket recipe, which brings an end to this guide.