In this guide, you will learn how to make brisket burnt ends in the oven. This simple recipe for burnt ends came from the pitmasters in Kansas City's biggest BBQ joints.
These mouth-watering BBQ Brisket Burnt Ends are the ideal combo of salty, smoky, and delicious in a yummy bite of tender meat.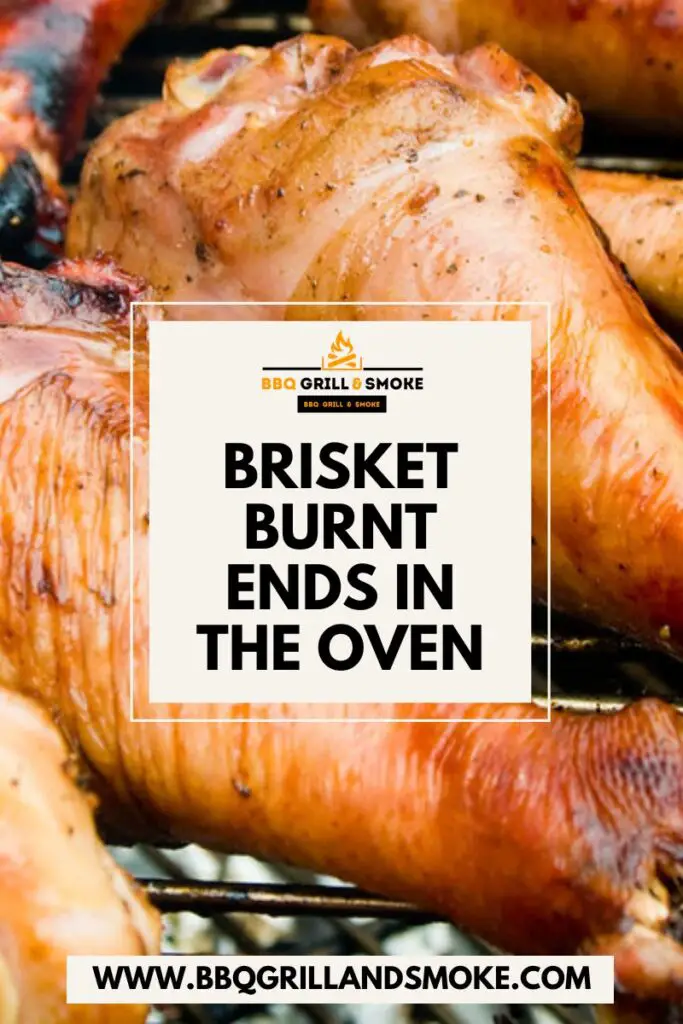 Slow-smoked, after which they are braised in a spicy Kansas City-style BBQ sauce.
They are the perfect option for an appetizer at a dinner party, along with the sliced flat of the brisket as the main dish, or just as part of your BBQ table spread.
What Are Burnt Ends?
So, what exactly are burnt ends? Originally, they started as a Friday special at BBQ joints after the restaurant had collected the crunchy ends of their sliced brisket all through the week.
Then, they are sauced up and served on bread. They rose to such prominence that many restaurants began offering burnt end on their menus.
Burnt ends are said to have taken hold in Kansas City, Missouri. They are obtained from the pointed end (also known as the deckle) of a brisket.
This cut is from the pectoral muscle of the cow and is surprisingly tough due to the fact that the cow uses it so frequently.
Also, this cut is well marbled with fat, so those tight connective tissues break down and coagulate as the fat melts and dampens the meat when the meat cooks low and slow over a wood fire.
You are then left with these little nuggets of soft and juicy beef with a signature smoky bark and extremely pleasant BBQ flavor in every bite.
Best Burnt Ends (Brisket) Recipe
The best brisket burnt ends recipe will give you a meaty, flavorsome beef brisket pieces that have been tossed in BBQ sauce and Coca-Cola. You can serve it with your favorite southern sides.
Could I Use A Different Cut Of Meat For The Recipe?
Definitely. You can try using other cuts of meat for this simple recipe. If you want to stick with beef and avoid making this simple recipe with brisket burnt ends, there are two cuts to try.
The first is the boneless chuck roast, which will also cook in a similar way. However, it has more fat, so when you cube up the meat, it will need more trimming.
The second cut, which is also the guide's final mention, is beef short ribs, which have a very rich flavor and a good amount of fat.
I suggest you order a full plate of short ribs and then proceed to get rid of the bones before cooking.
If you want to try a different animal for your burnt ends, pork belly burnt ends are extremely popular and delicious.
What Type Of BBQ Sauce Should I Use?
Well, the short and straightforward answer to the above question is to go for your favorite BBQ sauce.
However, brisket burnt ends are a Kansas City specialty, so I strongly advise you to use a Kansas City-style sauce.
It should be something that is tomato-based with a toss of sweet taste. And, based on your preference, you can use a tangy version of a tomato-based sauce.
However, without a sauce that has sugar in it, this best recipe for brisket burnt ends in the oven won't get broiled correctly.
So, for example, I will suggest that you stay away from a Carolina-style mustard sauce.
Storing and Reheating Brisket Burnt Ends In The Oven
You can store leftover brisket burnt ends in the refrigerator. But make sure it's in a tightly sealed container.
This way, it can last for up to 3 to 4 days. And you can enjoy it either cold from the fridge or reheated.
And, when you are ready to reheat the leftovers, do it in the oven and make sure it is no hotter than 325 degrees Fahrenheit.
I suggest you switch to the broiler at the end. This is if you intend to get the crunchy bits again.
Another great option for warming back the brisket burnt ends is an air fryer.
Final Thoughts: How To Make Brisket Burnt Ends In The Oven
You can serve these scrumptious burnt ends with classic garlic knots, slow cooker honey garlic smokies, and bacon-wrapped jalapeno poppers for a full BBQ appetizer spread.
You also need to keep in mind that these amazing brisket burnt ends will not have the same smoky flavor compared to when they are smoked since they are made in the oven.
However, to help invigorate the smoky flavor, I recommend adding some liquid smoke, or you can just go for a smokey BBQ sauce.
And the best kinds of wood for brisket include oak, pecan, and hickory. They are my favorite woods to smoke with.
Although you can also use cherry, apple, or mesquite wood, as they also work well.
Keep in mind that the type of wood you select might be determined by the seasonings you use and the flavors you intend to get from the meat.
So, I can now conclude this guide, as you now know perfectly well how to make brisket burnt ends in the oven.