Looking for the best recipe for Traeger smoked beef ribs? This is the right guide for you to prepare flavorful, tender, and sumptuous smoked beef ribs on Traeger grill.
In this recipe guide, I will teach you how I make the best Trager-made smoked beef ribs using the 3-2-1 method, which means 3 hours on the grill, 2 hours while wrapped, and 1 hour with the BBQ sauce rubbed on the beef.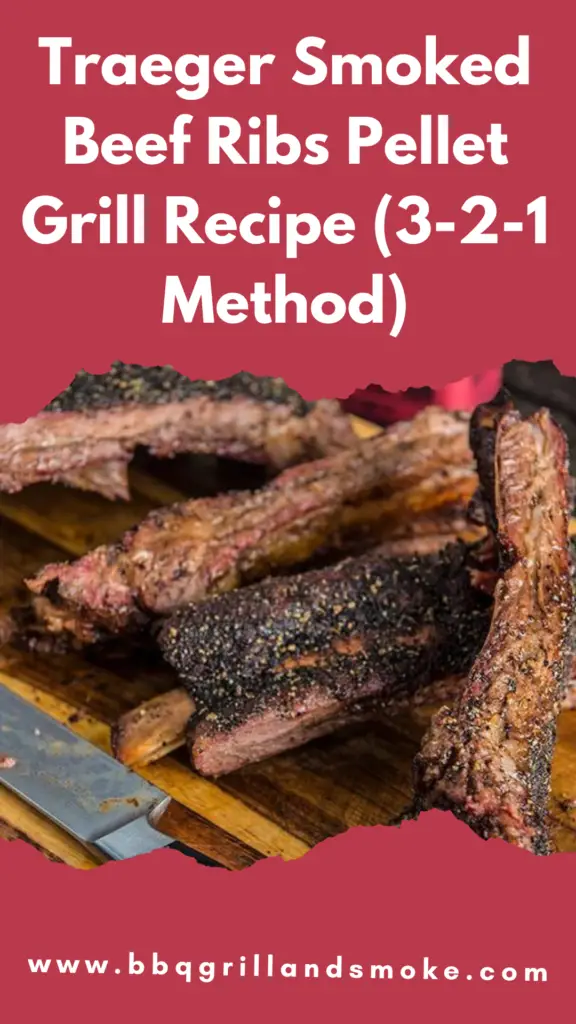 This recipe is easier to make than many smoked beef recipes out there. Why? This is because we are using the Traeger grill to make it. Also, note that you can use other pellet smokers for this recipe.
With the 3-2-1 method, there is little stress on your part during the grilling process as you can set the griller to a particular temperature for the whole process.
As for me, I just set it to 225˚F, and allow the grilling to go on for the whole period. With this, I got less work to do on my part, the smoker does the rest.
The Ingredients for Making Smoked Beef Ribs in Traeger
For this recipe, here are the ingredients you will use to prepare smoked beef ribs:
Chuck ribs or plate ribs
Avocado/olive oil
Pomegranate juice
Mesquite seasoning
BBQ sauce
Making Traeger Smoked Beef
Course: BBQ
Cuisine: American
Preparation time: 15 minutes
Cooking time: 3 hours
Servings: 4
Ingredients
1 rack of beef ribs
1 tbsp avocado/olive oil
1/3 cup mesquite seasoning
Cayenne pepper
1 cup pomegranate juice
1 cup BBQ sauce
Instructions
Preheat the Traeger grill to 225˚F.
Brush the beef ribs with the avocado/olive oil, and season well with mesquite seasoning. Also, you should add a little sprinkle of cayenne pepper and a little spice.
Coat the ribs with pomegranate juice and place the bony side of the rib to face the grill.
Set a time to spray the ribs once per hour, and smoke for the next 3 hours.
Remove the rib and place the side with meat directly on 1 or 2 layers of aluminum foil. Cream with the leftover juice, and crimp the foil to seal.
Smoke the ribs for another 2 hours.
Remove from the grill and unwrap from the aluminum foil and coat the ribs well with the BBQ sauce. Place back with the bony side facing down, and set the grill to 225 ˚F, using the 'super smoke' setting, and grill for another 1 hour.
Serve after 5 minutes.
Notes
I prefer to remove the membrane from the rib, as this allows the rub flavors to sink well into the meat. The membrane is always a blockage that stops deep penetration of the flavors.
Are beef ribs cooked bone up or bone down?
It is always better to cook the ribs facing down than facing up. This helps in two ways. Firstly, it allows the flavor to enter the meat from the top. Secondly, it works against the rib falling off to the side while being cooked.
How Long are Beef Ribs Smoked on Traeger?
This can be done in 6 to 8 hours. For you to get fully cooked smoked beef ribs on Traeger, you need to cook for around 6-8 hours in total.
There are some processes attached to it, adding flavor and spice during the cooking process is important for you to get the best taste out of your dish.
What are the best Sides for Smoked Beef on Traeger?
In case you are thinking of what best sides for Traeger smoked beef ribs, here, I will let you know the best side dishes that go with this delicious food.
You also need to check out instant pot pinto beans. This super easy meal is also a perfect fit for smoked beef ribs.
You should also try out German potato salad. This tangy and creamy dish combines bacon-mustard vinaigrette dressing with tender potatoes to create the best side for your Traeger smoked beef ribs.
Vinegar coleslaw is one dish that goes well with smoked beef ribs. The simple side dish is delicious and crunchy.
What about an instant pot of corn on the cob? This is another side dish you should check out, this is made from a pressure cooker with ingredients that give your corn a sweet taste and tender feel.
Lastly, you should check out try the Mexican street corn salad with couscous. This creamy and smoked corn is one of the best sides for beef ribs in a Traeger or pellet grill.
What Pellets are the Best for Smoking Beef Ribs?
For this recipe, I use the Traeger Signature Blend pellet. There are many flavors of wood out there, but, I always prefer this – it is a blend of cherry and maple.
You can as well check out mesquite or hickory.
Storing and Reheating Leftover Smoked Beef Ribs
Do you have leftover Traeger beef ribs? You can always store them in the refrigerator, and they can stay there for up to 5 days.
Whenever you want to eat it, just microwave it for 1 minute or thereabout. This short time helps guide against drying out.
How to tell when Traeger Smoked Beef Ribs are Done
It is easy to tell when your smoked beef ribs are done. Just stick a fork in the meat from time to time to check for your desired tenderness.
Is the 3-2-1 Method Good for Smoked Beef Ribs?
The 3-2-1 method is a great way of smoking beef ribs. This method works pretty well for baby back ribs as well as for pork ribs. It equally works well for beef ribs.
With this method, you smoke beef directly on the grill for 3 hours, then wrap it in foil paper or butcher paper with some liquid and smoke for another 2 hours, before unwrapping and smoking for another 1 hour.
Final Thoughts on Traeger Smoked Beef Ribs Recipe
Do well to follow the instructions listed in this recipe guide. If done correctly, you will get the best-smoked beef ribs in a pellet grill.
Have you tried it? Let me know the result in the comment section below.