Are you looking for something that seems exquisite but is still affordable, a breakfast or brunch that will make the crowd bite their tongues?
Well, you are in the right place, as I will be giving you the best-smoked salmon bagel toppings recipe in this guide.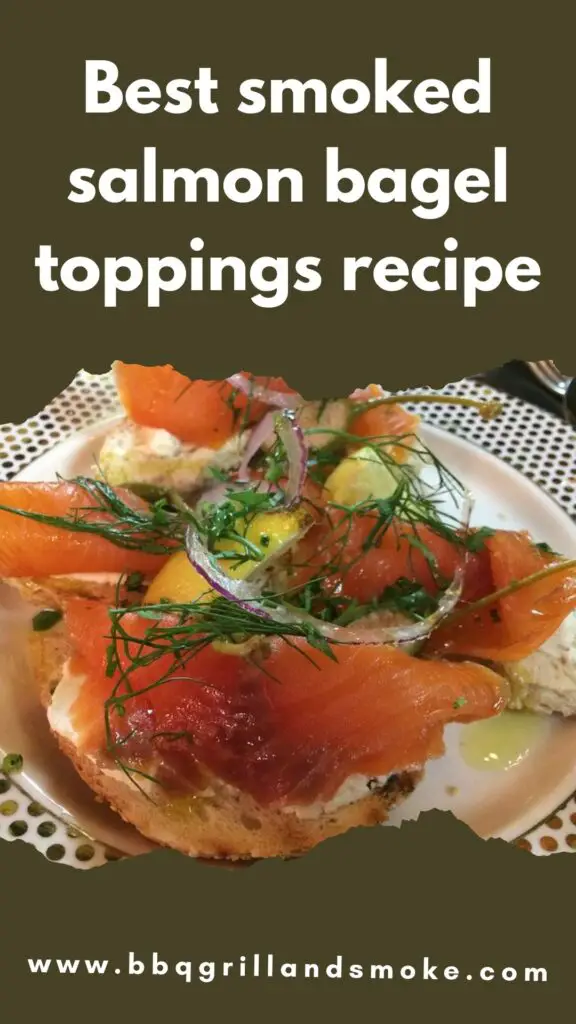 This perfect recipe is inspired by the classic smoked salmon and cream cheese bagel, which is a staple in the world of bagel toppings.
This dish has tangy lemon-dill cream cheese. This perfect recipe requires just a few minutes to speed up, and it results in a very savory yet simple bagel spread.
What Is Smoked Salmon Bagel Toppings?
I consider these smoked salmon bagel toppings to be an excellent breakfast or brunch offering.
You will find pre-sliced smoked salmon and cream cheese available in most grocery stores.
This makes this simple recipe quite easy to make and even easier to serve. Smoked salmon means salmon that has been smoked.
It means it has gone through a process of curing and has been hot- or cold-smoked. Smoked salmon is considered a treat, thanks to it being somewhat expensive.
The salmon is actually protected by the smoking process against microorganisms that can boost spoilage.
Smoked Salmon Bagel
This simple brunch recipe makes it easy to make this smoked salmon bagel and cream cheese. It is filled with flavors, and every bite is mouth-watering.
Cuisine: American
Course: Breakfast, Brunch, and Sandwich
Prep Time: 10 minutes
Total Time: 10 minutes
Servings: 2 servings
Equipment
Mixing Bowl Set
Ingredients
4 ounces of thinly sliced smoked salmon
2 bagels (halved)
2 tablespoons of lemon juice
4 ounces of cream cheese
Red onion slices (for serving)
1 tablespoon of fresh dill (add more for serving)
Salt and pepper (to taste)
1 – 2 Persian cucumbers, peeled into ribbons
Capers (to taste)
Instructions
The first step is to get a small bowl, then combine the following ingredients: lemon juice, fresh dill, cream cheese, and salt and pepper to taste.
After that, you are to toast the bagels. That being done, you are to spread the cream cheese mixture on the bagel.
Make sure it is on both sides of the bagel. Then, proceed to add the smoked salmon, capers, cucumbers, and red onions to the bottom of the toasted bagels.
Now, top with the top of the bagels. After that, serve and enjoy your treat.
Notes
Make Ahead
You will be surprised that you can actually prepare this ahead of time. However, I will strongly suggest that you serve and eat your smoked salmon bagel toppings as soon as they are made.
As that is the best time to enjoy your delicacy. But you can still keep it in the fridge for 24 hours. Also, make sure it is well covered.
How to Store Smoked Salmon Bagel Toppings
You can store any leftovers in a tightly sealed container or you can wrap them in plastic wrap in the refrigerator.
Doing this will make them last for up to a week. However, you do need to ensure you wrap them well, as this will help avoid dryness and the bagel getting dry faster.
Freezing
You can freeze the salmon and bagels separately in tightly sealed containers. Or, zip-lock bags.
They will last for up to 3 months in the fridge. You should also store the cream cheese and toppings in the fridge.
And, before assembling, you can defrost the bagels and smoked salmon overnight in the fridge.
What to Serve with Smoked Salmon Bagel
This smoked salmon bagel is classic enough to be served as a party appetizer. And, you can also do it at your family brunch, as it is a simple recipe.
Appetizers
You can slice these smoked salmon bagel toppings for a party and serve them with other apps.
Pair this with eggplant roll-ups, chicken and mushroom phyllo appetizers, or mushroom puff pastry appetizers.
Eggs
You can enjoy your bagels with some easy poached eggs with caramelized onions, bacon mushroom omelets, spinach mushroom frittata with bacon, or eggs benedict.
Pancakes or Waffles
Also, on your brunch table, you can enjoy your smoked salmon bagels with blueberry ricotta pancakes, cottage cheese pancakes, buttery Belgian Liege waffles, or homemade buttermilk pancakes.
Muffins
These salmon bagels are excellent options to be paired with banana chocolate chip muffins, cornbread muffins, or blueberry muffins.
FAQ about Smoked Salmon Bagels
Is Lox the Same as Smoked Salmon?
These two are different products, even though the term lox is occasionally applied to smoked salmon.
Lox is brined salmon that usually originates from the belly of the fish. It is cured by salt and not cooked.
Lox can actually be used to substitute smoked salmon in most recipes, this one included.
However, you need to keep in mind that, in comparison with smoked salmon, lox is much saltier.
Is Smoked Salmon on Bagel Cooked?
Well, the salmon on this bagel is first cured, brined, and then smoked. Although we can say it is basically not cooked.
However, it is safe for consumption as the meat is kept from spoiling or growing bacteria thanks to the smoking process.
Cold Smoked Salmon orvHot Smoked Salmon?
Cold-smoked salmon is also commonly referred to as lox. As previously stated, it is cured in a salt and sugar rub.
On the other hand, hot smoked salmon is marinated in sugar and spices, then smoked with heat with wood chips.
What Bagels Should I Use?
You can use sesame-seeded bagels, as this helps add an extra layer of flavor.
However, the truth is that you can use regular, plain bagels too if that's what you want.
Even so, make sure your bagels are toasted, whichever one you choose to use. You can toast them in a scorching hot griddle pan.
This will help add some sear and also some additional smoky flavor. You can also use a toaster or broil under the grill.
Final Thoughts on Smoked Salmon Bagel Toppings Recipe
For fillings, you can either use cucumber or not, although whichever you choose, the result always tastes delicious.
You can also add a teaspoon of capers per bagel. But, you need to keep in mind about decreasing or skipping the onion if not, the treat will get a bit piquant.
And, for the best-smoked salmon to use, I will strongly suggest that you go for natural or organic smoked salmon.
This will give you the best flavor and quality. Norwegian is undoubtedly a better option. Just go for one that does not have added preservatives or flavorings.
That being said, this concludes this guide on the best-smoked salmon bagel toppings recipe.