This best smoked salmon on bagels recipe is a fast and simple way to make cream cheese and smoked salmon bagels. I guarantee every bite is delectable and filled with fresh flavors.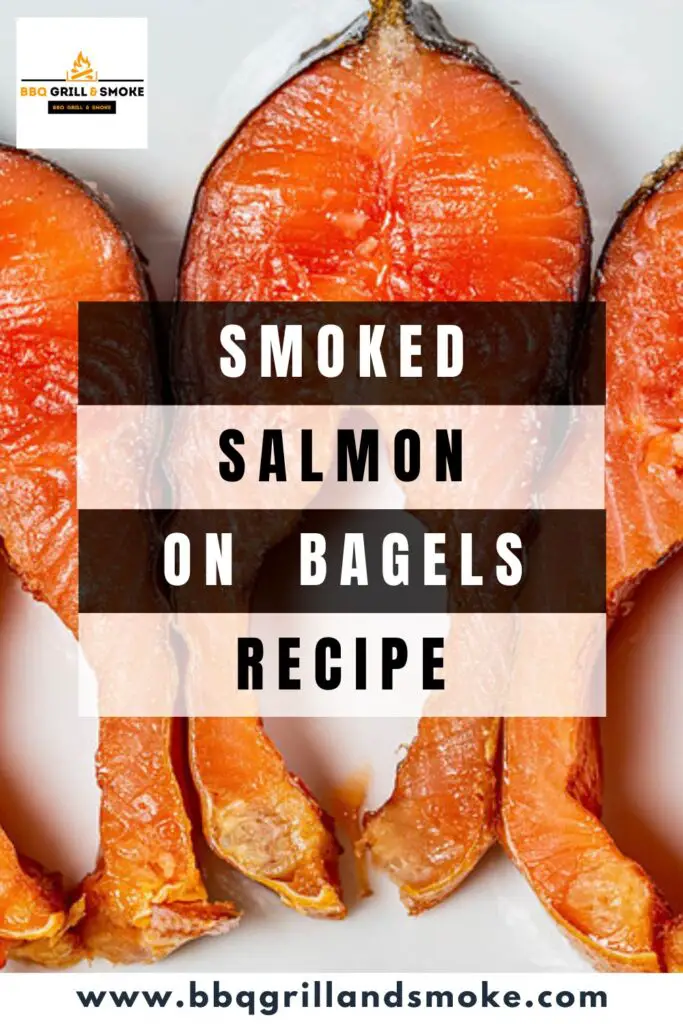 This easy recipe is ideal to enjoy for a savory breakfast or a lazy Sunday brunch. This cream cheese and smoked salmon on bagels is extremely mouth-watering.
This is certainly one yummy bite with fresh flavors of lemon and dill.
Recipe for Smoked Salmon on Bagels
Preparation Time: 25 minutes
Cook Time: 0 minutes
Total Time: 25 minutes
Servings: 6 servings
Course: Breakfast, Brunch
Cuisine: American
This perfect smoked salmon and cream cheese bagel is an excellent breakfast or brunch treat.
You can find pre-sliced smoked salmon and cream cheese available in most grocery stores. This means this healthy recipe is easy to make and even easier to serve.
Smoked salmon means it has gone through the process of curing and has been hot- or cold-smoked.
Smoked salmon is regarded as a luxury, thanks to its fairly high price. The smoking process serves the purpose of protecting the salmon against microorganisms that can cause spoilage.
The fish is salt-cured and partially dehydrated during the process, which disrupts the bacteria's activity.
Bacteria like Clostridium botulinum, which can sometimes be found in seafood, are killed by the high heat treatment that happens during the hot-smoking process.
The high salt content helps prevent the growth of microorganisms. The smoked salmon bagel can be paired with fresh herbs like chives and dill.
You can also add a few thin slices of cucumbers or tomatoes. Adding avocados is also a good option.
This simple recipe for smoked salmon on bagels is excellent for brunch gatherings and bridal or baby showers.
It is quite easy to put together and requires no cooking. For perfect freshness, try to buy fresh bagels the morning of the party.
Bagel bars can work throughout the year. You can also buy a few gluten-free bagels and provide toppings that are dairy-free, like tofu-based spreads or hummus, if you will be having dairy-free, vegan, or gluten-free guests.
Ingredients
3 medium bagels, split and toasted
6 ounces of thinly sliced smoked salmon or lox
3 tablespoons of capers, drained and divided, optional
6 ounces of cream cheese (softened)
Lemon wedges, garnish
Freshly ground black pepper (to taste)
1/3 cup of thinly sliced red onion (based on your preference)
Laid-Out Instructions
You are to start the process by gathering the ingredients, then proceed to spread the toasted bagel bottom halves with cream cheese.
After that, you are to spray half the capers over the cream cheese. Remember that this is based on your preference.
With that being done, top with sliced smoked salmon. Then, garnish the bagel tops with the rest of the capers, black pepper, and onion. Also, garnish with fresh lemon wedges.
Serving Suggestions
This smoked salmon on bagels is refined enough to be served as a party appetizer and simple enough to be a perfect family brunch.
Appetizers
For a party, I suggest you slice up these smoked salmon on bagels and serve them with other apps.
They can go well with mushroom puff pastry appetizers, chicken and mushroom phyllo appetizers, or eggplant roll-ups.
Eggs
You can enjoy your best smoked salmon bagels with some bacon mushroom omelets, eggs benedict, easy poached eggs with caramelized onions, or a spinach mushroom frittata with bacon.
Muffins
These healthy salmon bagels are perfect with banana chocolate chip muffins, blueberry muffins, or cornbread muffins.
Pancakes or Waffles
Serve these with homemade buttermilk pancakes, blueberry ricotta pancakes, cottage cheese pancakes, or buttery Belgian liege waffles on your brunch table.
Add-ins and Substitutions
Add Toppings
You can put together this easy smoked salmon on bagels exactly the way you like it, with toppings such as avocado, red onion, capers, sliced tomatoes, and fresh dill.
Substitute the Cream Cheese
Well, you can also make this healthy recipe with goat cheese, Neufchatel cheese, brie, or gouda rather than cream cheese.
Use Different Types of Bagels
You have the option of using garlic, egg, poppy, everything, or any other type of bagel you prefer, but plain bagels will not overwhelm the flavors of the salmon and cream cheese.
Substitute Different Salmon Preparations
Instead of smoked salmon, you can go for salt-cured, brined, or cooked salmon, especially if you would love a silkier or firmer texture, respectively.
Tips for Making the Bagel Sandwich
Toast Your Bagels
You get to add extra texture to your bagels by toasting them, and it also makes them extremely delectable.
However, you can also untoast them, but I prefer them this way.
Soften the Cream Cheese before Combining
By softening the cream cheese before mixing, the ingredients will be incorporated more evenly and easily.
I suggest that you remove the cheese from the fridge 30 minutes before you make these.
Instead of Using Bottled Lemon Juice, Use Fresh Lemon Juice.
Going for fresh lemon juice is a better option, as it is much fresher and zingier. Also, it consists of more vitamins.
Use the Freshest Ingredients
This easy bagel is perfect with the freshest ingredients. So, opt for the first-rate quality ingredients you can find for the best result.
Frequently Asked Questions
Can You Make Them Ahead of Time?
These smoked salmon bagels are best put together before you serve them. This will make everything appear nice and fresh.
The cream cheese can be made a day or two ahead of time. However, keep it covered in the refrigerator.
You can make them up to 24 hours ahead of time if you intend to make them as part of a packed lunch.
Just ensure that you wrap them tightly in plastic wrap and store them in the refrigerator.
What Other Toppings Can You Add?
This has already been visited above. The short answer to this is that you can add any topping of your choice.
This is due to the fact that both smoked salmon and cream cheese have a soft texture.
You can go for crispy toppings such as red onion and cucumber. You can't ever go wrong with an avocado or a poached egg.
Final Thoughts: Smoked Salmon on Bagels Recipe
Before I wrap up this guide, let me talk briefly about whether there's a difference between lox and smoked salmon or not.
One can't argue that they are extremely similar but not exactly the same. Lox happens to be cured or salt-brined, which results in its having a mainly salty flavor.
On the other hand, smoked salmon is also cured or salt-brined, but the difference is that it is smoked.
And, thanks to this, it gets a smoky flavor. So that brings us to the end of this guide on the best smoked salmon on bagels recipe.