Learn how to smoke salmon without a smoker, which will result in a mouth-watering and hearty alternative to store-bought ones.
Doing it this way will permit you to control the quality of the ingredients and also provide you with the freedom to experiment with different flavors and methods.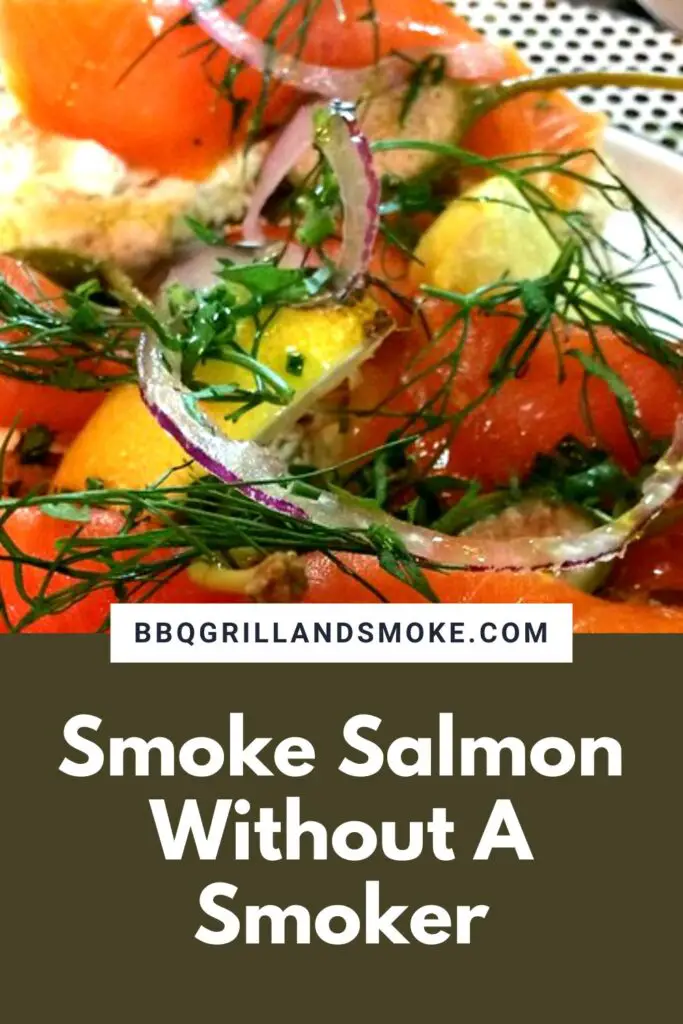 In addition, you'd be surprised to find out that making your own smoked salmon is extremely easy, and no smoker is actually required to do so.
So, you shouldn't worry if you don't have a smoker, as there are a few simple techniques you can use to smoke salmon at home without any specialized equipment.
What Is Smoked Salmon?
Smoked salmon is a well-known delicacy that has to do with curing and smoking fresh salmon fillets.
The process of smoking imbues a rich, smoky flavor to the fish while also preserving it.
However, traditionally, a smoker is used to prepare and make this, but there are other techniques that can be used to yield equally delectable results.
It's time to get into details on how to smoke salmon without a smoker. I strongly suggest that you read through to the end.
Smoked Salmon Without a Smoker
It's time to learn the trick to making homemade cold smoked salmon at home with an enticing smokey, salty brine mixture. Remember that no smoker is needed.
Course: Appetizer
Cuisine: American
Prep Time: 10 minutes
Total Time: 1 day, 10 minutes
Servings: 2 servings
Ingredients
Smoked Salmon Ingredients
8 oz of salmon fillet (boneless)
Dry Rub Ingredients
3 tablespoons of sugar
2 drops of liquid smoke
3 tablespoons of salt
Laid-Out Instructions
How to Make Cold-Smoked Salmon
Make the Dry Rub
First, you are to mix the sugar, salt, and liquid smoke and blend it well for the liquid smoke to be equally distributed all over.
Cover the Salmon in Dry Rub
Get some plastic wrap and line a small container with it. After that, place half of the dry rub on the bottom, then place the salmon piece on top.
That being said, add the second half of the dry rub. However, in order to completely cover the salmon, I suggest that you move it around.
Now, gather all the ends of the plastic wrap and twist. This way, the salmon and the salt will become totally wrapped up.
Make sure that the twist is tight so that immediately after the salt and sugar liquefy, they do not leak out.
After that, proceed to cover the container with a lid and refrigerate for 24 hours.
With that being done, you are to trim off a piece of the salmon and decide if it is salty enough, as this is based on your preference.
So, if it happens to be salty enough for your liking, then you can proceed to remove the salmon from the brine, pat dry, and refrigerate in a clean container.
How to Cut the Smoked Salmon
For around 30 minutes, you are to freeze the salmon, as this will make it easier to slice.
After that, you are to use a sharp fillet knife to cut the salmon into thin strips. Do this against the grain.
Recipe Notes
Your salmon will become too salty for your liking when it has been kept in the brine for too long.
If that is the case, just submerge the fish in some boiled, then cooled, water for 30 minutes or more until the salmon is at the level of saltiness you desire.
How to Serve Smoked Salmon
If you intend to make a great light meal, then pair smoked salmon with a simple vegetable side.
You can go with lemon asparagus and just top the salmon with a dollop of Hollandaise sauce.
You can also serve your delicious smoked salmon cold or warm over a bowl of cauliflower rice and vegetables.
In addition, you can pair smoked salmon with bigass salads. Also, use the leftover smoked salmon in avocado Caesar jar salads to make quick lunches that you can grab on the go.
You can use smoked salmon to substitute for the poached salmon in a primal salmon spread, particularly if you just want to try something a bit different.
Storage Tips
Refrigerator
Get a tightly sealed container and keep the cold smoked salmon fillet in it, then proceed to place it in the fridge, as this will help prevent it from drying out.
Storing it this way will allow it to remain fresh for up to 5 days.
Freezer
If you intend to freeze, this will make the cold smoked salmon last for up to 3 months.
Just place it in a freezer-safe bag and make sure that it is marked with the date.
And, when it is time to defrost it, just simply place it in the fridge and leave it there overnight.
Frequently Asked Questions
What Is The Difference Between Cold and Hot Smoked Salmon?
The difference between these two is that the cold smoked salmon is salt-cured in the fridge.
Whereas, on the other hand, the hot smoked salmon is salt-cured in the fridge, then finished in a smoker with wood pellets or charcoal.
Can You Use Anything Else Beside Liquid Smoke?
However, the truth is that liquid smoke gives the best flavor, but if you happen not to have any, then you can substitute with smoked paprika instead.
Should You Cure The Salmon Covered Or Uncovered?
It is highly recommended that you cure the salmon covered in the fridge, as doing this will help prevent it from absorbing smells in your refrigerator.
Is Cold Smoked Salmon Cooked Or Raw?
Well, cold smoked is practically still raw and is cured, not cooked. The salt-curing process removes the moisture and makes it safe to eat.
Can You Leave The Skin On The Salmon?
You can actually leave the skin on; however, doing it that way won't allow the fillet to soak up as much of the spices.
So, to yield the best results, it is highly recommended that you remove the skin.
Final Thoughts on Smoke Salmon Without A Smoker
Homemade smoked salmon is a culinary bliss that you can make happen without a smoker.
No matter the technique you decide to use, the process is definitely easy, and the results are amazingly delicious.
You can actually eat your smoked salmon with homemade bagels and cream cheese.
Or, if you want extra flavor, just top a creamy soup with it. And you can make a tart for a brunch treat.
Smoked salmon can also be served as part of an appetizer tray along with fresh-cut fruits and vegetables.
Additionally, you can make a sandwich with cucumber and smashed avocado.
Well, that being said, this is all about how to smoke salmon without a smoker, which brings about the end of this guide.