This paccheri pasta recipe is one of Italy's most tender baked pasta dishes and contains all the ingredients for a truly great meal: paccheri pasta stuffed with sausage.
The tempting taste of the sausage, the captivating spoked arrangement in the baking time—a delicious, flavor-filled dish that takes a little time, just like all the first-rate Italian homemade dishes.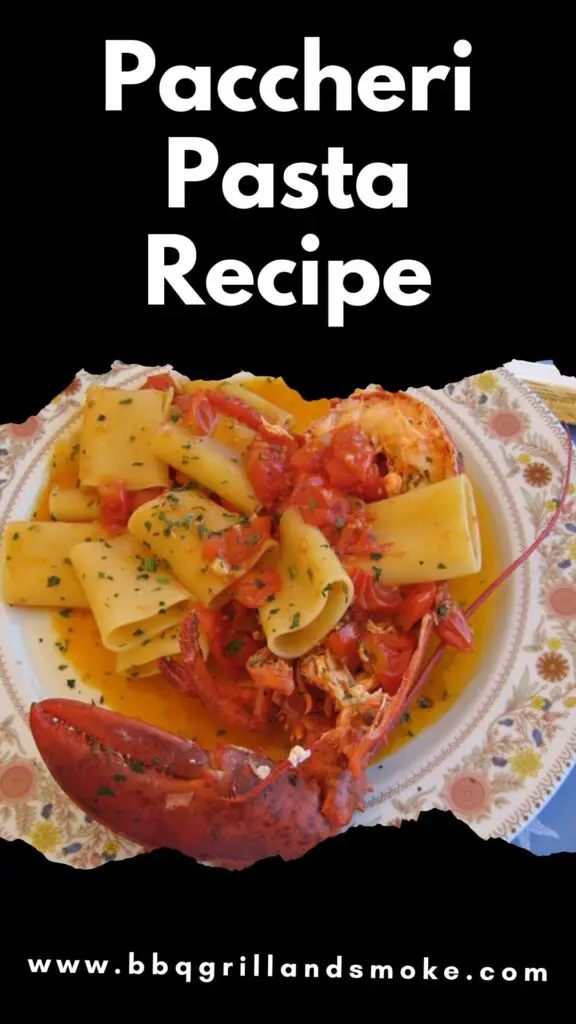 However, you will reap all your struggles when you bear this treat in triumph to the table.
This pasta shape is perfect for filling, and each little cylinder will release a tasty burst of flavor in your mouth.
The stuffed paccheri pasta recipe will get top billing on your menu, whether you are just feeding friends or simply making a family Sunday lunch.
Anyone who has a taste of this simple recipe will surely crave it and ask for more. With that being said, it's time to get to it.
What Is Paccheri?
Paccheri is a large, smooth, tube-shaped pasta from Campania in southwestern Italy. It is pronounced pa-care-e and not pa-chair-e.
It is also commonly referred to as schiaffoni, and the name is said to have been taken from the Neapolitan word paccherià, "to slap," which might have to do with the sound made when eating the pasta or the sound it makes when the sauce is being poured on top.
It is a known fact that in Naples, paccheri has been around for a long time.
In the past, it was considered a pasta shape for the poor due to the fact that the pieces are large and satisfying, and you could feed a lot of people with smaller quantities.
This also happens to be one of my favorite pasta shapes given the fact that you have to eat one piece at a time, and that being said, you can truly savor the unique chewy texture of the pasta.
It is often served with a thick, saucy ragu, which gets easily caught in the large tubes. You can also serve it stuffed, just like cannelloni.
Paccheri Pasta with Sausage
This paccheri with sausage in creamy tomato sauce is a simple yet grand Italian pasta dish to cook at home.
This easy recipe for paccheri pasta will be ready in 30 minutes. This is the perfect recipe to make for a family night.
This is just large tubular pasta smothered in a tomato cream sauce with garlic, bell peppers, and sausage.
Traditionally, paccheri is used in Neapolitan cuisine, and it has its origins in Campania, Italy.
Cuisine: Italian
Course: Main Course
Prep Time: 10 minutes
Cook Time: 20 minutes
Total Time: 30 minutes
Servings: 4 people
Ingredients
8 oz of Paccheri pasta
½ cup of heavy cream
1 Ib. of Italian sausage (tangy)
Salt and pepper
1 bell pepper (diced)
15 oz of tomato sauce (canned)
½ teaspoon of basil (dried)
3 cloves of garlic (minced)
Laid-Out Instructions
First, get a large skillet and cook the sausage on medium heat in it until the meat is cooked through.
After that, drain off the fat and add the diced bell peppers, minced garlic, tomato sauce, and basil.
That being done, bring it to a brief boil. You can now reduce it to a simmer and then add the heavy cream.
Afterward, you can now cook the paccheri pasta al dente and then drain.
Also, add the cooked pachheri to the skillet with the sausage and tomato cream sauce.
When that is done, proceed to increase the heat until the sauce simmers; after that, season with salt and pepper.
What To Serve With Paccheri Pasta
Salad
All you need to do is throw some greens together with an olive oil or balsamic vinegar-based salad dressing.
You can also top it with Parmesan cheese and toasted nuts. I will also recommend a simple spinach salad, which is also an excellent option.
Bread
Things you can serve with your pasta include garlic bread, olive bread, and baguettes.
And you can always reheat the bread briefly in the preheated oven to create a crispy crust.
Storing and Reheating Leftover Paccheri
First, get a tightly sealed container and store the leftover baked paccheri in it. You can then proceed to keep it in the fridge.
Doing it this way will allow it to remain fresh for up to 4 days. You can actually keep it for up to a month if you want to freeze your leftover noodles.
When it comes to reheating it, I suggest you place it in the oven at 350 degrees Fahrenheit until it becomes warm.
You can also microwave it, but then I recommend you use the short 20-second bursts.
The noodles will definitely heat up in no time, so I strongly suggest that you watch them and don't microwave them for too long.
Paccheri Pasta FAQs
What Sauce Goes Best With Pacccheri Pasta?
I always make a tomato sauce seasoned with onion, garlic, and Italian seasoning for this tasty Italian pasta recipe.
To tie together the flavors of this dish, all you need to do is add a little bit of beef stock. After that, spray in salt and pepper to taste.
As you know, this seems easy yet elegant. Furthermore, you can always use this sauce for all of your favorite types of noodles.
How Long Do You Cook Paccheri?
It is highly recommended that you give the instruction manual a quick read, although keep in mind that each package can come with slightly different instructions.
Generally, it will actually take you less than 10 minutes to read the instructions.
It will also take even less time compared to that, given the fact that we are simply cooking to al dente.
What Is A Good Substitute For Canned Tomato Sauce?
Instead of tomato sauce, you can always use canned crushed tomatoes or canned diced tomatoes.
What Can You Use Instead Of Paccheri?
I will say that your best option is Rigatoni. So, that means you can use other short, tube-shaped pasta. Plus, you can use Ziti or penne.
What Kind Of Sausage Should I Use With Pasta?
I will strongly suggest that you go with tangy sausage. Just use Italian ground pork sausage without casings.
Final Thoughts on Paccheri Pasta Recipe
When combined with bell peppers, garlic, Italian sausage, and tomato cream sauce, paccheri pasta has an incredible texture and flavor.
It is definitely one of those recipes that an entire family will love and crave. This short, tubular pasta with ridges certainly looks perfect on a plate.
Tomato cream sauce is actually prepared using basic ingredients like heavy cream, garlic, basil, and store-bought tomato sauce.
Since you now have the best paccheri pasta recipe, this will be the end of this guide.