You can make this simple smoked salmon dip with capers recipe in just 15 minutes. Well, let me show you how.
It is the best recipe and can be served with crispy bread or crunchy vegetables as an appetizer for parties and special events.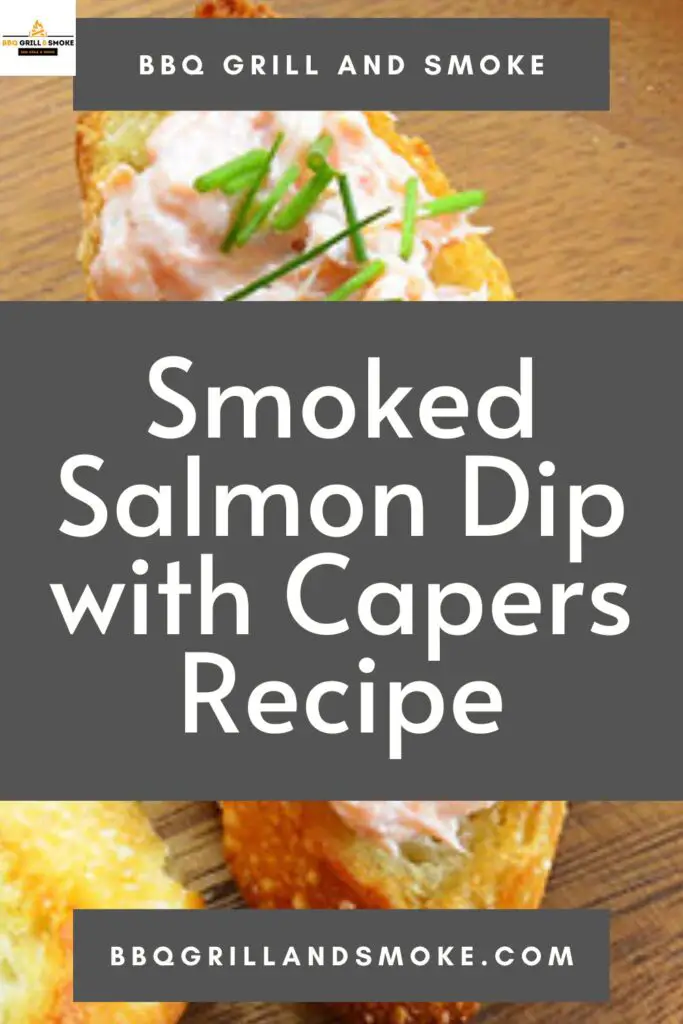 This easy smoked salmon takes dull, dry dips to a very different level. This recipe is simple, and you can make it whenever you feel like it, especially when you need a fast yet tasty treat.
And, for convenience, you can make this dip ahead of time, which will definitely save you a lot of time, particularly on those busy party days.
You can use cream cheese as the base of your smoked salmon dip with capers, as this will result in your desired tender texture.
You can also add herbs, fresh citrus, and tangy capers, as they help boost the buttery seafood flavor.
Now, you can proceed to transfer everything into the food processor to stir the ingredients into a smooth and delicious dip.
Smoked Salmon Dip Recipe
This rich smoked salmon dip recipe is made with salty capers, purple shallots, dill pickles, plenty of fresh, perfumed fillet, and a pinch of paprika.
Any day, any time, a store-bought dip pales in comparison to this smoked salmon dip.
Although it might be costly to make, homemade is the best, and you will taste the difference between the proper salmon and fresh herbs.
Prep Time: 15 minutes
Cook Time: 0 minutes
Total Time: 15 minutes
Course: Dip
Cuisine: Australian, Russian
Servings: 300 grams
Ingredients
100 g (roughly chopped) smoked salmon
2 tablespoons of capers (with brine)
Sour cream (100 g)
100 g of cream cheese
2 small purple shallots (finely diced)
1 tablespoon of fresh lemon or lime juice
2 tablespoons of fresh dill, roughly chopped
1 tablespoon of fresh chives (finely sliced)
1 teaspoon of dill sprigs (for garnish)
½ tablespoon of ground paprika
¼ teaspoon of garlic powder
¼ teaspoon of white pepper
1 small gherkin or dill pickle (finely diced)
¼ teaspoon of sea salt
Laid-Out Instructions
You are to begin by putting the cream cheese, sour cream, lemon or lime juice, ground paprika, capers with brine, white pepper, sea salt, garlic powder, and half the smoked salmon in a blender or food processor.
Then, you can proceed to blend them all for a minute or two until they are well-blended.
With that being done, you can now add the remaining smoked salmon, finely diced purple shallot, finely diced gherkin or dill pickles, fresh dill, and fresh chives.
After that, you are to blend them for 20 seconds. This should be just enough for everything to combine.
Now, taste and change the seasoning if necessary. However, avoid blending; just mix it in. Then, proceed to transfer them to a bowl.
When all that is done, you can serve with crackers, crudités, or crostini. You can refrigerate in an airtight container if you have any leftovers. They have a shelf life of 2 to 3 days.
Frequently Asked Questions about Smoked Salmon Dip Recipe
Is this Smoked Salmon Dip with Capers a Low Carb Recipe?
The short answer to this question is yes. This healthy recipe for this salmon dip is low-carb.
I also consider it to be an ideal snack for people on a keto diet. All you need to do is use fresh veggies to dip rather than crackers.
How Long to Keep Smoked Salmon Dip?
If you store your smoked salmon dip covered in the refrigerator, you can keep it for up to 4 days.
If you serve your salmon dip at a party and it has been out of the refrigerator for more than 2 hours, I don't recommend keeping it.
After that time, your healthy salmon dip is no longer suitable for storage. This is so because the chance of food poisoning increases after the 2-hour mark.
How Do You Make Smoked Salmon Dip?
Well, this process is straightforward. All you need is room-temperature cream cheese, Worcestershire sauce, and sour cream.
Then, get a medium bowl and proceed to beat them together in it. After that, you can now mix in the chopped smoked salmon and drained capers.
Before serving, if the flavors are blended well in the refrigerator for 2 hours, the dip will surely be better.
Salmon Selection
Cold smoked salmon has an amazingly smooth texture, and it sure breaks down in a food processor in no time.
This type of salmon is dry-cured, which results in the salty flavor it possesses, which in turn makes it a preservative.
It is mostly smoked with wood chips at a temperature below 80 degrees Fahrenheit (27 degrees Celsius), as this helps maintain its smooth texture while boosting the taste.
The Difference Between Hot and Cold Smoked Salmon
Hot smoked salmon is wet-brined in salt, which is then heated above 120 degrees Fahrenheit (49 degrees Celsius), which in turn gives it the crispy texture of cooked salmon it possesses.
Cold smoked salmon, on the other hand, is dry-cured in salt for many days, giving it a strong salty flavor.
Cold smoked salmon is cooked below 80 degrees Fahrenheit (27 degrees Celsius) to help retain its raw, silky, and smooth texture.
Both the hot smoked and cold smoked salmon go well in a salmon dip, but they have to be cooked thoroughly and adequately.
What's the Difference Between Smoked Salmon and Lox?
Well, I can say that both smoked salmon and lox possess a creamy taste and velvety texture from the fatty fish.
However, the preservation method for smoked salmon is through curing or bringing. After that, you are to smoke, which will give it depth and a woody taste.
On the other hand, lox is brined for a saltier flavor, and contrary to smoked salmon, it is not smoked.
Final Thoughts: Smoked Salmon Dip with Capers Recipe
Before I wrap up this guide, let me give you a few suggestions on how to serve this easy smoked salmon dip with capers.
This healthy dip goes well with just simple crackers. You really don't need any lavish, flavored crackers for this salmon dip, as it already has a lot of flavors.
You can also pair it with potato chips, which will definitely turn out to be mouth-watering.
It is perfect with vegetable dippers such as cucumbers, carrots, and red bell peppers. I recommend this to the healthier crowd.
Furthermore, never forget to relish it. It won't take you much time to do that, which will turn it into a restaurant-worthy appetizer.
Follow the rule of thumb, which is to use what you have in the recipe as the garnish.
I love what a fresh dill sprig looks like. You can also use large caper berries; they work perfectly well.
So, with all that being said, and with the best-smoked salmon dip with capers recipe given, this will be the conclusion of this guide.