Smoked salmon as appetizer recipes are so easy and simple to make. Crispy cucumber slices topped with smoked salmon and lemon dill cream cheese
These little cucumber smoked salmon bites look tasteful and lavish, but making them will take you just 10 minutes.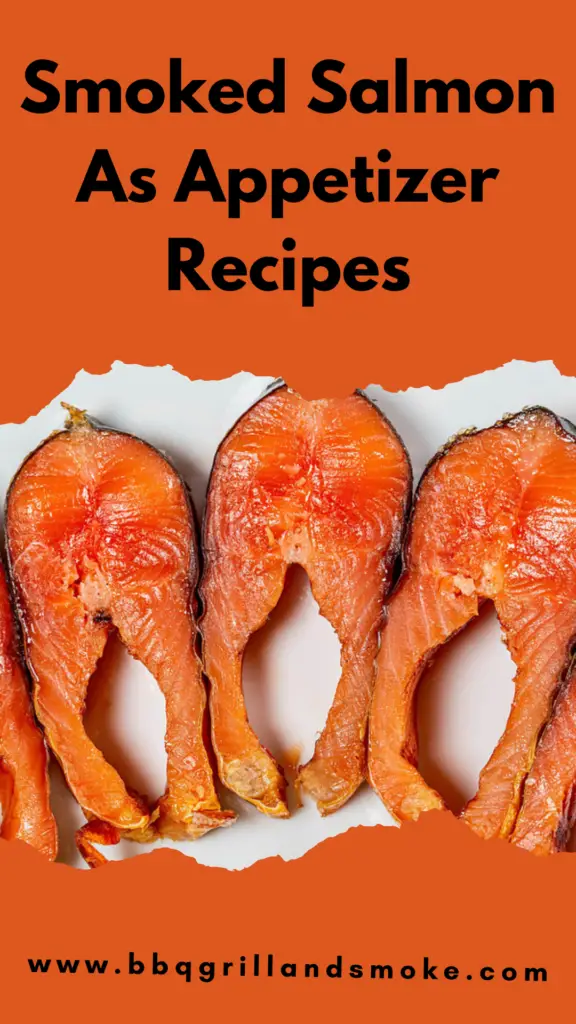 Whether you pair smoked salmon with cucumbers or canapés, there's always something unique about it that raises the standard finger food.
The deliciously pink protein adds a pop of color and salty goodness to any number of hors d'oeuvres, which makes them appear and taste equally mouth-watering.
Jazz up the snack selection at your next shindig with these simple smoked salmon as appetizer recipes.
Let's give you a few of the best-smoked salmon appetizers:
Individual Smoked Salmon Pizza
Well, this healthy, savory recipe will be ready in 10 minutes. That's a delicious treat.
You will have a smoked salmon pizza all to yourself, which will make this simple weeknight meal all the more breathtaking.
Individual Smoked Salmon Pizza Recipe
Fresh Corn Blinis with Smoked Salmon and Chive Cream
Traditional blinis contain flour pancakes topped with sour cream and caviar, but this version includes sweet corn pancakes topped with cold-smoked salmon and homemade chive cream.
This easy appetizer recipe is the ideal way to use up any extra corn on the cob you might have gotten from the market.
Fresh Corn Blinis with Smoked Salmon and Chive Cream Recipe
Looking for a lighter version of the traditional Smoked Salmon Dip, This easy recipe is it. It consists of nonfat Greek yogurt, capers, and light sour cream.
This makes it even more delightful and enjoyable. Pair Smoked Salmon Dip with seeded crackers.
Pimento Smoked Salmon
I'm sure you are in the right place, as this simple recipe is designed to captivate.
Try this recipe for Pimento Smoked Salmon with micro salad and scotch bonnet annatto cream.
It's a small bite appetizer, which is ideal for a more formal dinner or, let's say, a tray passed appetizer. The presentation and flavor are both top-notch.
Smoked Salmon Carpaccio
I'm sure you will love and enjoy this recipe for an appetizer, as it is perfect for family-style dinners.
You can place all the carpaccio on a single plate and either put it on the table or just pass the tray around; after all, it's not a heavy dish.
The best thing about this appetizer is the fact that it's both a culinary masterpiece and exceptionally easy to make. So go ahead and charm your guests with this masterpiece.
Cold Smoked Salmon In Salad
To tell the truth, salads are one of the most traditional appetizer options. Versatility is the best thing about salads.
They can be an appetizer, a side dish, or, frankly, even a main course. What determines this is the amount you serve.
So, just add a small amount so your guests won't get filled up before dinner; this is if you are serving a smoked salmon salad as an appetizer.
There are a lot of salmon salad recipes for you to try, and I'm quite sure you will be delighted with your choice.
Smoked Salmon and Avocado Glass
I actually consider this to be an interesting way to serve up an individual dip with smoked salmon and avocado.
You are to serve it in a glass. Doing it this way will either make it a satisfactory or appealing way to eat your appetizer while seated.
Well, either way, you choose to eat it, it is extremely special and has a mouth-watering flavor.
Making Smoked Salmon as an Appetizer
This is a fast and simple 5-ingredient smoked salmon appetizer with mascarpone cheese (Italian cream cheese), dill, and chives.
Course: Appetizer
Cuisine: Italian
Preparation Time: 10 minutes
Total Time: 10 minutes
Servings: 8
Ingredients
½ Ib. of smoked salmon (wild and sliced)
1/3 cup of chives
1/3 cup of fresh dill
Freshly cracked black pepper (to taste)
¾ Ib. of mascarpone cheese
Laid-Out Instructions
You are to start the process by spreading the slices of smoked salmon over a cookie sheet, or probably a cutting board.
Then, proceed to spoon a dollop of the mascarpone cheese on top and spray the chives and dill.
With that being done, you can now roll up each salmon slice to enclose the cheese. Make sure this is done gently.
You are to repeat this with the remaining salmon and then set them on a serving tray. After that, complete the process with a nice spray of freshly cracked black pepper and garnish with fresh dill and chives.
Why You Will Love These Recipes
Here are a few reasons why you will love this smoked salmon appetizer recipe.
Simple to Make
There is no cooking time for these recipes, and they are ready in less than 15 minutes, so you will have your best appetizers ready in no time.
Perfect Appetizer
These classic appetizers are ideal to bring to a gathering. They are also perfect for any special event, holiday party, or dinner party. They can easily feed a large crowd; all you need to do is double the recipe.
Fun Finger Food
To serve these recipes, you won't need much equipment. They make excellent finger food and are easy to serve.
Frequently Asked Questions
Is Smoked Salmon Cooked?
Well, this depends. There is some smoked salmon that is cooked. Cooked smoked salmon is referred to as "hot smoked salmon" and is lighter pink in color and flakier than regular cooked salmon.
Cold-smoked salmon, on the other hand, is smoked without heat and is not cooked.
What Flavors Go Well With Smoked Salmon
Smoked salmon can be paired with various flavors. I prefer capers and fresh dill, but it generally goes well with several flavors.
Is Smoked Salmon Ready To Eat?
The short answer to this question is yes. Both hot and cold smoked salmon is ready for consumption.
Before you eat them, you don't even need to heat them. However, if you want to heat them, you can do so, or if your recipe calls for heated smoked salmon.
Conclusion: Smoked Salmon As Appetizer Recipes
Well, let's briefly talk about how you can store the leftovers of these smoked salmon as appetizer recipes.
I suggest you eat them the day you make them or just a few hours after you gather them.
Since it's seafood, you can also serve the smoked salmon when it is cold or at room temperature.
However, you can place any leftovers you have in a sealed container and store them in the refrigerator; this should last you until the next day.
You can also serve any of these smoked salmon appetizer dishes with peel-and-eat shrimp with homemade cocktail sauce, pork rillettes, baked scallops, bacon-wrapped water chestnuts, and hot spinach artichoke dip.
So, with all that being said and the detailed information given on smoked salmon as an appetizer recipe, this concludes this guide.