Using this grilled salmon recipe is the only way that you will be successful in making the best-grilled salmon.
To add a nice finishing touch to rich salmon fillets, all you need is a flawless salty-sweet complement consisting of a nice soy sauce and brown sugar marinade, combined with a little lemon and garlic.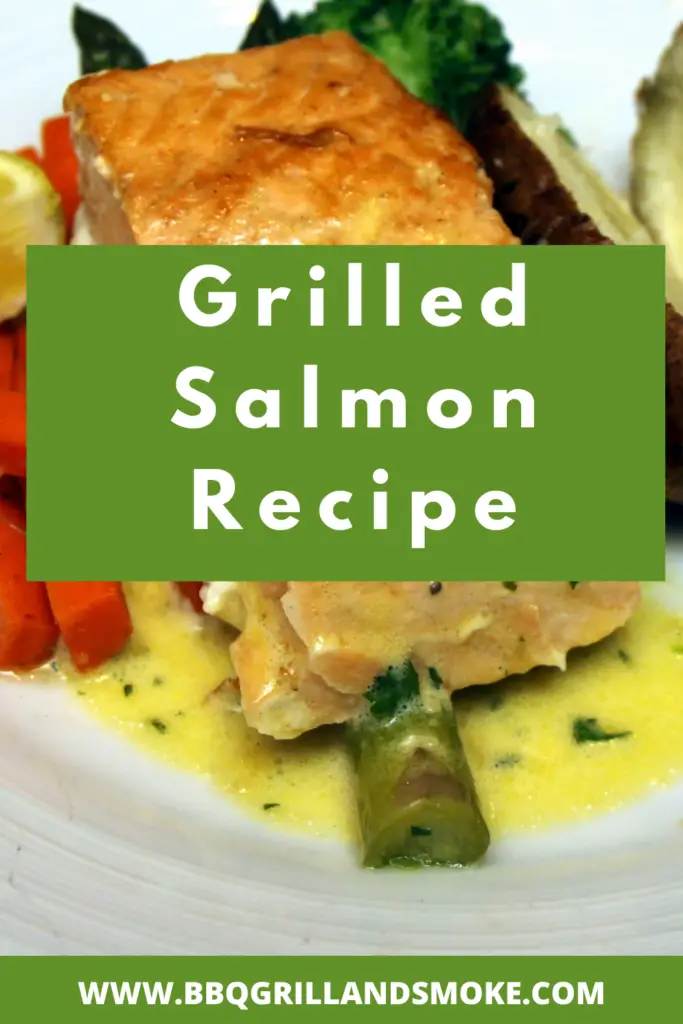 The grilling tips you will get here are the best and also the easiest to follow. So, using this easy grilled salmon recipe, learn how to grill salmon flawlessly.
This best-grilled salmon recipe is so simple and delectable, and you can decide to serve your grilled salmon fillet all on its own or with a sauce.
There are also some other salmon recipes you can try if you are a lover of salmon.
They include salmon patties, salmon lox, air fryer salmon, baked salmon, and salmon foil packets.
How To Choose The Best Salmon For Grilling
Choosing the best salmon might not be easy for you, which is why I have listed and explained a few ways to assist you with your salmon choices at the grocery store.
Grill Salmon Fillets That Are Individual-Sized
In my opinion, I will say that the best salmon fillets for grilling are the individual-sized salmon fillets, and talking about size, I will suggest you go for 5 to 6 ounces.
I will suggest you stay away from a large piece of salmon as this can be quite a task, except if you are placing it on something.
Grilling a large piece of salmon can be quite a task because it will be very difficult to flip it and there will be a very good chance of it breaking apart.
So, with that being said, I would strongly suggest you go for the individual fillets as they will also cook more evenly.
If Possible, Choose Skin-On Salmon
To make your salmon more delicious, I will suggest you leave the skin on it while cooking it, although if you can't eat it with the skin after cooking it, you can then proceed to remove the skin.
The skin of the salmon also helps with keeping the salmon together. It helps to prevent the salmon from breaking apart or falling through the grates.
Salmon Appearance
I will say the best salmon is fresh, dense, and bright pink-orange color. And, for a quick assessment of the density or solidity of a salmon, you can simply poke it lightly with your finger. You should not find a fingerprint on the salmon and it should also spring back.
Farm-Raised vs. Wild Caught
This is your choice to make, whether to go for the farm-raised salmon or the wild-caught salmon. But, I will briefly explain what they both are.
The farm-raised salmon has a milder flavor, which some people prefer, while the wild-caught salmon has lower calories and saturated fat, and also fewer pollutants and contaminants, so the choice is yours on which one to go for.
The Best Salmon For Grilling
The truth of the matter is that all that is required for this recipe for grilled salmon is a hot grill and some standard ingredients.
So, it would be proper to say that you do not need some mercurial methods or some elegant or lavish marinades for this grilled salmon recipe.
But, if you are the type that prefers more flavor, I would suggest you go for the wild-caught salmon, or you can go for the standard farm-raised salmon if you are an eater who's a lover of wild fish, as they have a mellower flavor.
Recipe for Grilled Salmon
Preparation Time: 15 min.
Cooking Time: 16 min.
Additional Time: 2 hours
Total Time: 2 hours and 31 minutes
Servings: 6
Yield: 6 servings
This is a first-rate grilled salmon recipe that is also quite simple and easy to follow, which is what will give you the best-grilled salmon.
Ingredients
1 ½ pound of salmon fillets
Lemon pepper (to taste)
Garlic powder (to taste)
Salt (to taste)
1/3 cup of soy sauce.
1/3 cup of brown sugar.
1/3 cup of water
¼ cup of vegetable oil
Laid-Out Instructions
Firstly, you will need to get the following ingredients, which include lemon pepper, salt, and garlic powder, and then relish the salmon fillets with them.
Afterward, get a small bowl. Then, get the brown sugar, soy sauce, vegetable oil, and water and pour them into the small bowl, and mix.
You are to mix all these ingredients in a small bowl till the sugar gets dissolved. After that, you are to get a large resealable plastic bag and put the fish alongside the soy sauce mixture into it.
Afterward, you are to seal the plastic bag and proceed to coat it. And then, place it into a refrigerator in which you will allow it to refrigerate for 2 hours, at a minimum.
Then, get the grill and warm it up to its medium heat. You are to also oil the grill grate lightly. And, after doing that, you can then place the salmon on the warmed-up grill.
You can also get rid of the marinade. On each side of the salmon, you are to cook it for around 6 to 8 minutes, or until you can easily peel the fish with a fork.
When Is Grilled Salmon Done?
As mentioned earlier, grilled salmon is done when you can easily peel the fish with a fork, and this is also a common recommendation for fish.
But, the uncommon truth is that grilled salmon can get overcooked easily this way, so to avoid that, I would strongly suggest that you make use of a meat thermometer.
Using a meat thermometer will help ascertain that your salmon is perfectly cooked, and you can also use it to check the internal temperature of the salmon every few minutes after you flip it.
130 degrees Fahrenheit (54 degrees Celsius) is considered medium.
125 degrees Fahrenheit or 51 degrees Celsius for medium-rare
140 degrees Fahrenheit or 60 degrees Celsius is considered medium-well.
Before you proceed to serve the salmon, you should allow it to cool off for about 3 to 5 minutes. This is because the internal temperature of the salmon will increase by an additional 3 to 5 degrees while resting.
Conclusion on the Grilled Salmon Recipe (Best Grilled Salmon)
You should know that you can still grill salmon without a marinade, so the marinade is not compulsory when grilling salmon.
It only adds more flavor to the salmon. Make sure you oil the salmon well if you grill it without marinade. This is to prevent the salmon from sticking to the grill.
And, lastly, before grilling the salmon, you are to relish it with salt and pepper generously, so this will be the conclusion on the Grilled Salmon Recipe, the recipe that will lead to the Best Grilled Salmon.