It's time to learn how to perfectly make these turkey wings with cream of mushroom.
With this simple recipe, you will get the best baked turkey wings with cream of mushroom soup.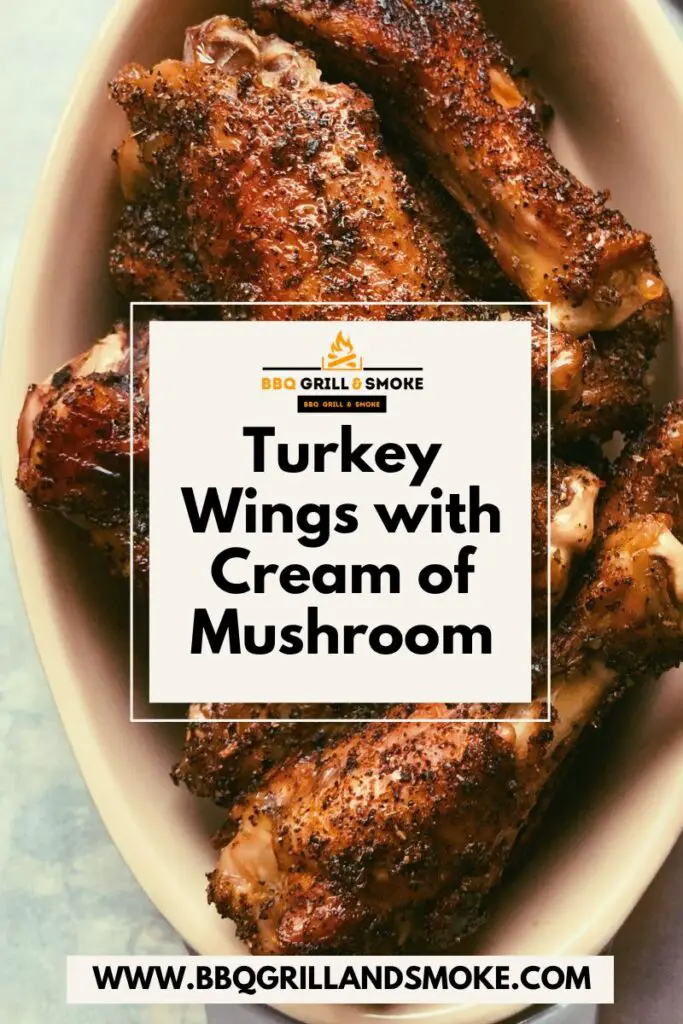 It is extremely yummy and delectable. The soup provides this dish with an additional creamy consistency and perfect flavor.
It is guaranteed that this dish will turn out to be incredible, extremely tasty, and creamy. And, as for the turkey wings, they are melt-in-the-mouth tender.
What Are Turkey Wings?
Turkey wings are considered white meat, unlike turkey legs; however, they come with a richer, more spicy flavor than turkey breast.
Turkey wings come with all the flavor of an entire roast turkey, and this is without having to cook a whole bird or just wait for Thanksgiving.
Whole turkey wings are available at the supermarket, as are those that have been separated into wings and drumettes (that's the top part of the wing).
Turkey wings also come with a wing tip that is often included in the wing cut, and I strongly suggest you trim it off before cooking.
Smothered Turkey Wings
This is a southern-baked, smothered turkey wings recipe. It is slow-baked in the oven and covered in creamy gravy.
The gravy is filled with sautéed fresh onions, peppers, celery, mushrooms, and so on. So, let's get right to it.
Course: Main Course
Cuisine: American, Southern, Western
Prep Time: 15 minutes
Cook Time: 3 hours, 30 minutes
Total Time: 3 hours and 45 minutes
Servings: 8 people
Ingredients
4 lbs. of turkey wings
Olive oil
Seasoning Mix
1 tablespoon of parsley
1 tablespoon of onion powder
1 tablespoon of salt
2 teaspoons of Cajun seasoning
1 teaspoon of black pepper
1 tablespoon of poultry seasoning
1 tablespoon of brown sugar
1 tablespoon of garlic powder
Gravy
Mushrooms (dice)
6–8 tablespoons of unsalted butter
½ cup of all-purpose flour
2 celery sticks (diced)
½ white onion (diced)
½ green bell pepper (diced)
½ cup of heavy whipping cream (warmed)
3 cups of chicken broth
Salt (pepper, onion powder, parsley, garlic powder, to taste)
½ cup of whole milk (warmed)
Laid-Out Instructions
The first step is to preheat the oven to 275 degrees Fahrenheit, then proceed to mix the seasonings.
After that, get the olive oil and then brush the wings evenly with it to coat them. You can also use melted butter.
When that is done, you can now proceed to spray the wings generously with seasonings. Also, proceed to massage the seasonings into the wings.
And, to help distribute the seasoning, I suggest you add more olive oil; however, this is only if it is required. So, you can use as much of the seasoning as you like.
Optional Step for More Flavor
To add more flavor to this, all you need to do is cover the wings and allow them to marinate for 4 hours or just overnight.
After that, you can now place the wings in a roasting pan and cover tightly with foil. Proceed to bake for 2 hours and 30 minutes.
Optional Step for a Crisp Skin
Now, uncover for the last few minutes and proceed to broil both sides in order to crisp up the skin.
Afterward, drain the excess juices from the pan. And, based on your preference, you can also use some of the juices for broth.
When that is done, you are to line the pan with foil and then place the turkey in the pan. After that, set it aside.
To Make the Gravy
First, you are to melt the butter in a deep skillet, add the chopped vegetables, and sauté until they become almost soft.
Now blend in the flour and cook over medium heat until the flour turns golden and the raw flour taste has disappeared.
Also whisk in the chicken broth, heavy cream, and milk. After that. Simmer until the gravy becomes as thick as you desire.
Proceed to pour the gravy over the turkey, then cover and bake for 45–60 minutes. You can now serve it immediately with rice.
Best Side Dishes for Turkey Wings with Cream of Mushroom
You can serve this easy turkey wing recipe on its own. You can dip the wings in the sauce and eat them that way, as the sauce is very creamy.
Or, you can just enjoy it with sides. Try it with mashed potatoes. And if you want to maintain a healthy side, then you can go for a garden vegetable salad.
Just mix onions, tomatoes, cilantro, chopped cucumbers, and bell peppers. Also, add a splash of olive oil and some salt and pepper to taste.
Another great option is a steamy bowl of white rice to be served with this delicious turkey. Just pour some cream sauce over the rice and enjoy.
Leftovers
You can simply store baked turkey wings in a tightly sealed container in the fridge. They can last for up to four days if kept this way.
And you can reheat the leftovers in two ways. The first is in the microwave; all you need to do is heat it for a few minutes in a microwave-safe bowl.
Or, just heat it in the oven at 400 degrees F for 10 minutes until it becomes hot.
Frequently Asked Questions
Can I Make This Recipe with Chicken Wings?
Well, you can substitute turkey wings for chicken wings, so yes. However, compared to turkey wings, chicken wings are much smaller and will cook much faster.
So, I suggest you reduce the cooking time, and you can check for doneness with a meat thermometer.
Can I Make This with Turkey Breast?
For this best recipe, you can use turkey thighs, turkey breast, and drumsticks. The cooking time will remain the same.
However, make sure that you check for doneness, and you can do that with a digital meat thermometer.
Should You Wrap Turkey Wings In Foil?
It is actually not necessary for you to wrap your turkey wings in foil. However, if you do not want them to get brown, then I suggest you wrap them in foil.
Final Thoughts on Turkey Wings with Cream of Mushroom
You can also store your uncooked turkey wings in their original packaging, then place them in the refrigerator.
This will make them last for up to two days and up to six months frozen. You might also ask whether turkey wings are healthy.
Well, turkey wings are darker meat, which makes them have a high fat content, and they are a great source of iron, calcium, and protein.
This will be the wrap-up of this guide, as you have been given the best recipe on how to make turkey wings with cream of mushroom.