These baked jerk turkey wings are baked to perfection with crunchy skin and delicious meat inside.
Instead of the whole traditional turkey, just put a spin on Thanksgiving Day and make these turkey wings.
You're guaranteed to fall in love with them, and they will become your favorites in no time.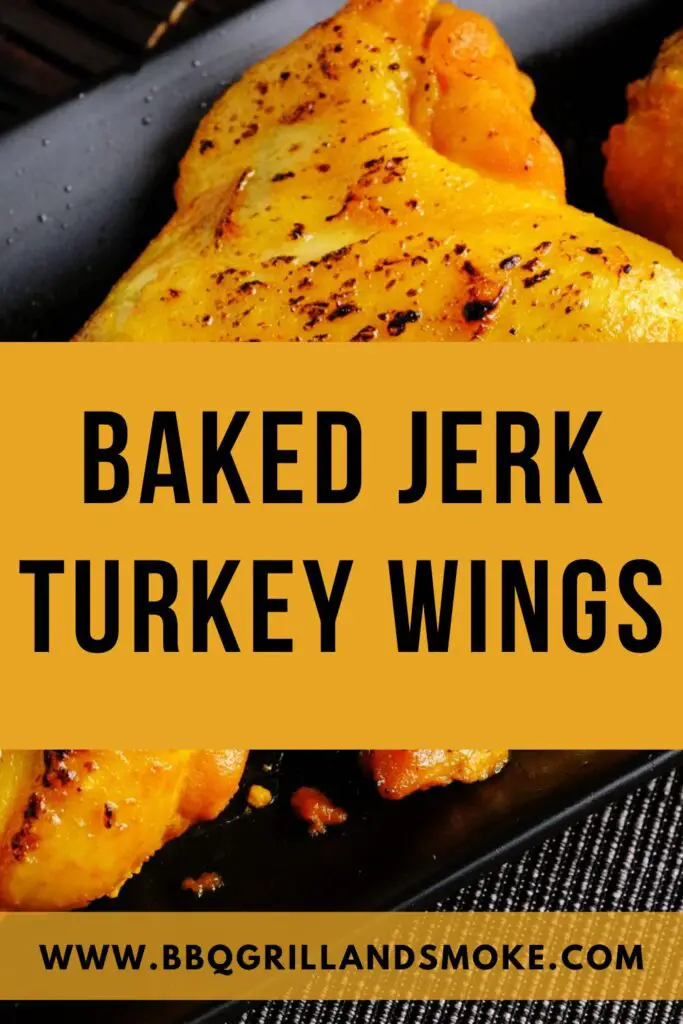 You can serve these delicious baked jerk turkey wings with buttermilk biscuits or an arugula avocado salad with homemade lime vinaigrette.
These juicy wings are certain to be a hit at your kitchen table, no matter what you choose to serve them with or how you serve them.
What Is Jerk Seasoning?
In Jamaican culture, jerk seasoning is extensively used in several dishes.
It is produced from a mix of spices like scallions, black pepper, hot peppers, allspice, salt, onion, cane sugar, nutmeg, and thyme.
I consider it to be the most common blend. However, it sometimes comes with garlic powder and parsley.
Jerk seasoning is filled with a tangy kick, but it also comes with a light sweetness.
Jerk Turkey Wings
These perfect jerk turkey wings are the perfect combination of sweet and tasty. And it has a spicy kick that will make your taste buds dance.
The striking flavors of jerk seasoning combined with the succulent meat of turkey wings make for a finger-licking dish that will leave you craving for more.
Prep Time: 10 minutes
Cook Time: 3 hours, 30 minutes
Total Time: 3 hours and 40 minutes
Course: Main Course
Cuisine: American
Servings: 3
Ingredients
3 pounds of turkey wings
1 turkey-size oven bag
3 tablespoons of jerk seasoning
1 teaspoon of garlic powder
1 cup of low-sodium chicken broth
2 teaspoons of adobo all-purpose seasoning
¼ teaspoon of ground black pepper
½ teaspoon of the ground allspice
½ teaspoon of ground ginger
1 green bell pepper (chopped)
1 yellow bell pepper (chopped)
1 cup of carrots (chopped)
2 springs of green onion (chopped)
4 sprigs of thyme
½ tablespoon of browning
Laid-Out Instructions
The first step is to preheat the oven to 325 degrees Fahrenheit, then proceed to season the turkey wings with black pepper, garlic powder, all-purpose, ginger, allspice, browning, and wet jerk seasoning.
After that, you are to whisk well and make sure that the turkey wings are evenly coated with the seasoning.
When that is done, get a large baking dish and insert the oven bag into it. Now, proceed by putting the seasoned turkey wings inside the oven bag.
That being done, you can now add the green onions, carrots, bell peppers, and thyme. Also, pour in the chicken broth.
Afterward, you are to close the bag with a zip tie or just tie a knot in the bag.
Proceed by placing the turkey wings in the oven and baking for 3 hours and 30 minutes.
After that, you can now remove the wings from the oven, open the bag, and then serve and enjoy.
Storage Instructions
Make-Ahead Turkey Wings
Marinate and Store
You can actually marinate your turkey wings ahead of time, as this will make them extra delicious.
Just make sure that you store them in a sealed container or freezer-safe resealable bag, and they will last for a day or two.
Refrigerate
You can put them in the fridge, and they will last for up to 2 days. However, I won't advise you to keep them any longer than that, or else they will go bad.
Freeze
Freezing your turkey wings is your best option if you want to store them for a long period of time.
They can last for up to 3 months in the freezer if you store them safely. However, before you freeze them, just marinate them for at least an hour.
Defrost
Before you bake them, defrost the wings overnight inside the fridge and for 15 minutes on the counter. This should happen when you are ready to serve them.
Leftover Baked Turkey Wings
Store
First, you are to get a sealed container or freezer-safe resealable bag, then place the leftover turkey wings in it.
Refrigerate
Refrigerating your leftover baked turkey wings will allow them to last for up to 4 days.
Freeze
Your leftover baked turkey wings will last for up to 3 months when they are properly stored.
Reheating Baked Turkey Wings
Microwave
When it's time to reheat your baked turkey wings, just heat them on medium power in the microwave for around 1-2 minutes, or just until they are heated through.
Oven
When you are using an oven to reheat, just make sure you reheat at 350 degrees F (175 degrees Celsius). Do this for around 10–15 minutes, or until it becomes warm.
What Should I Serve with Baked Turkey Wings?
These melt-in-the-mouth tender turkey wings are paired with a simple side dish and result in an appealing weeknight dinner.
Corn
The sweet corn and tasty turkey go well together, whether it's corn on the cob or cornbread.
Rice
You can serve it with simple starch-like rice, whether it's pilaf or plain rice. It will soak up any juices from these flavorful wings.
Mashed Potatoes
Smothered wings, turkey gravy, and mashed potatoes are a perfect match.
Mac and Cheese
Cheesy macaroni is a good option.
Roasted Vegetables
Just roast a tray of seasonal veggies as you bake the wings.
Greens
For a nutritious and refreshing meal, you can make this a soul food feast with kale, cabbage, or braised collards.
Recipe FAQs
How Do I Make My Turkey Wings Crispy?
Well, before you put on the dry rub, just ensure that the turkey skin is dry.
In addition, before you bake the turkey wings, ensure that the oven is preheated to 400 degrees F (205 degrees Celsius).
All you need to do is flip the pan halfway through the cooking time. These easy steps will certainly result in crispy turkey wings.
What Seasoning Should I Use For Flavor?
I strongly suggest you go for jerk seasoning, as it is used in this recipe.
However, other options include poultry seasoning, creole seasoning, and blackened seasoning.
The fact that they are already premixed makes them easier to use. And it is not required for the herbs and spices to be added one after the other.
The interesting part is that you can just play around with your favorite herbs and spices, such as paprika and thyme if a seasoning blend is unavailable.
Final Thoughts on Baked Jerk Turkey Wings
I suggest you take your wings out of the refrigerator and then give them around 30 minutes to cool off at room temp.
Placing cold meat in the oven immediately will lead to uneven cooking.
And, to have the most tender, juicy results, I strongly suggest that you bake these wings for two hours at a low temperature.
Rushing through the cooking process of meat will definitely make it tough or dry, and that concludes this guide on baked jerk turkey wings.