I suggest you jazz up the flavor of your Thanksgiving turkey, and you can do this by firing up your grill to make a smoked turkey breast.
So, in this guide, you will learn how to smoke turkey breast on a grill. This easy smoked turkey recipe will, in no time, become one of your favorite Thanksgiving recipes.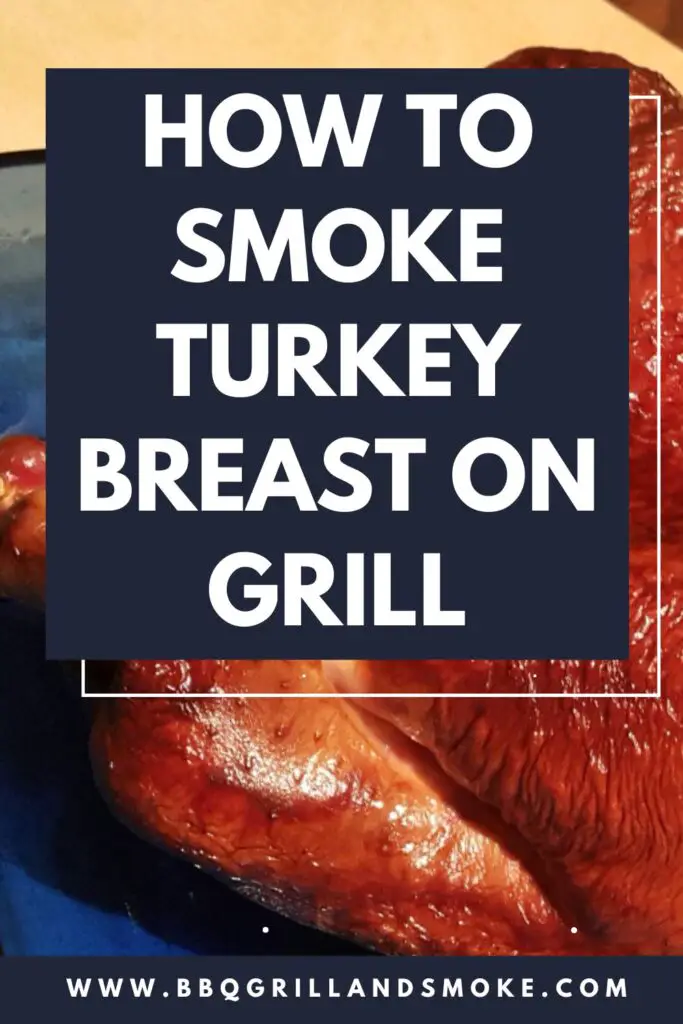 This is a flavorful turkey breast that is covered with a delectable herb and garlic compound butter.
And it is smoked low and slow, as this helps produce a perfectly savory crust and a succulent interior.
What Is Smoked Turkey Breast?
Smoked turkey breast is a white meat turkey cooked through the indirect, low heat of wood smoke.
You can use any type of meat smoker to make smoked turkey breast, and that includes a pellet smoker, an offset smoker, an electric smoker, or even a charcoal grill set up for indirect heat.
For a barbecue-friendly take on Thanksgiving dinner, you can serve the breast with classic side dishes such as cranberry chutney, green beans, Chef Mashama Bailey's cornbread dressing, and sweet potato pie.
Brined Smoked Turkey Breast Recipe
Prep Time: 30 minutes
Cook Time: 3 hours
Total Time: 3 hours and 30 minutes
Course: Main Course
Cuisine: American
Servings: 4 servings.
Ingredients
For the Brine
8 – 10 pounds of turkey breast meat (around 2 boneless, skinless breast halves or 1 large bone-in, skin-on breast)
8 cups of water or apple juice
½ cup of brown sugar
½ cup of kosher salt
2 fresh thyme sprigs
2 bay leaves
For the Rub
1 ½ teaspoons of salt
1 ½ teaspoons of brown sugar
1 teaspoon of onion powder
1 tablespoon of mustard, hot sauce, or mayonnaise
1 teaspoon of garlic powder
1 teaspoon of smoked paprika
1 teaspoon of freshly ground black pepper
Brining Turkey
You are to start this process by getting a large bucket, stockpot, or other containers, then combining the water, brown sugar, salt, thyme sprigs, and bay leaves in it.
After that, you are to mix everything until the salt and sugar dissolve. That being done, submerge the turkey breast in the brine.
Then cover it with a lid. Now, you are to place a plate on top of the turkey, as this will help keep the meat submerged if needed.
Afterward, you are to refrigerate the mixture. And do this for at least 3 hours and up to overnight.
Smoking Turkey
Now, proceed to remove the brined turkey from the refrigerator and get rid of the brine.
Then, proceed to pat the turkey dry and permit it to arise to room temperature.
At the same time, you are to preheat a smoker to 275 degrees F, according to the manufacturer's directions.
And, make sure of the wood chips of your choice. I strongly suggest you always go for hardwoods like Hickory, pecan, or applewood.
After that, proceed to brush the turkey all over with hot sauce, mustard, or mayonnaise with your fingers or a pastry brush, as this will help the dry rub stick to the turkey.
Get a small bowl and mix the salt, pepper, smoked paprika, garlic powder, brown sugar, and onion powder in it.
Then, proceed to spray the spice rub over the turkey. I suggest you use your fingers to help it stick.
That being done, you can now place the meat on the smoker grates over indirect heat and then close the lid.
Make sure you smoke the meat until it reaches an internal temperature of 157 degrees Fahrenheit.
This should take around 3 hours. And you can read the internal temperature by using an instant-read thermometer and inserting it into the thickest part of the breast.
Now, remove the turkey from the smoker and place it on a cutting board. You are to loosely cover the turkey with aluminum foil, and allow it to cool for 15 minutes before you proceed to slice and serve.
How to Store and Reheat Leftovers
It is quite easy to totally cut it up and slice it first. This is if you intend to store your leftover turkey.
That being done, place the slices in a tightly sealed container or resealable bag, or you can just wrap them tightly in aluminum foil.
You can keep it in the refrigerator for up to 3 days. And, to reheat, I suggest you place the slices in the oven at 225 degrees Fahrenheit and then reheat until they become warm.
However, you can also have them cold if you want, as they also taste great when cold, particularly for a quick lunch.
What to Serve with Smoked Turkey Breast
Smoked turkey breast is so all-around and it goes well with a lot of different side dishes.
It also tastes awesome with barbecue sauce, and below are some excellent sides that you can consider serving with your delicious smoked turkey breast.
They include:
Smoked mac & cheese
Smoked baked beans
Smoked beer mustard potatoes
Corn casserole
Dinner rolls
Creamy mashed potatoes
Roasted mushrooms
Recipe FAQs
Should I Smoke My Turkey Breast Up Or Down?
For optimal results, I recommend you place your turkey breast with the rounded breast side up.
Can You Smoke An Already Cooked Turkey Breast?
Well, yes, you can smoke an already-cooked turkey breast. This is if you intend to heat up the meat and add a little smoked flavor.
However, a raw turkey was used in this best recipe. And, in the case of an already-cooked turkey breast, the smoking time will be shorter, thanks to the fact that you don't need to worry about raising the internal temp of the meat up to safe levels.
How Do You Prevent Turkey From Drying Out While Smoking?
I consider brining it before smoking to be the best way to keep your turkey breast from drying out. This is also the easiest key to a juicy turkey.
What Temperature Do You Smoke A Turkey?
The temperature should remain at 225 degrees Fahrenheit if you are using a Big Green Egg.
And, the temperature should be kept around 325 to 350 degrees F if you are using a gas or charcoal grill.
Final Thoughts on Smoked Turkey Recipes
As previously mentioned, an excellent way to add smoky flavor to standard Thanksgiving foods is through smoked turkey breast.
This delicious smoked turkey breast is also a simple BBQ main course that you can make any time of the year.
So, with this guide, you can learn how to smoke turkey breast on a grill and use this simple recipe to make the best-smoked turkey breast.