I consider the roasted turkey and the sweet potato casserole to be sides to the classic stuffing when it comes to the big Thanksgiving treat.
In this guide, we will be looking at an easy turkey recipe with stuffing.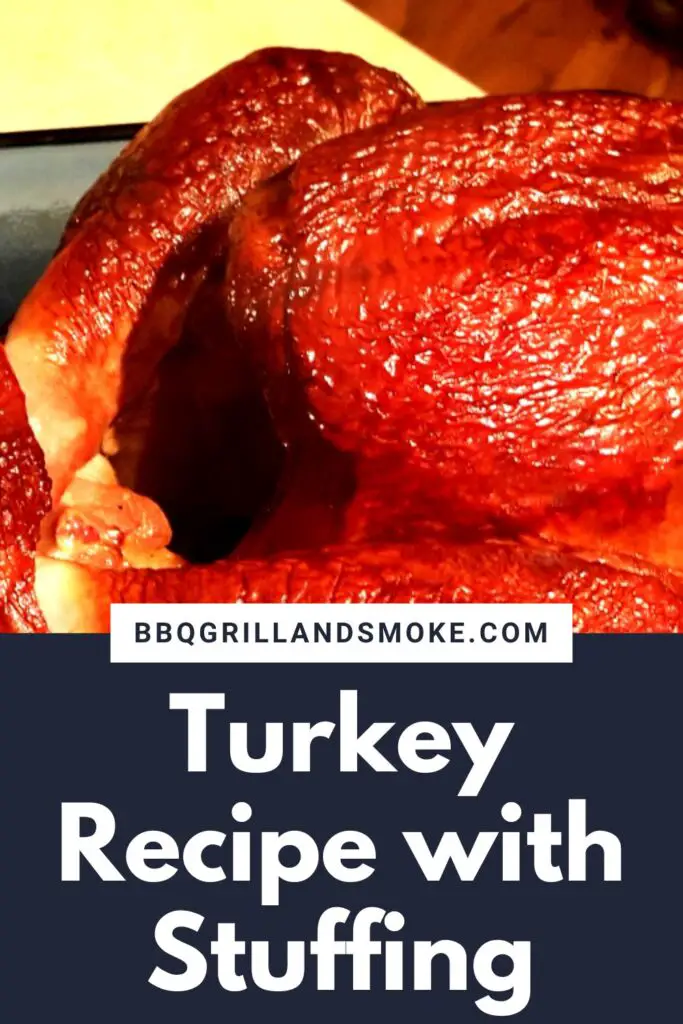 The combination of textures and tasty flavor profile make a delectable dish of stuffing that is craved throughout the year.
It is quite certain that good stuffing certainly makes or breaks Thanksgiving dinner. So, read on to learn how to make a turkey recipe with stuffing.
Turkey Stuffing
In a holiday or Thanksgiving dinner, stuffing is one of the most essential platters.
Since this is about turkey stuffing, you have to make sure that the stuffing is at room temperature.
Or cool and not stuff the turkey until just before roasting. Keep in mind that you are to cool the stuffing first if you stuff your turkey totally.
The meat will just sit at an unsafe cooking temperature for a long period of time if you don't.
Also, if you are stuffing a turkey, the center of the stuffing has to be cooked to 165 degrees Fahrenheit, given the fact that the drippings from the meat enter the stuffing.
Best Thanksgiving Turkey Recipe
This is the best Thanksgiving Turkey recipe with Easy Turkey Stuffing from scratch.
Learn how to roast a turkey from scratch and also make the best turkey stuffing.
Prep Time: 10 minutes
Cook Time: 3 hours
Total Time: 3 hours and 10 minutes
Course: Main Course, Thanksgiving
Cuisine: American
Servings: 1 turkey
Equipment
Ingredients
10 – 12 Ib turkey
5 garlic cloves (minced)
1 cup of butter (softened)
Kosher salt & pepper (to taste). However, you can skip the salt if you brined the turkey.
2 tablespoons of avocado oil or any other oil of your choice
Turkey Stuffing
1 tablespoon of Montreal Steak Spice (or, you can use any of your favorite Poultry Spices)
Laid-Out Instructions
First, you are to start by preheating the oven to 350 degrees Fahrenheit. Then, you proceed to pat the turkey dry with paper towels.
After that, add 1 cup of softened butter, 5 minced garlic cloves, 1 tablespoon of Montreal Steak Spice, and salt and black pepper to taste in a mixing bowl.
Then, mix until well combined. Now, proceed to spread the butter under the turkey skin and make sure this is done evenly.
That being done, proceed to sprinkle olive oil all over the top and oil the top skin of the turkey. This also has to be done evenly.
With all that being done, you can now stuff the turkey with Bacon Rice Stuffing. Get cooking twine and then use it to tie the legs of the turkey together.
After that, you are to get an oven bag and place the turkey inside it. However, make sure you poke a few holes in the bag.
Now, get a non-stick roasting pan and proceed to bake the turkey in it at over 350 degrees F. This should take around 2 hours and 30 minutes.
Or, just bake until the turkey is cooked through. This is when you slice between the legs and the juices run clear.
After that, you are to allow the turkey to rest for 15 to 20 minutes before you proceed to cut; you can now slice and serve warm. Enjoy your treat.
How to Freeze Turkey Stuffing
I certainly love turkey dinner leftovers, and I'm sure you do too. And I have my personal favorite ways of enjoying these leftovers.
They are hot turkey sandwiches and turkey dinner stacks. However, the truth is that there are times you won't get to them by the time they go bad.
But I'm assuring you that this isn't an issue, as you can always freeze your turkey stuffing. And it does freeze well.
All you need to do is place it in the freezer, and this way, it will last for several months. And, when you are ready to eat them, reheat them.
To reheat stuffing, all you have to do is place it in the oven at 350 degrees Fahrenheit. Allow it to heat for around 20 minutes.
Pour a little broth on it, as this will help keep it from drying out.
What Are Some Sides to Pair With Turkey?
Well, you have a side already in the turkey. The amazing rice and bacon stuffing is a side dish on its own.
Once you bring out the stuffing from the cavity, it's moist and tasty and makes a flavorful side dish.
However, there are other sides that you can serve with this bird.
Crockpot mac and cheese, Instant Pot mashed potatoes, and scalloped potatoes are always good options.
Turkey Stuffing Recipe FAQs
What Spices Do You Put in Turkey Stuffing?
There are a few key seasonings, including salt, black pepper, and poultry seasoning. You will also get good flavor from the onion, celery, butter, and chicken stock.
However, on the whole, all that tasty flavor is obtained from poultry seasoning.
What Does Poultry Seasoning Have in It?
You can use a pre-mixed poultry seasoning, and this is something that you can get in the spice aisle at the grocery store.
However, based on your preference, you can always mix your own.
Generally, poultry seasoning has rosemary, sage, thyme, a touch of nutmeg, marjoram, and black pepper.
How to Stuff a Turkey
Well, it is quite essential that you spoon the stuffing into the turkey and make sure it is done loosely.
So, I suggest you avoid packing it in. And, about the quantity, you can just do around ¾ cup of stuffing for each pound of turkey.
When to Stuff a Turkey
I strongly suggest that you stuff the turkey immediately before you toss it in the oven. This is for food safety reasons.
Make sure the oven is preheated and ready to go. So, all you need to do is stuff the turkey, then proceed to place it in the oven.
Final Thoughts on Turkey Stuffing
You can also make this ahead of time, but in this case, all you will do is prepare it as directed, but without baking it.
Refrigerate it for up to 48 hours, and make sure that you cover it tightly. And, when you are ready to bake it, just bring it out of the fridge.
I recommend you do this at least 30 minutes before baking. Furthermore, you might just add a few minutes of additional baking time. This is if it is still cold from the fridge.
That being said, and with the best turkey recipe given, this will be the conclusion of this guide on "Turkey Recipe with Stuffing."