This smothered turkey wings in the oven is a first-rate comfort food that will surely satisfy your craving.
Smothered turkey wings with smooth turkey wing gravy are ideal for a holiday meal, Sunday dinner, or just anytime you feel like eating a Southern-style meal.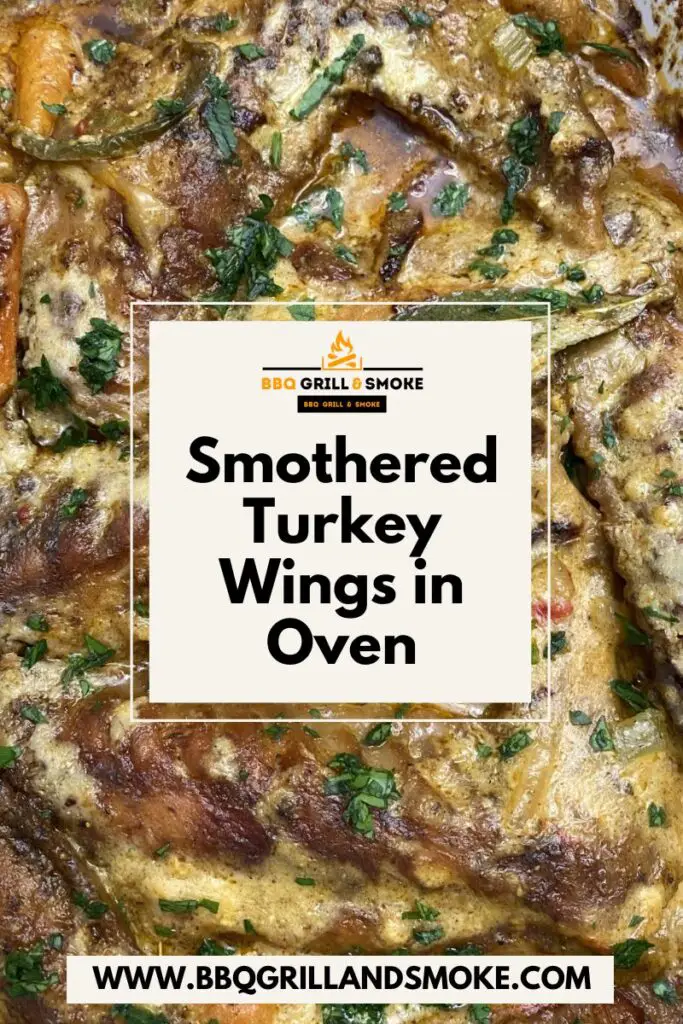 I will personally say that smothered turkey wings in the oven with gravy are way better than your favorite chicken wing recipes.
What Are Smothered Turkey Wings?
Smothering is a Cajun and Creole cooking method that changes cheap cuts of meat into mouth-watering meals.
The meat is slow-cooked in its own juice until it becomes soft, and it is then served over rice.
And, obviously, turkey wings get smothered in rich, homemade gravy. As said, it is slow-cooked to perfection and smothered in a rich, tasty gravy.
These tender turkey wings are the best. Each bite is filled with flavor that will have you craving more on your lips.
This is a comfort food twist that is ideal and the best option for the holidays or even just any day.
Smothered Turkey Wings
Course: Main Dish
Cuisine: American
Prep Time: 30 minutes
Cook Time: 1 hour
Total Time: 1 hour and 30 minutes
Yield: 6 to 8 servings
Succulent, large turkey wings are slow-baked with a tangy Cajun rub and then finished in a rich gravy that is flavored with the holy trinity.
The holy trinity is celery, green bell peppers, and onions. Now, let's get right into this easy-smothered turkey wings in the oven recipe.
Ingredients
Wings
4 turkey wings, split into drumettes and wingettes (around 3 pounds, 3 ounces)
1 tablespoon of smoked paprika
1 teaspoon of dried thyme
Kosher salt and freshly ground
1 tablespoon of garlic powder
1 tablespoon of onion powder
2 teaspoons of dried oregano
2 teaspoons of cayenne pepper
1 tablespoon of sweet paprika
Gravy
1 small green bell pepper (finely diced)
1 clove of garlic (minced)
2 tablespoons of Worcestershire sauce
2 teaspoons of hot sauce (like Cholula)
6 tablespoons of unsalted butter (cut into pieces)
Kosher salt and freshly ground black pepper
1 small onion (finely diced)
1/3 cup of all-purpose flour
3 cups of homemade turkey stock
¼ cup of parsley leaves (chopped)
2 bay leaves
¼ cup of heavy cream
1 medium celery stalk (finely diced)
Laid-Out Instructions
First, you are to preheat the oven to 425 degrees Fahrenheit. Then, place a wire rack on a rimmed baking sheet.
For the Wings
Just make sure you pat the turkey wings completely dry and place them on a work surface or cutting board.
Get a medium bowl and combine the onion powder, smoked paprika, cayenne pepper, garlic powder, oregano, 1 tablespoon of salt, thyme, and 2 teaspoons of black pepper in it.
Lavishly rub all over the turkey wings, and ensure that you pick up whatever falls onto the board and drizzle it back onto the turkey.
With that being done, now transfer the wings to the prepared baking sheet and add 2 cups of water to the bottom of the baking sheet.
After that, wrap the foil over the wings and baking sheet, and make sure you do it tightly.
Bake until the wings are cooked through, just slightly succulent, and unable to be pulled away using a fork, around 1 hour.
Make the Gravy
Get a 12-inch cast-iron skillet and melt the butter in it over medium-high heat.
Then, add the onion, celery, garlic, ½ teaspoon of salt, and green pepper, and cook.
Make sure you stir occasionally until the vegetables have softened, 5 to 6 minutes.
Now, spray the veggies with the flour and stir to combine. After that, slowly pour in the stock, constantly stirring until there are no lumps remaining from the flour.
Also, stir in the hot sauce, bay leaves, Worcestershire sauce, ½ teaspoon salt, and a few grinds of black pepper and bring to a simmer.
Make sure you reduce the heat to low, then unwrap the wings and nestle them into the gravy using tongs.
This should be done carefully. Also, tightly cover the skillet with foil and simmer until the wings are completely soft and the meat can be easily pulled away with a fork, around 25 minutes.
After that, pour the heavy cream into the gravy around the turkey, then gently mix it with a spoon as much as you can.
Allow it to simmer until heated through; this should take around 2 to 3 minutes. Garnish with parsley, and before serving, remove the bay leaves.
What to Serve With Smothered Turkey Wings
This meal is a Southern masterpiece that you are to serve with rice.
However, you can also serve it with seasoned rice, skillet cornbread, or garlic-mashed red potatoes.
Other options include mashed rutabagas with sour cream and dill, celery root mash, perfect mashed potatoes, puréed roasted parsnips, and mashed cauliflower with brown butter.
How to Store Them
Your cooked wings can be stored in the fridge, but make sure they are placed in a tightly sealed container. This will make it last for up to 3–4 days.
Freezer Tips
You can also freeze your leftover wings in a sealed container. However, for the best taste, they will last up to 3 months.
And, to reheat, just thaw the wings overnight in the fridge and reheat.
Recipe FAQs
Will Frozen Turkey Wings Work?
Frozen turkey wings will work for this recipe, but you will have to defrost them in the fridge overnight before you start, particularly when you want them to cook evenly and to the bone.
Why Are My Wings Tough?
Your wings turn out to be tough when they are undercooked or overcooked.
You also need an instant-read meat thermometer to tell you when the wings are cooked perfectly to an internal temp of 165 degrees F (75 degrees Celsius).
Can You Make This With Other Cuts Of Turkey?
Smothered turkey wings are drool-worthy, but you can also use this simple recipe for turkey thighs and turkey legs.
Just adjust the cooking times as required and make sure that you check for doneness using a meat thermometer.
Conclusion
This simple smothered turkey wings recipe can also be used with chicken wings, chicken, or chicken drumsticks.
But you will need to reduce the cooking time. And to make sure that the wings are done, use a meat thermometer.
For a wonderful meal, a large gathering, and an excellent Thanksgiving dinner substitute when you don't want to roast a whole turkey, these incredibly massive turkey wings, lavishly seasoned with a blend of spices, baked, and smothered with smooth gravy, are the perfect option.
That being said, this will be the wrap-up of this guide on smothered turkey wings in oven as you now have the best recipe for it.