These baked smothered turkey wings are a true Southern favorite, and they are made from scratch. Check out the recipe.
For a nutritious and refreshing family meal, seasoned and roasted turkey wings are baked in rich homemade gravy.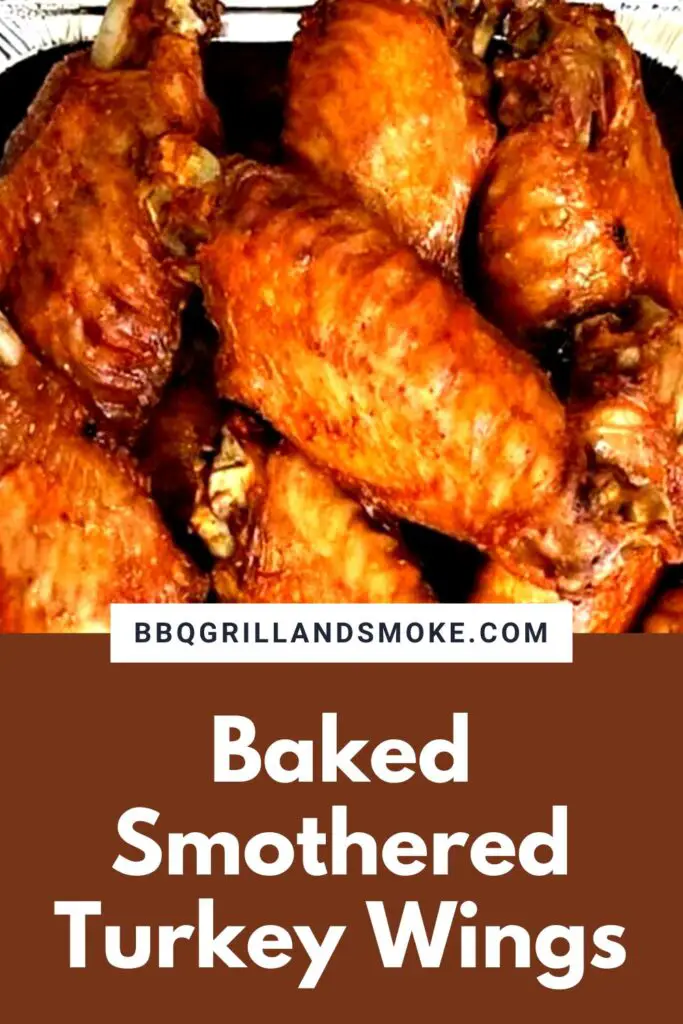 Remember that turkey isn't just for Christmas and Thanksgiving. These Southern-baked smother turkey wings can be enjoyed throughout the year.
And you can be assured that they are nothing short of savory. So, for a bite filled with flavor, seasoned wings are roasted, and then a rich homemade gravy is made from the dipping.
However, this perfect recipe requires a little time to be made. Fortunately, it is a simple, straightforward recipe that requires just a few simple ingredients.
Smothered Turkey Wings
Smothered turkey wings and gravy are way better than your favorite chicken wing recipes.
They are generously seasoned with a blend of spices, baked, and smothered with a smooth gravy, which results in a wonderful meal.
And this meal is ideal for a large gathering and makes an excellent choice for a Thanksgiving dinner substitute when you don't want to roast an entire turkey.
You are to cook these Southern turkey wings low and slow until they are soft and juicy, then proceed to smother them in a rich gravy that is mouth-watering to be served over mashed potatoes and dressing.
This smothered turkey wings recipe is a first-rate comfort food that you will surely have a craving for.
Smothered turkey wings with smooth turkey wing gravy are ideal for a holiday meal, Sunday dinner, or just any time you are craving a Southern-style meal.
Easy Smothered Turkey Wings Recipe
Your search for the best-smothered turkey wings recipe ends here.
These well-seasoned wings are roasted until they fall off the bone and served with an appetizing gravy that will get you addicted.
A true, down-home Southern staple to enjoy for the most comfortable anytime dinner or ideal for holiday suppers or events.
Course: Main Course
Cuisine: American
Prep Time: 10 minutes
Cook Time: 2 hours
Total Time: 2 hours and 10 minutes
Servings: 4 servings
Ingredients
Turkey Wings
3–4 pounds of turkey wings (split into drums and flats)
1 green bell pepper (sliced)
1 teaspoon of dried thyme
1 teaspoon of black pepper
3 tablespoons of olive oil
1 tablespoon of garlic powder
1 tablespoon of smoked paprika
2 tablespoons of kosher salt
1 tablespoon of onion powder
1 large yellow onion (sliced)
½ teaspoon of cayenne pepper
Gravy
1 yellow onion (thinly sliced)
¼ teaspoon of smoked paprika
Pan drippings from wings
4 tablespoons of unsalted butter
2 garlic cloves (minced)
¼ cup of all-purpose flour
1/8 teaspoon of rubbed sage
2 cups of turkey stock or chicken stock (room temp)
Salt and pepper (to taste)
Laid-Out Instructions
First, preheat the oven to 375 degrees Fahrenheit. After that, proceed to get a roasting pan and place the turkey wings in it.
Also, sprinkle the wings with olive oil. Get a small bowl and mix the pepper, smoked paprika, salt, dried thyme, cayenne pepper, onion powder, and garlic powder in it.
After that, spray the seasonings over the wings and be sure to cover both sides of the wings.
Now, with that done, top the meat with the sliced onions and bell peppers and cover with foil.
You are to bake for an hour and 15 minutes. Pour the drippings into a measuring cup after you remove the wings from the oven, or you can just pour them into something to make it easier to pour.
To Make the Gravy
First, heat the butter in a large skillet over medium heat. And add the onions and garlic cloves to the skillet immediately after the butter starts to bubble.
Make sure you cook it until it becomes tender. After that, stir in the sage, flour, and smoked paprika.
And, then cook for an extra 1-2 minutes. Also, stir in the pan drippings from the wings; afterward, stir in the stock slowly.
You are to allow the mixture to simmer for around 5-7 minutes until it thickens a little.
You can now pour the gravy over the wings. It will surely thicken more in the oven.
So, bake the wings for an additional 35–40 minutes, or until they become soft.
Make sure you do this uncovered and then serve with rice when it is ready.
What to Serve With Smothered Turkey Wings
Well, I will say that you've got to serve these mouth-watering wings with some sides. And below are some serving suggestions:
Potato salad, delicious red rice, mashed potatoes, or white/brown rice
Gouda mac, baked mac, or a creamy stovetop mac
A simple side salad, roasted/steamed veggies, or candied yams
Buttermilk cornbread or sweet potato cornbread
Collard greens or southern green beans
Celery root mash
Puréed roasted parsnips
Mashed rutabagas with sour cream and dill
Mashed cauliflower with brown butter
Storage and Reheat
Store
You can store your leftover smothered turkey wings in a tightly sealed container in the fridge, and they will last for up to 4 days.
Freeze
You can also freeze for up to 3 months. And when you are ready to eat them, just defrost them overnight in the fridge.
Reheat
To reheat, just place them in an oven-proof dish and then cover with foil.
Make sure you bake them at 350 degrees Fahrenheit or 180 degrees Celsius until they are heated through.
Recipe FAQs
Will Frozen Turkey Wings Work?
Of course, they will work for this recipe. However, before you start, you are required to defrost them in the fridge overnight.
I'm sure your desire is that they cook evenly and to the bone.
Why Are My Wings Tough?
Your wings become tough when they are undercooked or overcooked.
This is why you need an instant-read meat thermometer, as it will tell you when the wings are cooked perfectly to an internal temp of 165 degrees F or 75 degrees C.
Can You Use Boneless Turkey Meat?
The short and simple answer to this is yes; you can use boneless turkey meat.
However, for boneless cuts of meat compared to wings, the cooking time will be shorter.
Final Thoughts on Baked Smothered Turkey Wings
These delicious smothered turkey wings are slow-cooked to perfection and then smothered in a rich, tasty gravy.
It is guaranteed that these tender turkey wings are the best. Each bite results in a burst of flavor that will get you addicted and craving more.
I will say that this comfort-food twist is ideal for the holidays and, in fact, just any day.
So, go enjoy yourself, as you now have the best recipe for baked smothered turkey wings.