Looking for quick and comprehensive collard greens with smoked turkey wings recipe? Take a look at this recipe.
Using this simple Southern collard greens recipe, you will be able to make Southern-style collard greens with smoked turkey wings in less than two hours.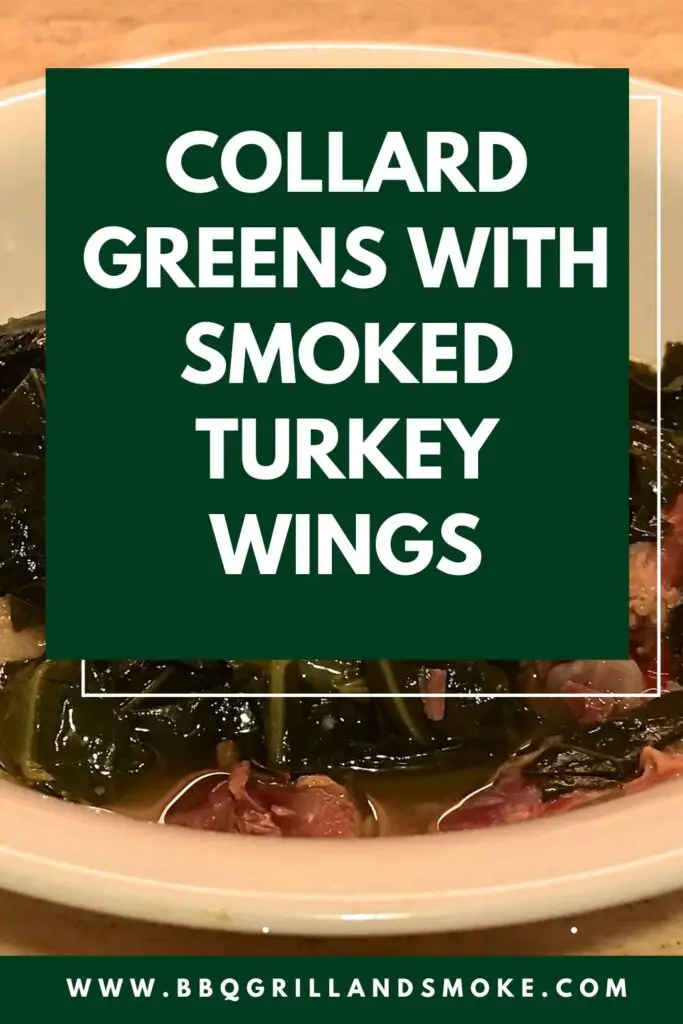 With just a few common ingredients, you will learn how to make this classic side dish faster.
This healthy recipe is definitely a family favorite. It is made with smoked turkey, and the greens are filled with Southern flavor. It is also sure to be a hit with any crowd.
What Are Collard Greens?
Collards are extremely tough leaves, and they are in the same family as broccoli and cabbage.
They are really only appealing to eat when they have been stewed for a while, given the fact that they are very tough.
This dish will also have a finger-licking taste when you add any kind of smoked meat to it.
Collard greens are a Southern staple, and they are ideal for the holidays and Sunday dinners.
They are made with smoked meats in the South as they complement their natural flavor.
Actually, these collard greens can be made with ham hocks, smoked turkey legs, and, in this case, smoked turkey wings.
And, if you like, you can serve them with a little hot sauce and vinegar on your plate.
Southern Collard Green Recipe with Smoked Turkey Wings
These healthy collard greens are simmered in chicken broth, garlic, and onions.
Southern Collard Greens is a popular traditional southern vegetable dish.
This easy recipe features a delectable blend of smokiness, savory, and vinegar. It is a great side dish for the holidays and anytime.
Course: Side Dish
Cuisine: American
Prep Time: 15 minutes
Cook Time: 1 hour, 30 minutes
Total Time: 1 hour and 45 minutes
Servings: 6 people
Ingredients
1 bunch of collard greens
1 fully-cooked, smoked turkey wing (you can also use smoked turkey legs)
½ onion (diced)
1 tablespoon of olive oil
3 garlic cloves (diced)
3 cups of chicken broth
1 t. of red pepper flakes
Seasoning (optional): salt, hot sauce, pepper, vinegar
Laid-Out Instructions
The first thing you need to do is remove the collard green leaf from the steam.
After that, proceed to wash the collards several times in cold water.
This is done in order to get rid of any dirt and grit. If required, you can also use salt to get rid of the grit.
With that being done, rinse it well and then set it aside. Afterward, get a large pot, then add a tablespoon of olive oil and the chopped onions and garlic to it.
Proceed to sauté it until it becomes soft. You can now add the red pepper flakes, the turkey wings, and the chicken broth.
After that, bring it to a boil and then reduce the heat to simmer for around 20–30 minutes.
This will, in turn, make the broth take on that delectable, smoky flavor.
It's time to add in the collard greens. Simmer for around 45–60 minutes, or just until your desired tenderness has been reached.
However, make sure that it is covered. And, if needed, you can also increase the heat, but ensure that you do not boil the collard greens, as they will wilt as they cook.
When that is done, you can now season it as you like. And, if the broth is very seasoned, I don't think these greens need a thing.
You can also add a few dashes of black pepper and a few drops of hot sauce.
What Goes Well With These Collard Greens with Smoked Turkey Wings?
Pork chops
Fried chicken
Southern potato salad
Cornbread
Baked Mac and Cheese
Honey BBQ Meatloaf
A perfect option to serve with these delicious collard greens with smoked turkey wings is cabbage with Louisiana hot sauce.
Traditionally, you can serve these Southern collard greens with pork.
They are also an excellent side dish for other Southern favorites like barbecue, jambalaya, gumbo, and cornbread.
Storing Collard Greens
They can last up to five days in the fridge. For raw collard greens, just wash them and pat them dry with a paper towel.
After that, roll them up and cover them with a new, dry paper towel. Then, you can secure them with a rubber band and place them in your fridge.
Just place a paper towel at the bottom of a ziplock bag and place them in it if you intend to freeze them.
The paper towel is there to help absorb any water from the leaves and avoid ice crystals or freezer burn.
Also, ensure that you let as much air as you possibly can escape when you are sealing the bag.
Collard Greens with Smoked Turkey Wings Recipe FAQs
Can You Overcook Collard Greens?
In my opinion, I will say that it is almost impossible to overcook collard greens, but I strongly suggest that you don't cook them for too long.
Simmering the greens slowly on low heat and adding a splash of apple cider vinegar is definitely the best way to bring out the flavor of collard greens.
The splash of apple cider vinegar also gives the dish a nice tang and helps offset the flavor.
Are Collard Greens Good For You?
The short and straightforward answer to this is yes; collard greens are good for you.
Collards contain so many minerals and vitamins, which include vitamin C, vitamin K, vitamin A, iron, magnesium, and calcium.
What Meat Goes Well With Collard Greens?
Traditionally, Southern collard greens pair well with pork. However, you can always use other meats such as chicken, lamb, beef, and, in this case, smoked turkey.
This recipe makes collard greens with smoked turkey.
How Do You Get the Bitterness Out Of Collard Greens?
Make sure that you cut off the stem ends, and then proceed to add apple cider vinegar.
Why Do You Put Vinegar In Collard Greens?
This is done in order to tenderize the greens and get rid of the bitterness.
Is It Better To Eat Collard Greens Cooked Or Raw?
You can actually eat them either way. It is a fact that they make a delectable crispy leafy green salad that can also be cooked and added with other meats and vegetables.
Final Thoughts on Collard Greens with Smoked Turkey Wings Recipe
For this easy Southern-style collard greens recipe, you can use smoked turkey wings or legs, given the fact that they are really flavorful and lower in fat than bacon and ham.
However, you can always use your preferred smoky meat. If you like, you can also use a mixture of collards and other greens.
You can also use bacon grease to substitute for oil. Feel free to add the vinegar as you need; it's not necessary to add it to the whole pot.
Well, that being said, this will be the wrap-up on the best recipe for Collard Greens with Smoked Turkey Wings.