You might be wondering if it is possible for this healthy smoked turkey legs recipe you make at home to be as good as the ones at places such as the fair, Renaissance festival, carnival, or Disney.
Well, to answer that question, this best recipe for smoked turkey legs is even better, and all you will need is a simple brine and a little patience.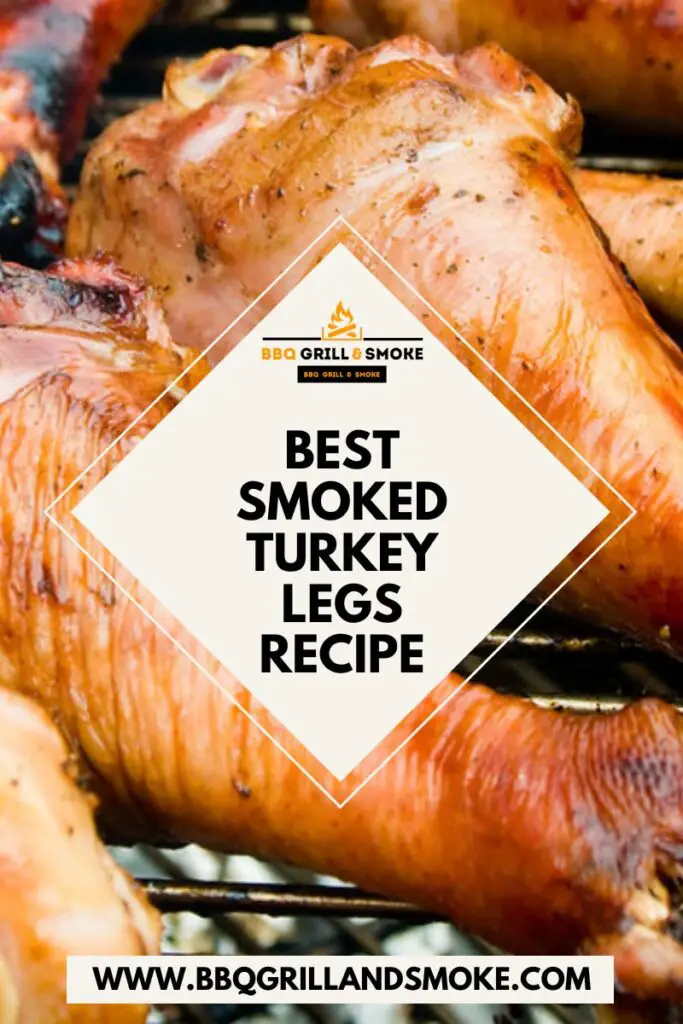 You will learn how to make this happen in this guide. This way, you won't have to stand in a long line to get smoked turkey legs.
Or, even having to pay a steep price. All you need to make this happen is an overnight soak in brine and a few hours on a smoker or grill.
These are so creamy, so juicy, and so imbued with flavor that your friends and family would be glad to wait in line and pay for these drumsticks, and in this case, help with the dishes.
Recipe for Smoked Turkey Legs
Prep Time: 30 minutes
Resting Time: 30 minutes
Cooking Time: 4 hours
Total Time: 5 hours
Yield: 6 servings
Course: Main Course
Cuisine: American
Ingredients
6 turkey legs
Dry Rub
Mop
1 tablespoon of vegetable oil
3 tablespoons of Worcestershire sauce
Your favorite BBQ sauce, as needed.
Dry Rub
¼ cup of chipotle seasoning
1 tablespoon of packed brown sugar
1 – 2 tablespoons of mild dried ground red chili or paprika
Mop
1 cup of white vinegar
1 tablespoon of vegetable oil
1 tablespoon of BBQ sauce
Laid-Out Instructions
To begin this process, you are to loosen the skin on the turkey legs, and you can do this by running your fingers under it as far as you can.
However, make sure you do not tear the skin. This should also be done many hours before you plan the barbecue.
With that being done, you proceed by mixing the Worcestershire sauce and the oil together. Then, using your coated fingers (with the mixture), you are to rub them into the turkey legs.
Make sure this is done perfectly well. After that, spray the dry rub over the skin and generously rub it into the turkey legs and under the skin.
When that is done, move the turkey legs into plastic bags and proceed to refrigerate. Now, ready the smoker for barbecuing.
You can do this by bringing its temperature to around 200 to 220 degrees Fahrenheit. Remove the turkey legs from the refrigerator and allow them to cool at room temperature.
Ensure that this goes on for around 30 minutes. After that, get the mop mixture and rewarm it over low heat.
Now, transfer the turkey legs to the smoker. Then, proceed to cook until the legs are extremely tender and the juices run clear around 3 ½ to 4 hours.
In a wood-burning pit, you are to mop the legs at 45-minute intervals. Or, you can just do this according to your style of smoking machine.
With that being done, you can serve the legs hot, to be eaten with your fingers, alongside a side of barbecue sauce.
Dry Rub
You are to get a small bowl and mix all the ingredients which include ¼ cup of chipotle seasoning, 1 tablespoon of packed brown sugar, and 1 to 2 tablespoons of mild dried ground red chili or paprika in it.
Mop
For this, you are to get a small saucepan and mix the mop ingredients, which include 1 tablespoon of BBQ sauce, 1 tablespoon of vegetable oil, and 1 cup of vinegar, in it. As previously mentioned, you are to warm the mixture over low heat.
How Long Should To Smoke Turkey Legs?
There are a few factors that determine the timeframe for smoking turkey legs.
It is determined by the type and brand of the smoker, the temperature of the smoker, and also the weight and size of the drumsticks, which are either small, medium, or large.
It can take around 3 to 4 hours if you are smoking brined large turkey drumsticks at 225 to 250 degrees Fahrenheit (107 to 121 degrees Celsius) in a charcoal smoker until the thickest part of the meat gets to an internal temperature of 165 degrees Fahrenheit (74 degrees Celsius).
Is a Smoked Turkey Leg Fully Cooked?
I will say that these best-smoked turkey drumsticks are thoroughly cooked, soft, and juicy at 170 degrees Fahrenheit.
With all that being said, it is important to note that in less than the recommended 3 to 4 hours of smoking time, particularly when the temperature of the smoker runs higher, it is possible for the internal temperature to reach 170 degrees Fahrenheit.
Simply put, make sure you control the temperature of your smoker, as the 225 to 250 degree Fahrenheit range is crucial.
The rule is simple: the longer it takes for the connective tissue in the turkey legs to break down and become liquefied collagen, the longer the drumsticks must spend at 160 degrees Fahrenheit before reaching 170 degrees Fahrenheit.
Doing it this way will definitely result in much more delicious and succulent meat, which I know is the result you want and crave for.
How Do You Store and Freeze Leftover Meat?
You can store your leftovers in a sealed container in the refrigerator if you have any. Doing this will allow it to last for three to four days.
Storing goes for both the turkey legs, and whole or shredded meat off the bone. Another great option for storing leftovers is freezing the leftover meat.
I always shred the meat first, then proceed to keep it in a freezer-safe container or probably a zip bag.
Freezing them after placing them in a freezer-safe container or a zip bag will allow the meat to last for up to four to six months.
Although, after that, the meal will still be safe for consumption, the quality of the meat will start to reduce.
The leftovers of these healthy and easy turkey legs are a great option for enchiladas, mac and cheese, salads, sandwiches, tacos, and so on.
Final Thoughts: Smoked Turkey Legs Recipe
Let's quickly go over what sides you can serve with these simple smoked turkey legs. Well, these easy-smoked turkey legs go perfectly well with several sides.
So, when choosing what sides to serve with these healthy smoked turkey legs, consider the season and occasion, such as Thanksgiving and BBQ.
This best-smoked turkey legs recipe can go well with mashed potatoes, a farofa recipe, microwaved Mac and cheese, mashed sweet potatoes, and sweet potato casserole.
It can also be served with air fryer potato wedges, Instant Pot Brussels sprouts, air fryer broccoli, beet goat cheese salad, Brazilian potato salad, air fryer asparagus, and smoked potatoes.
Also, pair these quick smoked turkey legs with corn gratin, broccoli gratin, roasted delicata squash, mashed potatoes, butternut squash salad, air fryer Brussels sprouts, stuffed acorn squash, and Fio de ovos.
So, with all that being said and with the detailed recipe for the best smoked turkey legs, this will be the conclusion of this guide on the "Smoked Turkey Legs Recipe."