Using this simple Smoked Cornish Hen recipe, you will learn how to smoke Cornish game hens with an easy brine.
This perfect recipe will produce a moist and delicious bird. And you can also give it a savory flavor by adding a dry rub.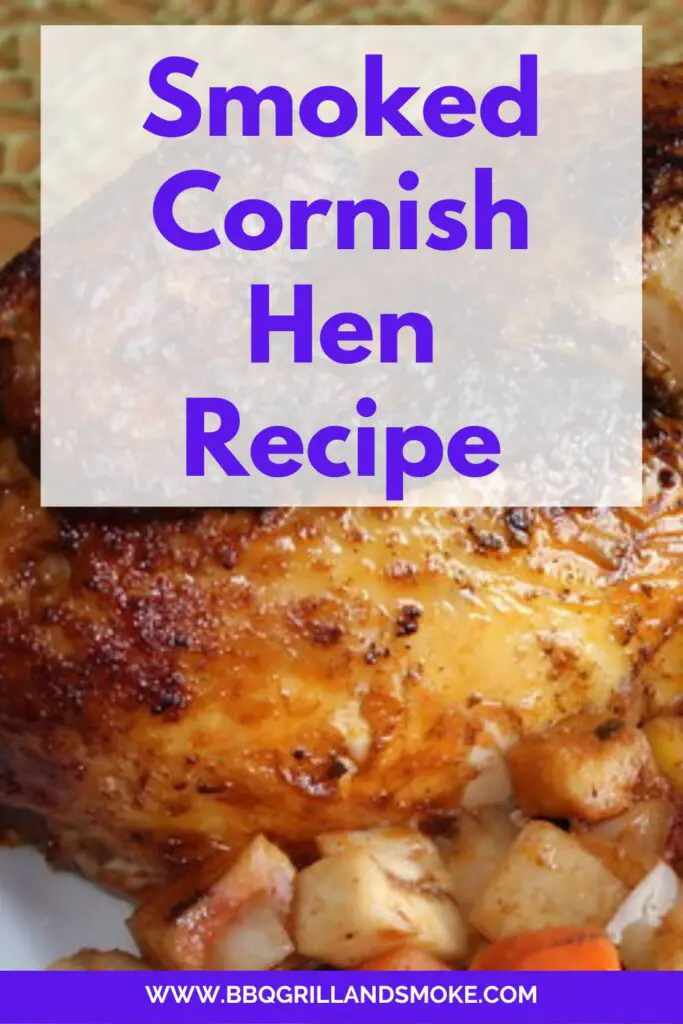 24 hours before smoking, I suggest you soak the Cornish hens in a chicken brine for the smoker, as this will help yield the best results.
However, you need to keep in mind that this is not required, but doing it will have a great impact on flavor.
What Are Smoked Cornish Hens?
Smoked Cornish hens are young chickens with a weight of around two pounds or less that are slowly cooked through the indirect heat of woodsmoke.
These chickens are under five weeks old. They are also commonly referred to as Cornish game hens or Rock Cornish game hens.
A Cornish hen can be male or female, regardless of the name "hen." The small size of the chickens makes them perfect for serving one or two people.
Smoked Cornish hens are an excellent option if you intend to make an entire smoked chicken or turkey but don't have the space for it.
Their small size gives you more space in your smoker or grill for other dishes, such as smoked mac and cheese.
Making the Best Smoked Cornish Hens
Smoked Cornish hens are both perfectly sized and easy to smoke. They will get done in just a few hours, and I can assure you that they are incredibly mouth-watering, succulent, and tasty.
All you need to do is follow my simple instructions in this best-smoked Cornish hens recipe.
Cuisine: American
Course: Main Course
Prep Time: 15 minutes
Cook Time: 2 hours
Total Time: 2 hours and 15 minutes
Yield: 4 – 6
Ingredients
Cornish game hens (one per person, plus a few extras for bigger appetites)
Mayonnaise
Brine
Jeff's original rub
Instructions
Make the Brine
The first step is to get 1 gallon of cold water and add 1 cup of salt, then proceed to stir until the salt gets dissolved.
After that, you can now add 1 cup of brown sugar and stir until the sugar gets dissolved.
Brine the Birds
With that being done, proceed to rinse the Cornish hens under cold water and place the birds in a food-safe container like a zip-top bag or a bowl.
Afterward, pour the brine over the birds to cover them. Then, place the brining container along with the Cornish hens into the fridge and allow it to stay there for 1 hour, 30 minutes.
Rinse the birds under cold water when the brining time is over. Then, go on to pat the area dry using paper towels.
Season the Hens
When that is done, you are to add the mayonnaise generously to the Cornish hens. After that, spray the rub on the top, bottom, and sides of the chickens.
Smoke Them
You can now proceed to set up your smoker for cooking at 230 to 260 degrees Fahrenheit. The hens will only take around 1 hour and 30 minutes to cook if you can maintain a higher temperature.
However, they will take around 2 hours to cook if you go for the lower end. That being said, you can now place the birds on the smoker grate immediately after the smoker is ready.
Although you need to make sure that the breast side is facing down. Continue cooking until the internal temperature reaches 165 degrees Fahrenheit.
You can check the internal temperature using a digital meat thermometer.
Serve
After that, when the chickens are done, you are to remove them from the grate and place one Cornish hen on each person's plate with sides.
Notes
As previously stated, I strongly suggest that you allow your Cornish hens to sit in a brine solution if you have the time for it, as this will help result in a delicious, savory hen. However, keep in mind that this is not required.
Storage and Reheating Smoked Cornish Hen Recipe
You can store the cooled leftovers, if you have any, in a tightly sealed container and then place them in the refrigerator. This will make it last for up to three days.
And, when you are ready to reheat them, you can just place them in the microwave for 1 to 2 minutes. Although this is based on how much reheating is required or what you want.
These birds reheat so well, and even after reheating, they also retain moisture.
What to Serve with Cornish Hens
You can serve salad and corn casserole with these delicious Cornish hens. And you can also pair them with cream cheese smoked mushrooms.
I also suggest that you serve a good grilled vegetable with these savory birds. Other excellent options include Brussels sprouts, grilled sweet potatoes, carrots, and asparagus.
When you intend to make a little bit of a cookout out of this dish, I recommend making a batch of smoked potato salad or grilled baked beans.
Smoked Cornish Hen Recipe FAQ
How Do I Make Sure My Skin Is Crunchy?
Well, if you want to make sure that the skin is crunchy, then don't brine it. You are infusing moisture to stay locked inside the meat when you brine it, skin included.
So just skip the brine altogether if you want a crunchy exterior. All you need to do is pat the hen dry, then proceed to place it in the refrigerator for up to 1 – 2 hours.
After that, you are to smoke it at a slightly higher temp of 275 degrees Fahrenheit or so.
Make sure you do not cover the hen when you remove it from the grill or smoker.
That is said because doing so will allow moisture to be locked in, which in turn will make the skin less crunchy.
Do You Cook Cornish Hens Breast Up Or Down?
Also, as stated in this recipe, make sure this breast side is facing down. This is what is frequently recommended.
This will allow the juices to naturally rest in the breast meat as it cooks.
However, you can still cook it with the breast side facing up, and it will still result in delicious meat.
Conclusion on Smoked Cornish Hen Recipe
For the kind of wood chips or pellets you should use for smoking Cornish hens, I will say that the best choice includes apple, pecan, or cherry.
Although you can always use another flavor if that's what you have or want. To keep this bird moist and luscious, I recommend soaking the hens in a brine.
And, also, allow the small birds to rest at room temp for 15 to 30 minutes before you proceed to cook them, as this will help them cook evenly and also prevent the heat from drying out the meat.
That being said, and with the best Smoked Cornish Hen recipe given, this concludes this guide.