This healthy recipe for pan-fried chicken breast is the weeknight champion, particularly if fried chicken is your Sunday special.
This chicken is seasoned on the outside, then cooked on the stovetop at a high temp.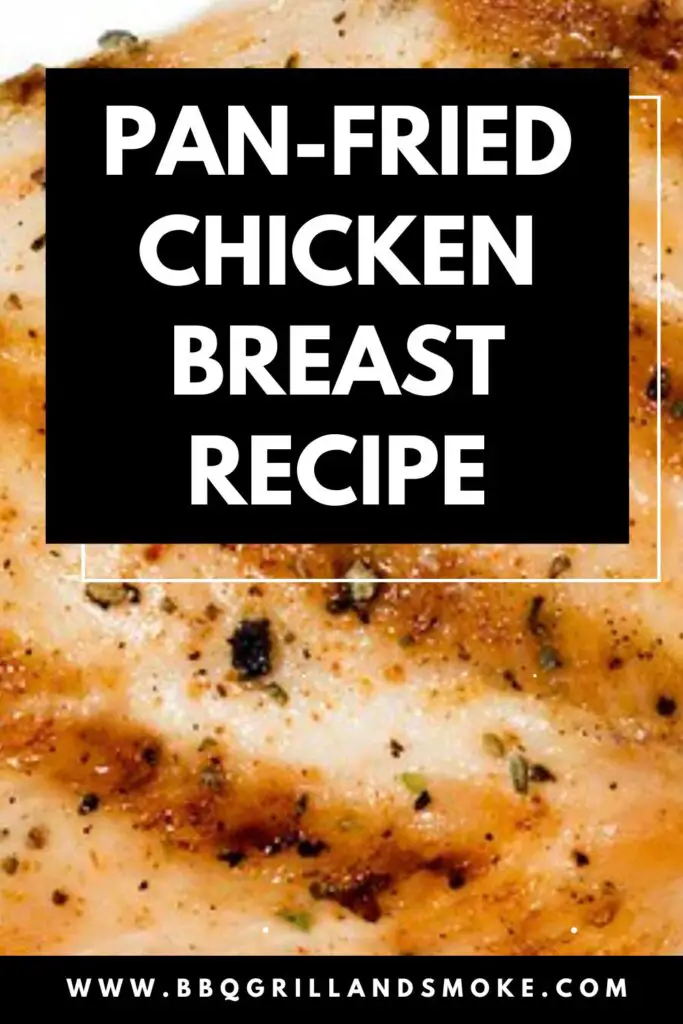 It is golden, delicious, and one of the best ways to make a chicken breast.
This recipe can actually hold its own as a stand-alone entrée, thanks to the fact that the chicken breast is well seasoned.
It is also well-rounded enough to be sliced and added to sandwiches, pasta, salads, and so on.
Chicken Breast
Chicken breast is a great source of lean protein, which means protein without plenty of accompanying fat.
This also means that most of the calories in the chicken breast are from protein.
And those who eat enough protein tend to maintain muscle mass and preserve a healthy metabolism.
It is very brilliant to include chicken in a balanced, hearty diet, given the fact that chicken breasts are well-rounded and rather affordable.
Pan Fried Chicken Breast
Crunchy pan-fried chicken breast is a quick, delicious, and healthy way to cook luscious boneless chicken along with an appetizing, simple paprika seasoning.
Cuisine: American
Course: Dinner
Prep Time: 20 minutes
Cook Time: 10 minutes
Resting Time: 10 minutes
Total Time: 40 minutes
Servings: 4 servings
Ingredients
1 ½ pounds of boneless, skinless chicken breasts (about 3 medium breasts)
1 teaspoon of garlic powder
1 teaspoon of onion powder
1 teaspoon of kosher salt (divided)
½ teaspoon of black pepper (divided)
1 tablespoon of paprika
1 teaspoon of dried parsley
2 tablespoons of canola oil
¼ teaspoon of cayenne (optional)
½ cup of white whole wheat flour (or all-purpose flour)
Chopped fresh herbs (optional for serving)
1 lemon (cut into wedges)
Laid-Out Instructions
First, remove the chicken breasts from the refrigerator and allow them to rest at room temperature for 15 minutes.
After that, place it on a cutting board, get a large sheet of plastic wrap, and use it to cover it (although it is optional, just to help keep things tidier).
That being done, gently pound into an even thickness (around ½ inch).
Get a paper towel and use it to pat it dry, then season with ½ teaspoon of kosher salt and ¼ teaspoon of black pepper.
Afterward, set it aside. Get a wide, shallow dish like a pie plate and stir the paprika, flour, parsley, onion powder, garlic powder, cayenne, and remaining ½ teaspoon of salt and ¼ teaspoon of black pepper together in it.
Work one at a time, scooping out each chicken breast in the flour mixture, shaking off any excess, and moving it to a clean plate.
Get a large, chunky skillet like cast iron or stainless steel and heat the oil on it over medium-high heat.
Immediately after it becomes hot and shining, add the chicken, presentation (smooth) side down.
Without disturbing the chicken, cook it for 4 minutes on the first side, until it becomes deeply golden and releases easily from the pan.
Turn it over and cook for an extra 3 to 5 minutes on the other side, until the chicken reaches 155 degrees Fahrenheit on an instant-read thermometer.
Note that chicken is considered cooked at 165 degrees F, however, it will continue cooking as it cools.
Now, get a plate or cutting board and transfer the cooked chicken to it.
With that done, cover and allow the chicken to cool for 10 minutes. And enjoy it warm with a squeeze of lemon juice and a spray of herbs.
How Do You Serve Pan-Fried Chicken?
You can add the sliced and cooked chicken breast to a number of hearty meals or enjoy it as the main protein with your favorite sides.
Below are some serving suggestions that can help inspire you:
Veggies
You can never go wrong with serving chicken with carrots, asparagus, sautéed leafy greens, green beans, or Brussels sprouts on the side.
Salads and Bowls
You can slice and serve the chicken over a simple Caesar or garden salad, or serve it with a winter kale salad or autumn harvest bowl for a protein boost.
Grains
You can pair the chicken with healthy grains such as rice and quinoa.
Potatoes
Also, pair it with a fulfilling side of mashed red potatoes, roasted red potatoes, or mashed sweet potatoes.
Storage
Refrigerator
Chicken breasts are the most luscious when enjoyed fresh, but you can store the leftovers in a tightly sealed container in the fridge. This will allow it to last for up to 2 to 3 days.
Reheating
Just warm the chicken with a little bit of chicken broth in a covered hot skillet or in a covered baking dish in a 300-degree oven.
Doing it this way will allow you to reheat the chicken without drying it out.
Both methods will gently steam the chicken as it reheats, which will help it remain moist.
Recipe FAQs
Is It Better To Pan-Fry Chicken In Butter Or Oil?
Well, both work. Butter helps add a lot of flavors, and the oil prevents the milk solids in the butter from burning, although that can lead to an off flavor.
How Long Does It Take To Cook Chicken Breasts In A Frying Pan?
To cook through, chicken breasts will take around 4 to 5 minutes per side.
Should Pan Fried Chicken Breasts Be Bone-In Or Boneless?
For this recipe, I strongly suggest you opt for boneless, skinless chicken breasts, given the fact that they are uniform and will cook evenly.
If cooked on the stovetop, bone-in chicken will take a longer period of time to cook.
That being said, I suggest you cook bone-in chicken in the oven, as this helps avoid a burnt exterior and an undercooked interior.
How Do You Cook Chicken Breast In A Pan So It Doesn't Dry Out?
The answer to the above question is dual. First, ensure that the chicken is at room temp.
Second, pound the chicken to an even thickness; that way, every part cooks at the same rate.
This will help make sure that your chicken remains nice and moist.
Final Thoughts on Pan-Fried Chicken Breast Recipe
The size of the breast, how long you heat the pan, and the type of pan you use are some of the many factors that determine how long it takes to pan-fry chicken breast.
If you want your chicken to be brown on the outside or to be moist, then you should know that it's important that the pan be completely preheated.
Also, ensure that the pan is not too hot, or your chicken will burn.
In addition, opt for a neutral oil with a high smoke point, like peanut oil, canola oil, avocado oil, or grapeseed oil, as this will help ensure that your pan-fried chicken does not taste burned.
Well, this marks the end of this guide, as you now have the perfect recipe to make the best pan-fried chicken breast.