Tandoori chicken at its finest. This simple Tandoori chicken without oven recipe will yield amazingly soft, juicy, moist, and mouthwatering Tandoori chicken.
This incredible way of grilling chicken is massively popular in Indian restaurants. It is commonly referred to as Tandoori Murgh.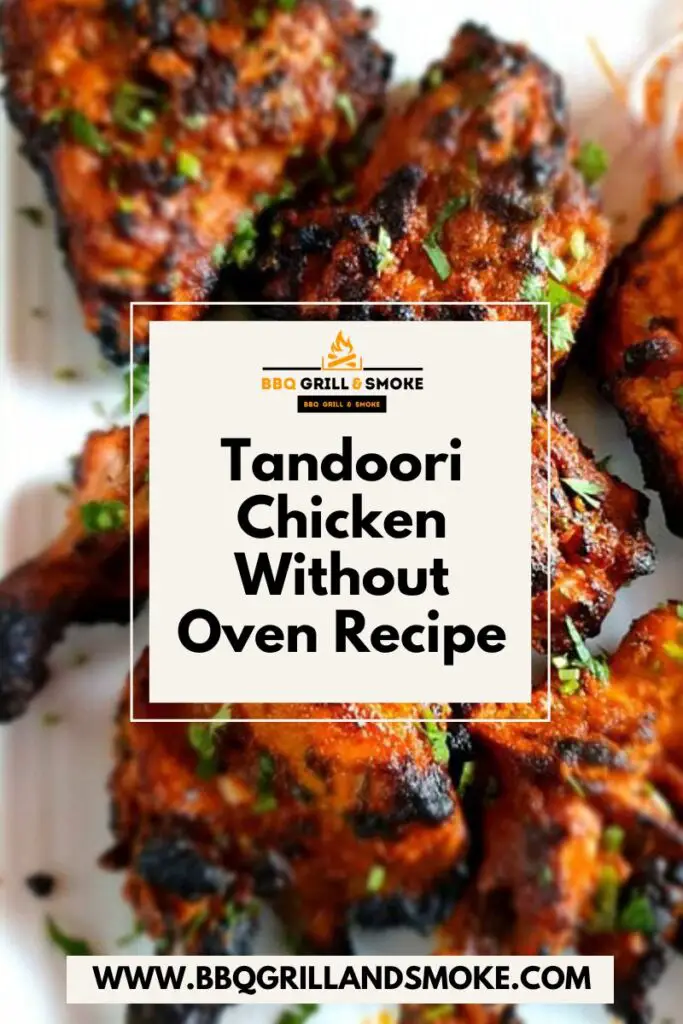 This dish is served with Mint Chutney or Cilantro Chutney. Indian food lovers are addicted to this meal, so they keep visiting the restaurants over and over again, totally unaware that it is the easiest they can make at home.
In this guide, I will give you the best recipe for Tandoori chicken without an oven, which is what you'd use to learn how to make the best Tandoori chicken without an oven.
What Is Tandoori Chicken?
Tandoori chicken is a famous Indian dish where you grill marinated chicken to perfection in a Tandoor, which is the name for a cylindrical clay oven.
The first step to this is to marinate the chicken overnight with several herbs, spices, and yogurt.
This marinade helps to soften, flavor, and spice the chicken. After that, it is grilled in a Tandoor.
Traditionally, the heat for a tandoor is produced by a charcoal or wood fire.
The juices drip onto the hot charcoal and release a smoky flavor as the food cooks in this clay oven.
The resulting char-grilled chicken is perfect, succulent, and juicy, with bursting flavors.
Indian Tandoori Chicken
Making restaurant-style Tandoori chicken without an oven at home is quite simple.
Spicy yogurt marination and then cooked on the grill for perfectly moist and delicious Tandoori chicken.
Course: Appetizer
Cuisine: Indian
Prep Time: 10 minutes
Cook Time: 40 minutes
Resting Time: 4 hours
Servings: 6 servings
Ingredients
1 kg of chicken thighs (or a mix of thighs and legs)
½ teaspoon of fresh black pepper
1.5 teaspoons of coriander powder
2 tablespoons of butter
1 tablespoon of lemon juice
¼ cup of thick yogurt
½ teaspoon of turmeric powder
1.5 teaspoons of garam masala
3 tablespoons of Kashmiri red chili powder
Salt to taste
¼ cup of mustard oil
2 teaspoons of ginger garlic paste
Laid-Out Instructions
First, you are to get a sharp knife and then use it to make 2-3 slits. After that, heat the oil. Make it medium hot, not smoking hot.
This is so because if the oil is too hot, it will burn the spices immediately.
That being done, get a bowl and add all the dry spices to it. Stir in the hot oil and mix. Allow it to sit for 5 minutes for the flavors to imbue.
Also, add the yogurt, lemon juice, and ginger-garlic paste, then mix everything well.
When that is done, add the chicken pieces to the yogurt mixture, rub the marination well, cover, and allow it to marinate for at least 4 hours or overnight in the refrigerator.
However, before cooking it, take the marinated chicken out of the refrigerator for at least an hour.
To Make It On Grill
Now, preheat a grill to 425 degrees Fahrenheit and clean the grill grates.
Then, you are to grill the chicken for around 10–12 minutes. Turn the chicken over and brush it with the melted butter.
When that is done, cook it for an extra 8–10 minutes, or until the center of the thickest part reaches 165 degrees F.
Side Dish To Serve
Just spray some chaat masala on the top and serve tandoori chicken with peas pulao, Jeera rice, saffron rice, or Zafrani pulao, along with some lemon wedges, green chutney or mint yogurt chutney, and onion rings on the side.
You can enjoy your delicious Tandoori chicken on its own as an appetizer with chutney.
You can also serve it with garlic naan, mint lachha paratha, or any Indian flatbread.
A mouthwatering weeknight dinner of Instant Pot matar pulao, Instant Pot vegetable biryani, or vegetable pulao with chicken tandoori and some salsa (pineapple salsa, peach salsa, and mango salsa) or salads such as cucumber tomato salad, green salad, arugula salad, or mango salad makes a nutritious meal and simply tastes so amazing.
Storage and Freezing
Storing Leftovers
You can keep your leftover tandoori chicken in the fridge for up to 4 days.
To store, just place the cooked chicken in a clean, tightly sealed container and refrigerate.
Then, when you are ready to reheat, reheat in the oven, stovetop, or in a pan until it becomes warm through, then serve.
To Freeze
It is advisable not to freeze the cooked or grilled chicken. But you can freeze the marinated chicken along with the marinade in the freezer in a clean, tightly sealed container or ziplock freezer bags in portions.
And, when you are ready to have a meal with it, defrost it overnight in the refrigerator or just for a few hours on the counter.
Cook, then enjoy. Marinated chicken can remain very well in the freezer for up to 3 months.
Frequently Asked Questions
Can I Leave The Chicken Skin On?
The yogurt marinade for this grilled tandoori is extremely sweet-scented and delectable, so you won't want to waste it on the skin.
Instead, ensure that it is well marinated into the meat, so you will have an exceptionally succulent and flavorful chicken tandoori.
Can I Use Chicken Breast To Make Tandoori Chicken?
For this grilled method, I suggest that you use chicken with bones, like chicken thighs and legs, for this tandoori.
Boneless chicken goes well on a BBQ. Chicken breast is normally not recommended for this dish, given that it can dry out extremely easily.
How To Make Tandoori Chicken Red?
Keep in mind that the red color used in Indian restaurants does not contribute to the taste, given that it is just red food coloring.
So, you are free to skip it. You can even use a combination of red and yellow powdered food colors for this recipe. Normally, you can find these in some Indian stores.
Do I Have To Use Yogurt In My Marinade?
Traditionally. The tandoori chicken marinade includes yogurt. Its purpose is to help soften the meat and add spiciness.
Although you can substitute it with coconut milk or buttermilk for a similar result, particularly if you are lactose intolerant or just prefer not to use yogurt.
Final Thoughts on Tandoori Chicken Without Oven Recipe
The Kashmiri red chili powder used in this easy recipe is extremely less tangy and has a deep red color.
It helps give the finished dish a deep red color without any use of red food coloring.
However, you can always substitute it with any other less tangy variety of paprika or chili powder.
And if mustard oil is unavailable, you can use any other vegetable oil instead. Note that mustard oil comes with a tangy, smoky taste.
Well, you now have the best tandoori chicken without oven recipe, which will then be the end of this guide.