With this juicy baked chicken breast recipe, you will learn how to perfectly make boneless, skinless chicken breast in the oven.
Make sure you delightfully season this chicken breast before you cook it in the oven until it becomes golden with finger-licking crisp edges.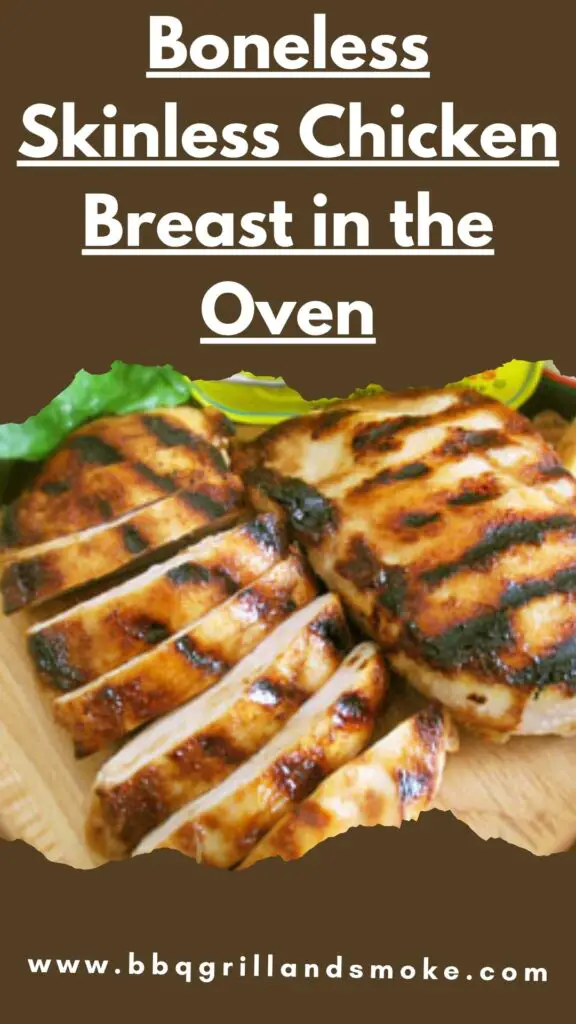 This easy and simple oven-baked chicken breast recipe uses boneless and skinless chicken breasts baked in the oven until they become golden and seared.
It is succulent and filled with flavor. You can mix garlic butter into the cooked pan juices to drizzle over your chicken for additional flavor.
What Is Chicken Breast?
The chicken breast is a lean cut of meat gotten from the pectoral muscle on the underside of the chicken.
Each whole chicken has one chicken breast with two halves. Normally, during the butchering process, they are separated and sold as individual breasts.
Compared to chicken wings, thighs, and drumsticks, boneless chicken breast meat is the most expensive cut of chicken, thanks to its desirable white meat and health benefits.
This cut is versatile, and it can be baked, roasted, grilled, barbecued, fried, and boiled in several ways.
Keep in mind that chicken has to be handled with care, no matter the cooking method.
And, make sure that the utensils, areas, and hands that have been in contact with the raw chicken are washed thoroughly with soap and hot water, as this will help prevent food safety risks.
How long to grill a chicken breast?
Juicy Oven Baked Chicken Breast
Succulent baked chicken breasts are extremely delicious and filled with flavor. With this best recipe, you won't need to worry about dry chicken.
They are delightfully seasoned before being baked in the oven until they become golden with finger-licking crisp edges.
Prep Time: 10 minutes
Cook Time: 18 minutes
Total Time: 28 minutes
Servings: 4 servings
Ingredients
4 boneless, skinless chicken breasts
1 tablespoon of olive oil
Seasoning Rub
½ teaspoon of garlic powder
¼ teaspoon of pepper
2 teaspoons of paprika
½ teaspoon of salt
1 teaspoon of dried oregano or Italian seasoning
Laid-Out Instructions
First, you are to preheat the oven to 425 degrees Fahrenheit. After that, get paper towels and pat the chicken breasts dry with them.
Then, get a large zip-top bag or plastic wrap and put them in it, or just between two sheets of parchment paper.
That being done, you can now pound them to an even thickness using a rolling pin or meat mallet.
Afterward, you can now place the chicken breasts in a baking dish, sprinkle them with olive oil, and rub it over both sides of the chicken.
Now, get a small bowl and combine the seasoning rub ingredients in it. Also, rub the seasoning rub over both sides of the chicken.
It's time to bake the chicken breasts based on their size: you are to bake 5–6 ounce breasts for around 13–16 minutes, and you will need around 16–19 minutes to bake 8–ounce breasts.
And, about 22–26 minutes to bake 11-12 ounce breasts. All you need to do to check if the chicken has reached an internal temp of 165 degrees F is insert an instant-read thermometer into the thickest part of the meat.
When that is done, you can now remove the pan from the oven and allow the chicken to cool off for five minutes before you proceed to slice and serve it.
What to Serve with Baked Skinless Chicken Breast
This chicken breast can be served with pretty much anything. And some of my favorite side dishes include mashed potatoes, healthy mac and cheese, honey thyme garlic carrots, kale quinoa salad, and green beans almondine.
Other good options are balsamic mushrooms, crispy smashed potatoes, shaved Brussels sprout salad, garlic-roasted Brussels sprouts, and sheet pan crispy roasted potatoes.
Storage Tips
Refrigerator
You can store it in a tightly sealed container and place it in the refrigerator. This way, it will be able to last for up to 3–4 days.
Freezer
First, get an airtight container and place the baked chicken in it, then place it in the freezer. It will last for up to two months.
Make sure you wrap the chicken well and ensure that you minimize its exposure to air in the freezer.
I highly recommend that you cut, slice, or shred your chicken before you freeze it. This way, you can defrost it and add it directly to this recipe.
Keep in mind that you might not get the best texture if you freeze your easy oven-baked boneless chicken breast.
Recipe FAQs
How Long Does It Take for Boneless Skinless Chicken Breasts To Bake?
To bake chicken breasts, it will take around 10 to 18 minutes.
However, this is determined by the temperature of the oven and the thickness of the chicken breasts. So, it is very possible that your cooking time will vary.
What Temperature Should I Bake Skinless Chicken Breasts At?
Well, you are to bake your chicken breasts at 425 degrees Fahrenheit for around 12 to 15 minutes until they are cooked to an internal temp of 165 degrees F.
Is It Better To Bake Chicken At 350 or 400 degrees Fahrenheit?
I consider it best to bake these chicken breasts at a higher temp. And, for a higher temperature, that would be for you to bake it at 425 degrees F for 15 minutes.
This way, it will become nice and browned while still being luscious and delectable.
Can I Bake Chicken Breasts In The Microwave?
I do not recommend that you cook chicken breast in a microwave, even though the microwave can be used carefully to defrost the chicken breast.
Using a microwave will make the exterior of the meat overcooked and the inside rubbery.
However, you can try to bake your chicken breast in the microwave at 425 degrees F for 12 to 20 minutes.
Or bake it at 400 degrees Fahrenheit if you are using convection.
This is if you are using a microwave that also functions as an oven, and the timeframe is determined by the size of the breasts.
Final Thoughts on Boneless Skinless Chicken Breast in the Oven
You can also cook chicken without an oven. It is just as simple and easy to pan-fry chicken breast as it is to bake it.
And this is true whether you're a new or experienced cook. However, I recommend you begin with baking if you are extremely nervous.
This is because there's no need to worry about keeping the pan at a certain temperature.
Now, with that being said, this will be the wrap-up of this guide on cooking boneless, skinless chicken breast in the oven.