The truth is, I always prefer firing up my pellet grill whenever it comes time to cook the turkey, even though I own a good number of smokers.
So, now, in this guide, you will learn how to smoke a turkey on a pellet grill.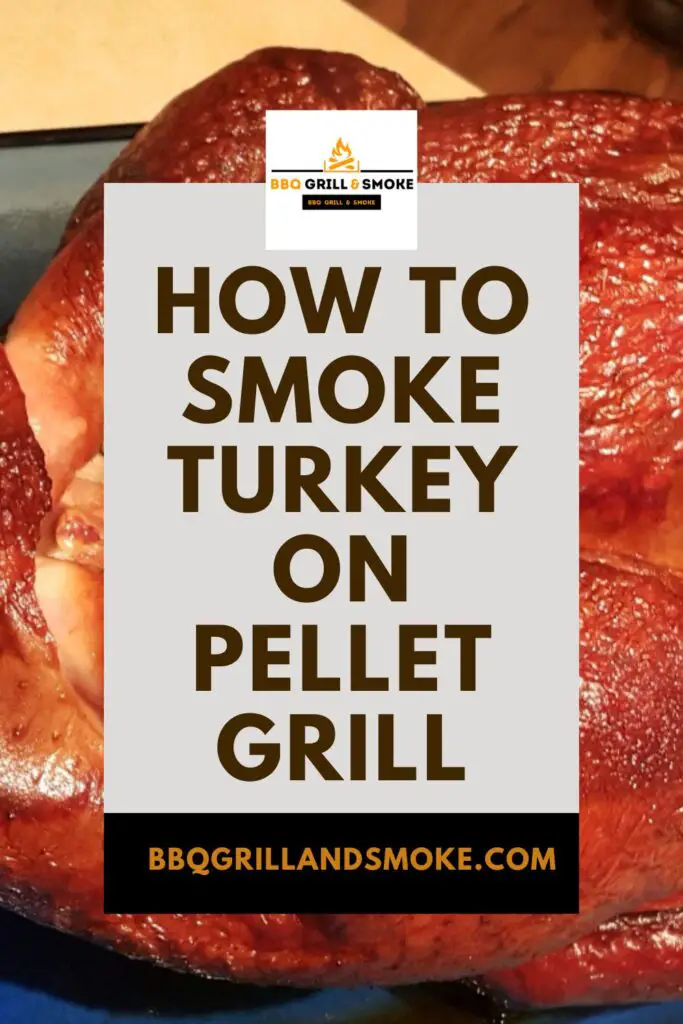 I consider smoking a turkey on the pellet grill to be the easiest way to get a flawlessly cooked bird with crunchy skin and a sophisticated smoky flavor.
During the busy holiday prep time, this is also an excellent way to free up space in your kitchen.
Pellet Grill Smoked Turkey
You can impress your dinner guests and family with this smoked turkey for Thanksgiving dinner.
And, this is sure the simplest smoked turkey recipe that you will ever make. The bird is relished with a dry turkey rub that adds incredible flavor.
It also gives the turkey a crunchy skin. This perfect recipe will result in a smoked turkey that is amazingly juicy and tasty.
That being said, let's get right into the details of how to smoke a turkey on a pellet grill.
Pellet Smoked Turkey
It is time to use your pellet smoker grill to make the perfect barbecue. Just cook it low and slow over maple or pecans.
And, enjoy your wood-cooked poultry, as it will come out amazingly delicious and yummy every time.
Course: Main Course, Dinner
Cuisine: American, BBQ
Prep Time: 20 minutes
Cook Time: 4 hours
Brining: 8 hours
Total Time: 12 hours and 20 minutes
Ingredients
1 whole turkey (defrosted, neck, and giblets removed)
1 cup of kosher salt
4 quarts of water
Laid-Out Instructions
For the Brine
First, you are to get a large container and combine 4 quarts of water and 1 cup of salt in it.
Mix them until the salt has dissolved. Afterward, prepare the turkey, and you can do that by getting rid of the giblets from the turkey cavity.
That being done, you are to place the turkey in a brining container and then submerge it. Then, proceed to place the lid on top.
However, this is only if you have one. Or, you can get a brine bag and place the turkey in it. And then add the brine solution.
Also, make sure that the turkey is submerged as much as possible. After that, you can leave it in the refrigerator overnight.
Or, you can just brine the turkey for one hour per pound of turkey.
For Turkey
You can start this process by firing up the pellet grill along with the wood pellets. And you can use the wood pellets of your choice.
That being done, you are to proceed by removing the turkey from the brine, getting paper towels, and patting down the turkey with them.
This is to get rid of the excess solution. After that, transfer the turkey to the grill grate and cook at 180 degrees Fahrenheit.
You are to smoke for two hours, then you can increase the heat to 325 degrees F. Get yourself a meat thermometer and use it to measure the internal temp of your meat.
So, you are to cook the breast meat until it has reached 165 degrees Fahrenheit. After that, remove the turkey from the smoker.
Then, proceed by transferring it to the countertop or the chopping block.
You are to let the meat rest in the foil for 10 to 15 minutes, as this will permit the juices to get imbued in the meat.
Storage of Pellet Grilled Smoked Turkey
Fridge
You can keep your leftover smoked turkey in the refrigerator. However, make sure that it is placed in a tightly sealed container. This will make it last for up to 3 days.
Freezer
You can also freeze your leftover smoked turkey; this way, it can last for up to 3 months.
You are also to make sure that it is placed in an airtight container or Ziploc bag.
Simply cut up the turkey and wrap it in plastic wrap in individual serving sizes. This is if you have so many leftovers.
After that, you are to place the individual servings in a Ziploc bag. You can then proceed to put them in the freezer for meal prep for school, work lunches, and so on.
Side Dishes to Serve With Turkey
Twice-Baked Mashed Potatoes, Carrot Salad, Oven-Roasted Potatoes, Baked Beans, Coleslaw, Mustard Beans, peas and carrots, and a fresh green salad with homemade dinner buns are my favorite side dishes to serve with this mouth-watering pellet smoked turkey.
Smoke Turkey on Pellet Grill Recipe FAQs
Can I Stuff Turkey And Smoke It?
Well, there are techniques for smoking a stuffed turkey on a pellet grill. The process is almost alike.
You will need a third temperature probe for the stuffing itself, as this is the only additional thing you will have to consider.
Before removing the bird, make sure that the stuffing has reached 165 degrees F.
Does Pellet Type Matter?
This is actually based on what you want since you can use the pellet of your choice. But I will say that the best wood pellets to use will always be hardwood.
So, to answer the question, no, the type of pellet does not really matter.
However, I will suggest you go for either cherry, apple, hickory, maple, or pecan wood chips.
Do I Need To Truss A Whole Turkey?
Well, I will say that you don't necessarily need to truss your turkey with string.
Although there are some cases where trussing the meat can make it smoke more evenly.
How Long Does It Take To Smoke A 15-LB Turkey On A Pellet Grill?
It should take around 7 hours and 30 minutes to 11 hours to smoke your turkey to an internal temp of 165 degrees Fahrenheit when you are smoking a 15-pound turkey on a pellet grill at 240 degrees F.
What Temperature Should The Pellet Grill Be At To Smoke A Turkey?
It is true that there's a lot of talk about what temperature is perfect for smoking a turkey on a pellet grill.
What you will find are ranges of anywhere from 225 to 350 degrees F.
You can also smoke it at 240 degrees Fahrenheit, as this will provide a nice balance between a deep smoke flavor and is also not time-consuming.
Final Thoughts on Smoking Turkey on Pellet Grill
All in all, it is quite easy and simple to smoke a turkey on a pellet grill, so you should not be overwhelmed by the thought of trying.
However, just make sure that you always brine your turkey in advance. Also, be sure to check the temperature using a meat probe; this way, you can never go wrong.
So, that being said, this will be the wrap-up of this guide, as you now have the best recipe for how to smoke a turkey on a pellet grill.