This baked smoked turkey wings recipe will make everyone ask you for the recipe. Enjoy this amazing meal.
These finger-licking and tender turkey wings have the most incredible seasoning, which consists of cayenne pepper for some heat, salt, pepper, paprika, garlic, and Cajun seasoning, to mention a few.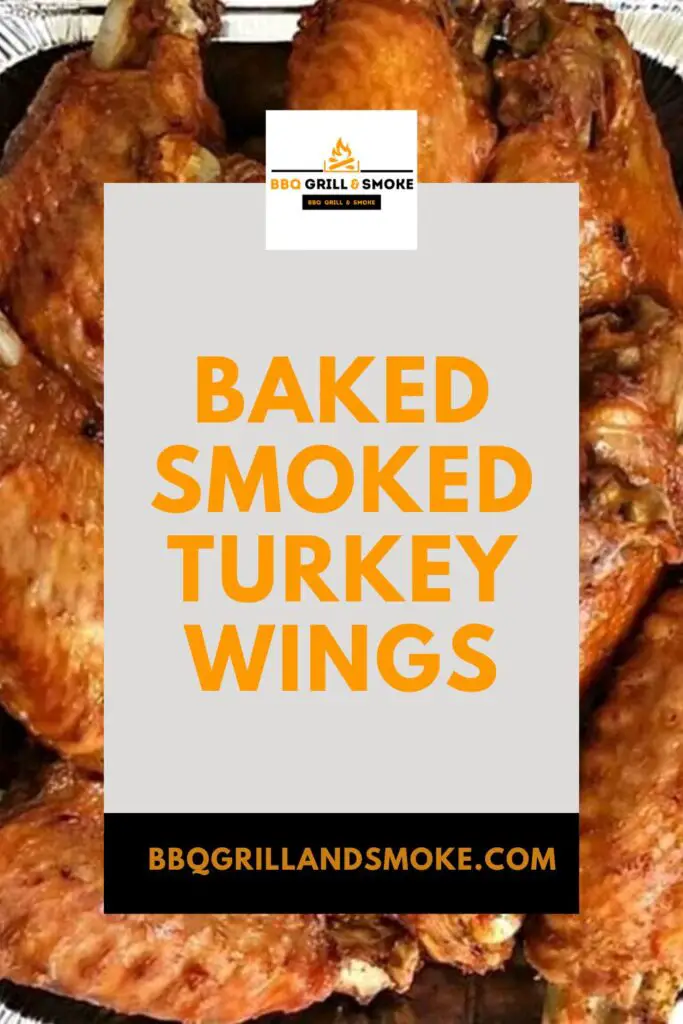 Below is more information on how to perfectly make this healthy recipe for baked smoked turkey wings.
These wings are simple but also mouth-watering, and you can top them well with dill rice.
Turkey Wings in the Oven
Baking your turkey wings in the oven is extremely easy, which will result in the most delectable baked wings that you can also top over your favorite dishes.
In Western countries, turkey meat is just another popular poultry dish after chicken. The term "turkey" means a domesticated, groomed bird.
It is a well-known poultry dish in North and South America, where it is eaten around Christmas and Thanksgiving, although also in regular meals.
Turkey was first eaten in England, and that was in the 16th century.
However, it is now traditionally served whole as the main dish at Christmas and Thanksgiving in the United States, Canada, Central America, and many Western countries.
Baked turkey wings are one of those mouth-watering wonders that are tender and juicy, coated in a delicious sauce, and perfect for any event.
This delectable meal is not only delectable but also healthy, and it is also easy to make. It is affordable, too.
Easy Baked Turkey Wings
You will learn how to cook the best oven-roasted wings that will literally fall off the bone using this crunchy baked smoked turkey wings recipe.
This soft meat is a staple dish for any soul food spread. Let's get right to it.
Course: Dinner, Lunch
Cuisine: American
Prep Time: 15 minutes
Cook Time: 2 hours
Total Time: 2 hours and 15 minutes
Servings: 4 servings
Ingredients
3–4 pounds of turkey wings (whole or split)
2 teaspoons of poultry seasoning
1 teaspoon of dried or ground oregano
1 teaspoon of dried thyme
½ cup of sliced onions (you can use white onions)
1-2 tablespoons of olive oil (use enough to coat each wing)
1 teaspoon of smoked paprika
1 teaspoon of garlic powder
Foil
1 cup of chicken or turkey broth
Salt and pepper (to taste)
Laid-Out Instructions
First, you are to preheat the oven to 350 degrees Fahrenheit, then get a 9×13 baking dish and place the sliced onions in the bottom.
Make sure you pat the wings dry. After that, place the wings in the dish and sprinkle both sides of the wings with olive oil.
Also, drizzle the spices onto both sides of the wings. However, you need to make sure you use enough spices to cover the skin on both sides of the wings.
You can add extra if required, as this will help prevent bland wings. Now proceed to rub the spices into the wings.
To prevent the broth from pouring directly onto the wings, as it will remove the spices, just pour it along the edges of the baking dish.
With that being done, just cover the dish with foil and bake for an hour and 30 minutes.
And, for an extra 20–30 minutes, remove the foil and allow the wings to bake, or allow them to continue baking until the skin is crisp.
With a meat thermometer, you can actually test if the wings have finished cooking.
Just test the thickest part of the wing and make sure that the turkey has reached a minimum internal temp of 154 degrees F.
After that is done, make sure you allow the wings to cool before you proceed to serve and then enjoy.
How to Serve Smoked Turkey Wings
Smoked turkey wings are very versatile and will pair amazingly with any barbecue side that you like.
You can actually arrange the turkey portions on a platter. This way, each person can grab what they like.
You can also get gravy and pour a little of it over the top; however, you might have to just serve your delicious wings on the side. This way, people can choose.
The time of year is the determinant for side dishes. You can never go wrong with stuffing muffins for a Thanksgiving feast, or even anytime, actually.
And, if you intend to make gravy, I'm sure you will also need some mashed potatoes, as they will help you soak it all up.
Best Side Dishes for Turkey
Smoked potatoes
Smoked sausage stuffing
Scalloped corn
Air fryer crab legs
Grand Marnier cranberry sauce
Southern soul food mac and cheese
Southern sweet potato casserole
Southern baked beans
Instant Pot black-eyed peas
Southern cooked cabbage
Seafood mac and cheese
Southern baked ham with pineapple
Southern candied sweet potatoes
Southern mustard greens
Southern okra and tomatoes
Southern-style green beans
Southern cornbread dressing
Baked crab legs
How to Store Leftovers
Just shred any leftover meat you have from the bones and store it in a tightly sealed container and place them in the refrigerator.
Storing it this way will make your leftover turkey last for up to three to four days.
Baked Turkey Wings Recipe FAQs
What Is the Best Internal Temperature for Turkey Wings?
You can smoke your turkey wings until the internal temp reaches 175–180 degrees F, but as you know, they are safe for consumption at 165 degrees Fahrenheit.
It takes a higher internal temp to break down the tendons in them, given the fact that they have so much connective tissue.
Why Do You Pat A Turkey Dry?
You are to pat the turkey dry in order to get rid of any leftover water from when you cleaned it.
And keep in mind that immediately after you pat it dry, you are to rub it with oil before you apply the seasoning.
Do You Cook Turkey Wings Up Or Down?
When it comes to turkey wings, there's actually no right or wrong way to cook them.
However, it is a totally different story in the case of a whole turkey. Make sure that you stick to the right-side-up method.
Although it does not make a difference when you are baking turkey wings.
Final Thoughts on Baked Smoked Turkey Wings Recipe
Turkey legs will also cook at a similar time and at the same temperature. Chicken drumsticks can also be used.
Although you need to make sure that you test if the chicken is done. And, to do that, you can just insert a meat thermometer into the thickest parts of one of the pieces of chicken.
For the doneness of the chicken, it has to be cooked to an internal temp of at least 165 degrees.
You can also freeze any cooked meat. First, you are to get a freezer-safe container or freezer bag and store the meat in it.
This will make it last for four to six months. After that period, the turkey will still be safe for consumption, but the quality will begin to decrease over time.
This will now be the conclusion of this guide, as you now have the perfect recipe for baked smoked turkey wings.