If you're looking for a unique way to enjoy wings, I highly recommend this smoked turkey wings recipe.
You can forget about baking a turkey this holiday season. There are some new ideas on what to do about your turkey wings.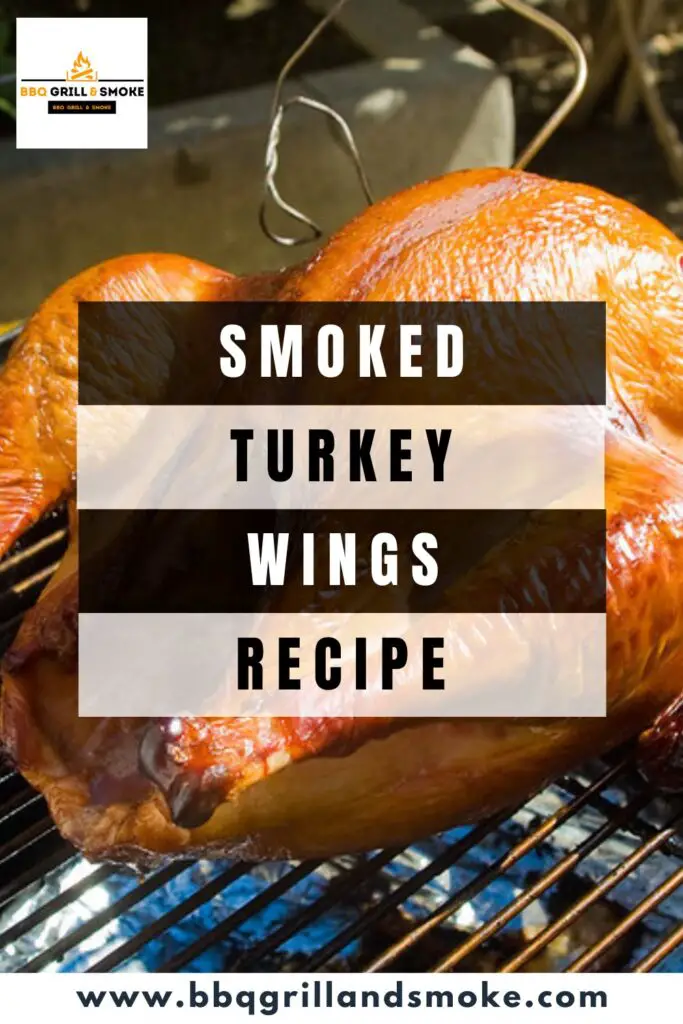 The turkey wings can be cooked in a smoker or pellet grill. Get prepared for this quick smoked turkey wings recipe, as this will become your family's new favorite meal.
The Best Wood for Smoking Turkey
Before I go deep into the best recipe for smoked turkey wings, I will like to go over the best wood to use to smoke your turkey.
There are quite a few types of wood that can work well with turkey. And I will say that one of my favorites is pecan, particularly when smoking poultry.
It provides the poultry with a nice and pleasant taste. There are also some fantastic alternatives, such as cherry wood and apple wood.
For a whole turkey, I will strongly suggest you go for hickory, as it is a first-rate choice.
However, you should know that it also overwhelms barbecue based smoked turkey.
Preparing Smoked Turkey Wings
These healthy smoked turkey wings are generously smothered with a greatly flavored BBQ dry rub and imbued with mesquite smoke.
Course: Entrée
Cuisine: American
Prep Time: 5 minutes
Cook Time: 2 hours
Total Time: 2 hours and 5 minutes
Servings: 4
Ingredients
4 turkey wings
2 teaspoons of kosher salt
2 teaspoons of garlic powder
2 teaspoons of paprika
1 tablespoon of brown sugar
1 teaspoon of fresh ground pepper
2 teaspoons of onion powder
½ teaspoon of dry mustard
¾ teaspoon of cayenne pepper
Laid-Out Instructions
To begin, preheat your smoker to 250 degrees Fahrenheit. Then, proceed by getting a small bowl and placing all the ingredients in it, which include brown sugar, fresh ground pepper, paprika, garlic powder, kosher salt, brown sugar, dry mustard, and cayenne pepper.
Check that they are all the same size as specified above. With that being done, you are to proceed to mix them together until they are well blended.
After that, make sure you completely coat each wing with this mixture. When that is done, you can now add the wood chips to the smoker.
Now, place the turkey wings on the smoker rack and proceed to smoke for 2 hours, or you can smoke until the internal temperature of the turkey gets to 165 degrees Fahrenheit.
Notes
You can enjoy your healthy smoked wings as is, or you can decide to serve them with your favorite BBQ sauce or hot sauce. This is based on your preference.
And you can remove the wings from the smoker and set them aside. Continue by setting the smoker to high.
With that being done, you can now char the wings for 30 seconds on each side to crisp them up. Follow these steps if you would rather have extremely crunchy skin.
Using a probe thermometer will ensure that your meat gets cooked well. You will also be able to monitor the temperature of your wings as they cook.
And they will help you avoid having to open the smoker and allow the release of heat each time you check for the doneness of your wings.
Smoked Turkey Wings: Recipe Tips, Tricks, and Variations
Sauce It Up
You can serve these quick smoked turkey wings with any sauce of your choice, but if you want something on the wild side or you want to get creative, I highly recommend you pair them with chunky blue cheese dressing or ranch.
Seasoning
Some people like it intense, while others prefer it simple. You should go for spices like onion powder, garlic powder, black pepper, salt, and so on if you want it intense.
Servings Size
I'm not sure there's anyone who can eat only two wings, but I will recommend two wings as the serving size.
Storing Leftover Smoked Turkey Wings
If you have leftovers, you can store them in the fridge, making them last up to 5 more days.
However, if you intend for your smoked turkey wings to last longer, I will strongly suggest that you place them in a sealed container or freezer bag, then proceed to place them in the freezer. This way, they will last up to 2 months.
Reheating Leftover Smoked Turkey Wings
Now, after storing your leftovers and wanting to reheat them, the question remains: how do you do that?
I will strongly suggest that you avoid the microwave and go for the air fryer or oven instead.
So, using either the air fryer or oven, you can make them taste like new again.
Either you go for the oven or the air fryer, proceed by placing them in and heat them for 15 minutes at 350 degrees Fahrenheit.
Smoked Turkey Wings Recipe FAQ
How Long Does It Take To Smoke Turkey Wings?
However, it depends on the temperature. The smoking of your turkey wings will take roughly two hours at 250 degrees Fahrenheit.
Although your ultimate plan here is to ensure that the internal temperature of your turkey wings gets to 165 degrees Fahrenheit.
Are Smoked Turkey Wings Fully Cooked?
Well, the short and simple answer to this question is yes. Smoked turkey wings are fully cooked. You will be using a smoker to cook them.
And, as recommended by the USDA, the internal temperature of the turkey wings gets to 165 degrees Fahrenheit.
Can I Cook These Wings On A Gas Grill?
The simple answer to this is yes. You can cook these healthy wings on a gas grill. This quick recipe is versatile; you can basically use any type of grilling method you desire.
Eventually, the key to this is to ensure that the wings are thoroughly cooked. And, that can happen either on a gas grill, a pellet grill, or a smoker.
Is Smoked Meat Tender?
Well, sure, smoked meat is tender. These smoked wings are quite moist, soft, and delicious. Just avoid overcooking them, as this can cause them to dry out.
And you can do this by monitoring the cooking time of your wings. The easiest way to do this is to use a meat thermometer.
Final Thoughts: Smoked Turkey Wings Recipe
Before I wrap up this guide, let me give you a few suggestions of sides that will go well with these best-smoked turkey wings.
Serve your turkey wings with sous vide asparagus, Ensalada de Coditos, Ensalada de Papa, and instant pot kidney beans (to which you can add some BBQ rub).
You can also pair these wings with air fryer baby potatoes, balsamic glazed Brussels sprouts, slow cooker mashed potatoes, and instant pot macaroni and cheese.
Well, with all that being said and the detailed information on the best-smoked turkey wings recipe, this will be the conclusion of this guide.