Pulled pork is a classic dish that is known to never fail to impress a crowd. So, in this guide, we will be looking at Boston butt on a pellet grill.
The slow cooking over low heat yields smoky, succulent, and juicy meat, and this allows the flavors to develop and the meat to become irresistibly tender.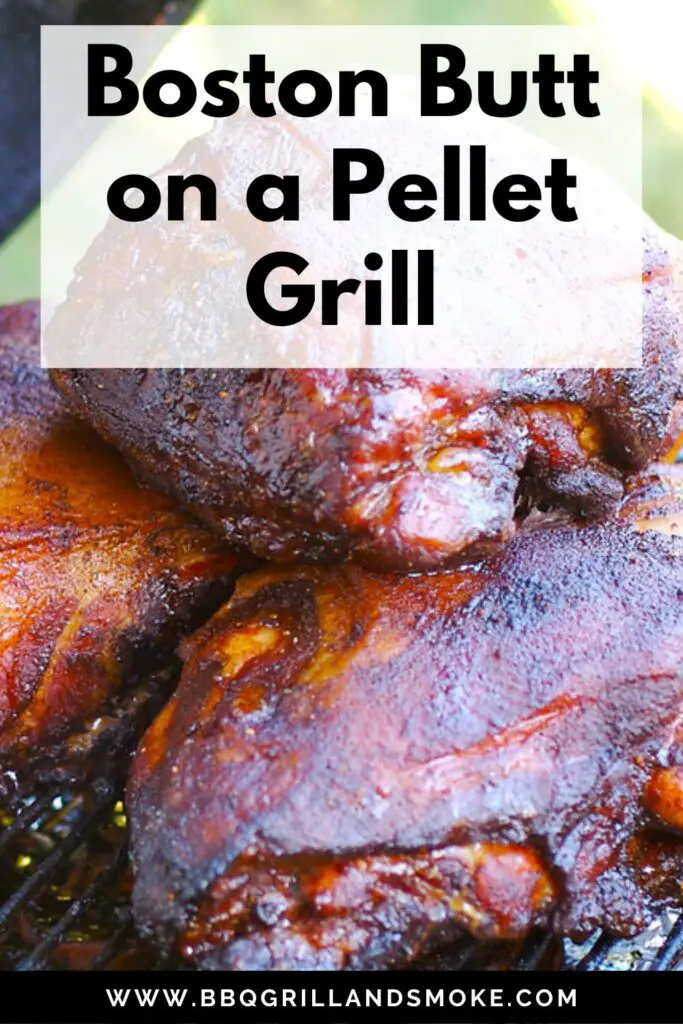 Keep in mind that using a pellet grill is one of the best ways to actually achieve this perfection.
In this extensive guide, you will be given the step-by-step process on how to make a mouth-watering Boston butt on pellet grill.
You will get a perfectly smoked, extremely tender, delicious pork butt by using this pellet grill pulled pork method.
Just follow this step-by-step recipe guide for the best tips and tricks if you are a lover of smoked pulled pork but are interested in sharpening your pitmaster skills.
You will learn all the secrets of how to make the best BBQ pork using your pellet grill.
What's the Difference Between Pork Butt and Pork Shoulder?
The pork shoulder and butt both make excellent cuts for smoking; however, they are not exactly the same thing.
The truth is that they can be used interchangeably, but they are actually not identical.
Both cuts are from the shoulder, come with plenty of marbled fat, are the best option for low and slow smoking where the meat can break down and get soft, and will mostly be labeled the same thing in the market.
That being said, they are a bit different. The pork butt is mostly cut from the top of the pork, whereas the shoulder (also commonly referred to as a picnic roast) is cut from the lower portion into the leg joint.
You will find pork shoulder mostly in the market with plenty of skin still on it and in larger sizes.
This is where the butt only has a thick fat cap and will weigh a bit less.
At my local market, Boston butt also means the same thing but is likely to be a bit smaller compared to a shoulder or butt.
Remember that all three pork roasts can be used to smoke really great pulled pork.
Boston Butt on a Pellet Grill
Boston butt, which is also commonly referred to as pork shoulder, is a delicious and well-rounded cut of meat that is perfect for smoking on a pellet grill.
This is the easiest way to make a great Boston butt, whether you have a Pit Boss, Traeger, or other pellet grills.
Below is a step-by-step recipe for smoking a Boston butt on a pellet grill:
Course: Main Dish
Cuisine: American, BBQ
Prep Time: 35 minutes
Cook Time: 8 hours
Total Time: 8 hours and 45 minutes
Servings: 14 servings
Ingredients
1 Boston butt (pork shoulder)
Your preferred dry rub (store-bought or homemade)
Wood pellets for smoking (apple, cherry, hickory, or a blend)
Equipment
Pellet grill/smoker
Aluminum foil
Spray bottle with apple juice (optional)
Meat thermometer
Laid-Out Instructions
First, you are to remove the pork shoulder from the refrigerator and allow it to cool at room temperature for around 30–60 minutes. Doing this will help it cook more evenly.
After that, trim any excess fat from the surface of the meat and leave a thin layer for moisture and flavor. Also, apply a lavish amount of your preferred dry rub all over the surface of the meat. Ensure that you coat it evenly.
That being done, proceed to preheat your pellet grill to a temp of 225–250 degrees Fahrenheit (107–121 degrees Celsius). This low and slow cooking process will yield succulent and delicious meat.
Now, fill the pellet hopper with your preferred wood pellets. For pork, apple, cherry, hickory, or a combination of these woods will do the job.
Afterward, place the seasoned Boston butt on the grill grates, ensuring that the fat side is up. Insert a meat probe, if your grill has one, into the thickest part of the meat. Close the lid and allow it to smoke. Also, maintain a consistent temperature throughout the cooking process.
Monitoring the temp of the meat is very important. Ensure that you aim for an internal temperature of about 195–205 degrees F (90–96 degrees C).
You can repeatedly spray the pork with apple juice if you want to add extra moisture and flavor. However, this is optional but can boost the final result.
You can choose to wrap the meat in foil immediately after it reaches an internal temperature of about 160 degrees F (71 degrees C).
When that is done, remove the Boston butt from the grill and wrap it in foil when it has reached the desired internal temp. Allow it to rest for at least 30–60 minutes. This will permit the juices to be redistributed, which will yield juicier meat.
Now, use two forks or meat claws to shred the pork after the resting period. It should easily fall apart.
After that, just serve the pulled pork on buns with your favorite barbecue sauce, coleslaw, or any other accompaniment you want.
Serving Suggestions
There are a variety of ways to serve your flavorful pulled pork; both a proper meal and pulled pork sandwiches are the most popular.
Proper Sunday Roast
You can serve this smoked pork shoulder with mashed potatoes and corn. The best option is to make pork or brown gravy to top the pulled pork and potatoes.
Pulled Pork Sandwiches
You can serve this completely on rolls with pickles, barbecue sauce, and onions to make a great-tasting smoked pulled pork sandwich.
How to Freeze Smoked Pulled Pork
You can freeze your smoked pulled pork if, for any reason, you have some leftovers.
And, to do that, you are to get your pork cooled to room temp or colder before placing it in the freezer bag.
After that, shred the pork before freezing, and make sure you use freezer-safe bags.
Also, remove excess air from the bag. Keep in mind that frozen pulled pork will last 6 weeks in a fridge or freezer combo and up to 6 months in a deep freezer; this is if the air has been sufficiently removed.
Recipe FAQs
Why Use a Pellet Grill for Smoked Pulled Pork?
Cooking pulled pork on a pellet grill is amazingly easy, convenient yields a decent smoky flavor, and is stress-free.
However, if you are new to cooking a large roast on a grill or smoker, this might seem challenging.
But the pellet grill will make it a simple and enjoyable experience.
These grills provide you with ease for long cooks, but they do not produce the massive smoke flavor you will get from an offset smoker.
Where Do You Find a Pork Butt?
Pork butt (or shoulder) is available in most grocery chains. And you also have the option of sourcing it through a local butcher or online.
In some areas, the current cost for each pound is $2.00 to $3.50 for each pound.
Normally, online specialty pork butts will run around $5.80 or more for each pound. Remember, these prices will vary based on the cost of living in your area.
What Wood Is Best For Pulled Pork?
For this recipe, I suggest that you go for cherry, maple, apple, or pecan wood. And you can use hickory if you want a stronger smoke flavor.
Final Thoughts on Boston Butt on Pellet Grill
You can always serve your pulled pork with baked beans, skillet cornbread, slaw for sandwiches, pulled pork table sauce, Georgia mustard BBQ sauce, and smoked corn on the cob.
It's time to go enjoy your mouth-watering smoked Boston butt. The low and slow cooking process will surely yield tender, mouth-watering pork that will be a hit at any gathering.
Now, you have your best step-by-step guide on Boston butt on a pellet grill, which brings us to the end of this guide.