In this guide, you will learn about BBQing pork ribs. These pork ribs are coated with a mix of earthy spices and stroked with a slowly seethed sauce that will give them a bit of a kick.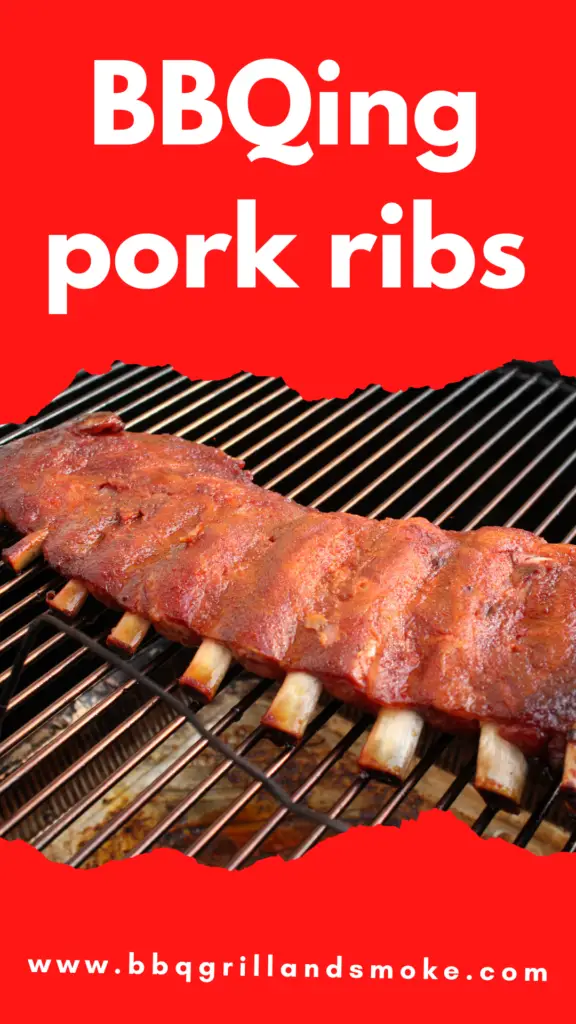 And, after coming off the grill, they are soft, juicy, and yet delectably crunchy. They also come with just the right hint of smoky flavor.
Sticky Pork Ribs
These pork ribs are coated in the most flavorful, sticky barbecue sauce with a kick of garlic and optional heat.
Tender, melt-in-your-mouth barbecued pork ribs are fall-off-the-bone delectable. First, double up on amazing flavor with a simple-to-make dry rub.
You can then proceed to slather them in a seasoned barbecue sauce mixture.
This would be so that it will become so addictive that you won't stop at one. This will yield mouth-wateringly good pork ribs.
Barbecued Pork Ribs Recpies
Ingredients
For The Ribs
2 racks (which is around 2 to 2 ½ pounds each) of Saint Louis-style pork ribs
Vegetable oil. This is for the grill rack.
For The Rub
2 tablespoons of packed light-brown sugar.
2 teaspoons of freshly ground pepper.
2 tablespoons of coarse salt
2 teaspoons of mustard powder
2 teaspoons of hot paprika.
1 teaspoon of celery seed
For The Sauce
2 tablespoons of vegetable oil.
3 garlic cloves (minced).
1 small yellow onion, finely diced. 1 cup
¼ cup of tomato paste
¼ teaspoon of red pepper flakes
¼ cup of bourbon
1 cup tomatoes, strained
½ cup of cider vinegar
1 cup of water
¼ cup of Worcestershire sauce
¼ cup plus 2 tablespoons of light-brown sugar
Coarse salt and freshly ground pepper
Laid-Out Instructions
Prepare the Ribs
First, you are to prepare the ribs. And, to do that, on a work surface, you place the meat side down and 1 rib rack.
Then, get a knife and use it to cut a small slit through the silvery membrane at one end of the rack.
Afterward, get a paper towel and use it to grab the cut portion of the membrane, then gently peel it from the rack.
When that is done, you can now proceed to get rid of it. And, you are to repeat this process with the remaining rack.
Make the Rub
Put the sugar, pepper, salt, paprika, mustard powder, and celery seed in a bowl and then mix them together.
You can pass the mixture through a medium sieve if it is lumpy. On both sides of each rack, you are to knead the mixture.
Get a rimmed baking sheet and place the ribs on it. At a minimum, refrigerate it and make sure it goes on for 2 hours, at a minimum. You can probably leave it overnight.
Afterward, you are to allow it to sit at room temperature for 30 minutes. This should happen before you proceed to cook.
Make the Sauce
You are to heat oil in a medium saucepan over medium heat. Then, you can add onion and garlic and cook.
The cooking should continue until the onion is soft. This should be for about 2 to 3 minutes. Also, add red pepper flakes and tomato paste, and allow it to cook for 1 minute.
Mix in bourbon, grazing the pan. Also, mix in tomatoes, vinegar, water, Worcestershire sauce, and sugar, and then cook. You are to continue mixing until the sugar has dissolved.
Simmering the Sauce
You are to bring the sauce to a simmer. And, I recommend reducing the heat, and then simmering until reduced by 1/3.
This should go on for about 30 minutes. Then, season with salt and pepper. You are to allow it to cool a bit.
Consequently, pour it into a blender and blend until it becomes smooth. You should have around 2 cups.
Use it at once or allow it to cool completely, then cover, and proceed to refrigerate for up to 2 weeks.
Set Up the Grill
In the center of the bottom grill rack, you place a 9-by-13-inch disposable aluminum pan on it.
You are to place a chimney starter on the top grill rack and get it filled with around 60 charcoal briquettes (which is about 4 pounds). This is if you are making use of a charcoal grill.
Under the chimney, you are to get packed with newspaper and then set on fire. You are to heat the briquettes until just covered in ash.
Afterward, you are to carefully lift the chimney, remove the top rack, and then pour coals onto the bottom of the rack along both sides of the pan.
You are to do all this while wearing oven mitts. And, you are to cover the coals with 1 to 2 pieces of hardwood or 1 cup of wood chips.
But, make sure that they have been soaked in water for 1 hour and then drained. You are to get the pan filled halfway with hot water.
Afterward, change the top rack. And, if you are making use of a gas grill, I recommend you heat it to medium-low.
Grill the Pork Ribs
Before cooking, you are to allow the ribs to stand at room temperature for 30 minutes. Afterward, get a paper towel and fold it into a thick rectangle and then dip it in oil.
Using tongs, you are to hold the towel and then brush oil on the top grill rack. When that is done, you are to place both rib racks, the bone side facing down, on the top grill rack, which should be directly over the pan.
You can cover it, but make sure you keep the top grill vents halfway open while the bottom vents should be completely open to maintain the grill temperature of 275 degrees Fahrenheit to 325 degrees Fahrenheit.
Do not turn the ribs over and cook them until they are soft and juicy. However, make certain that they are not falling off the bones and that they have shrunk 1/2 inches from the ends.
This should go on for about 3 to 3 ½ hours. You are to also add 8 briquettes every hour to each charcoal stack.
Baste the Ribs
Get a small serving bowl and transfer 1 cup of sauce to it. Then, stroke both sides of the pork ribs with the remaining 1 cup of sauce.
You are to cover and then proceed to grill until the ribs are shimmering and deep mahogany.
This should last for about 15 minutes. Allow it to stand for 10 minutes, then you can proceed to serve it with the set-aside sauce.
Final Thoughts: BBQing Pork Ribs
You might also want to ask whether you will need to cook your pork ribs before you proceed to barbecue them.
Well, another option for preparing your barbecued pork ribs is to barbecue them in the oven or slow cooker.
And, you can decide to finish it up on the grill. This will help make sure that the pork ribs are soft and juicy.
But, it will also have the excellent smoky smear that the grill gives off. With this BBQing pork ribs recipe, the ribs come out soft and juicy every time.
This also happens even if you cook on the grill raw. I'm certain you will love the flavor that cooking the ribs on the grill for the full hour gives.
However, this is based on your preference. Just know that either method will turn out incredible for mouth-watering barbecued pork ribs.
And, with all that being said, this will be the wrap-up of this guide on BBQing pork ribs, as you now have everything you need to make the perfect and delicious barbecued pork ribs.