Beer and Butter Turkey Injection Marinades Recipe is just as the name goes, it is a form of cooking that involves injecting seasonings all the way into a turkey rather than going all the way by rubbing the seasonings which include butter, herbs, spices, and more of the same on a turkey.
With this, you get to add seasonings into the meat which then softens or makes the meat tender from the inside while also steadily extending the seasonings throughout the turkey.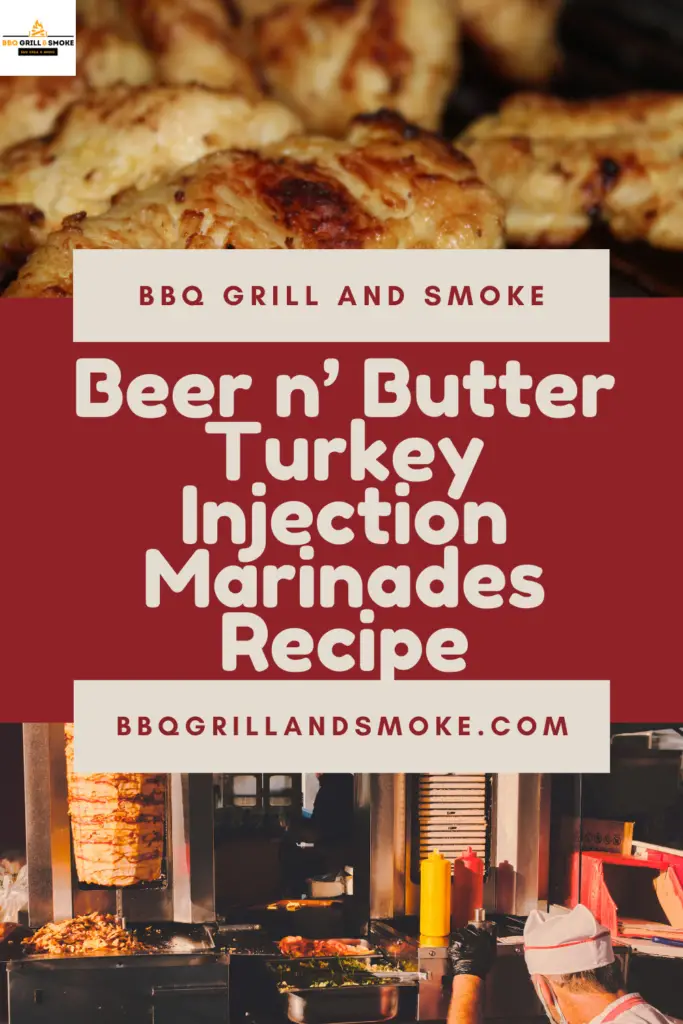 Traditional turkey marinades, turkey dressings, and also turkey vinegar are things that injections souses can be used with.
Generally, a big syringe that has in it a thick needle can be used as an injector which with it, you inject marinade of small doses into the meat.
You can get anything to go into your marinade provided that it's tiny or little enough to go through the needle.
You should blend the sauce at a rapid speed if you in fact want herbs as this is to ensure a smooth liquid and the injections should be made many in various different places.
And, it is also important that you make sure to target the meat without penetrating it and one of the greatest advantages of this technique is that it helps bring a huge quantity of moisture and flavor.
It also makes it possible that do not have to disturb yourself with dry or bland turkey and this technique is quite pleasing and addictive that it will make it quite difficult for you to return to your previous technique which is relishing your turkey some other way.
Beer n' Butter Turkey Injection Marinades
Ingredients
½ Pound Butter
½ Can Beer
2 Tablespoons of Salt
2 Tablespoons of Worcestershire Sauce
2 Tablespoons of Tabasco
1 Tablespoon of Soy Sauce
2 Teaspoons of Garlic Powder
2 Teaspoons of Onion Powder
Cooking Instructions for Beer n' Butter Turkey Injection Marinades
Frequently Asked Questions about Beer n' Butter Turkey Injection Marinades
Below will be some often asked questions about the turkey injection recipe as I'm sure you will have some of your own. There are lots of questions but, I will be picking very few of the most commonly often asked questions about this topic.
How to Inject a Turkey?
In this way, the most commonly often asked question about this topic that I will be picking is "How to Inject a Turkey?".
All you need to do is to get your favorite marinade and fill it into the flavor injection and then inject it into the breast and thighs of the turkey.
And, you are to make use of a larger needle if your favorite marinade has in it some solid parts like spices or herbs. But, if this is not the case, a small needle is all you need.
How Long Prior To Cooking Can You Inject a Turkey?
This is yet another most commonly often asked question about the turkey injection recipe. So, the answer to the question is that it is strongly recommended that you inject a turkey several hours prior to cooking it.
Although the size of the turkey also determines this. Injecting a whole turkey should be 12 hours prior to cooking it.
This is done in order for the injection to have enough time to penetrate and spread through the meat and for lesser size than a whole turkey like the breast of a turkey should require less time.
Final Thoughts on Turkey Injection Recipe
Another most commonly asked question is what you even inject into your turkey meat. The essence of adding this flavor to your turkey meat is to give it more flavor and moisture.
So, as what is commonly used for an injection recipe, I will recommend you go for butter although, there are still some other combinations of herbs and spices.
And, there are a great number of flavors that will do well with turkey and they include sage, chives, onion, thyme, cayenne, garlic, pepper, oregano, lemon, and so on.
This is also to say that this will be the wrap-up of this guide which is generally about Turkey Injection Recipe. And, it has in it, important topics about and related to the main topic.