Chuck roast burnt ends are also commonly referred to as "poor man's burnt ends," given the fact that they are low-cost and have a smaller cut of meat in comparison to a brisket.
So, in this guide, I will give you the best recipe for chuck roast burnt ends in the oven.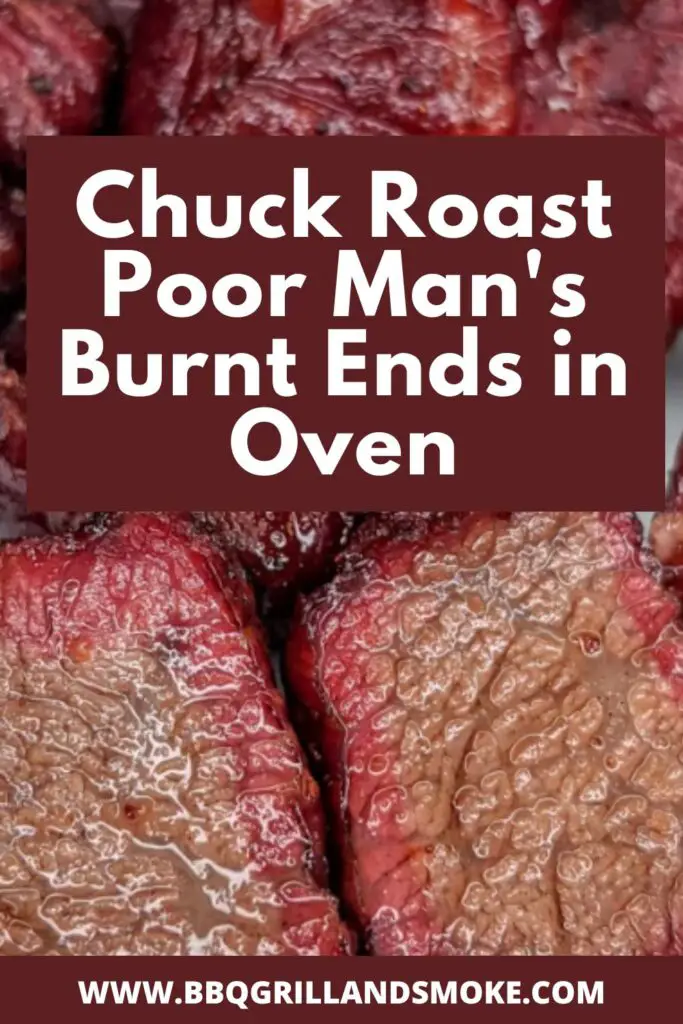 Chuck roast burnt ends may not taste exactly the same as brisket, but they are just as mouth-watering.
And, in comparison with traditional burnt ends made from pork belly, chuck roast burnt ends also have less fat content.
This makes them more satisfying for most people. This recipe is extremely simple, but it does require time and patience.
This chuck roast burnt ends in the oven is a delectable and tasty snack on those cold fall days or tailgating parties.
Recipe for Chuck Roast Burnt Ends in Oven
Cuisine: American
Course: Main
Prep Time: 15 minutes
Cook Time: 3 ½ hours (ovens vary)
Total Time: 3 hours and 45 minutes
Servings: 12+
Ingredients
Spice Rub
1 teaspoon of chili powder
½ teaspoon of dried mustard
1 tablespoon of paprika
1 teaspoon of smoked paprika
1 teaspoon of garlic powder
1 teaspoon of onion powder
1 teaspoon of coarse black pepper
1 ½ teaspoons of sea salt
¼ – ½ teaspoon of ground cayenne pepper
Meat
1 chuck roast (around 3 pounds)
1 stick (8 tablespoons) of butter, cut into pieces.
2 tablespoons of the spice rub
2 cups of barbecue sauce
Laid-Out Instructions
The first step of this process is to mix all the spice rub ingredients, which include 1 teaspoon of chili powder, ½ teaspoon of dried mustard, 1 tablespoon of paprika, 1 teaspoon of smoked paprika, 1 teaspoon of garlic powder, 1 teaspoon of onion powder, 1 teaspoon of coarse black pepper, 1 ½ teaspoons of sea salt, ¼ – ½ teaspoon of ground cayenne pepper.
After that is done, you can now get 2 tablespoons of the spice rub and rub it all over the chuck roast with it.
Then, proceed to put the roast into a roasting pan. When that is done, bake the roast in a preheated 275 degrees Fahrenheit.
Allow this to go on for around 3 hours. Afterward, remove the roast from the oven and proceed to slice it into 1-inch cubes.
Now, place the cubes in a bowl, and then add the barbecue sauce. Toss to thoroughly coat the meat.
With that being done, you are to place the meat on a baking sheet. Make sure it is in a single layer.
Also, sprinkle with the butter pieces. When that is done, proceed to increase the temperature of the oven to 450 degrees Fahrenheit.
Now, bake the meat for an extra 30 minutes or until the meat is extremely browned and the edges are slightly crispy. Stir the meat halfway through.
Additions and Substitutions
Additions
You can add beer, cola, Worcestershire sauce, or a few sprinklings of hot sauce.
As you might know, it is always interesting to customize based on your family's tastes and predispositions.
And, for the record, one of my favorite add-ins is Worcestershire sauce.
It greatly helps the sauce develop a deep flavor profile and makes it very savory and rich.
Substitutions
Meat
You can follow the same laid-out instructions used here for brisket or pork belly.
Sauce
The options here are limitless. Dr. Pepper Sauce, Smoked Bourbon BBQ Sauce, and Beer BBQ Sauce can all be made at home.
This is an ideal way to make this one off the charts, but never discredit a nice jarred sauce such as Sweet Baby Ray's or Stubbs.
Rubs
You should always go for the rub of your choice. You may also begin by experimenting with some rubs.
However, it is quite easy to customize the rub, and you can do that by adding smoked paprika, kosher salt, celery seed, garlic salt, black pepper, or some red chili pepper flakes.
What to Serve with Burnt Ends
These oven-baked chuck roast burnt ends are incredible and can be served on their own as a full dish, as a snack while watching movies, or as a special treat for a game day.
Block Party, BBQ, or Cookout
You can serve these delicious burnt ends with smoked hamburgers, grilled ribeye cap steak, grilled Kobe beef cheeseburger kebabs, or slow cooker Guinness baked beans.
They will also go well with mac and cheese, smoked mac and cheese, a classic smoked potato salad, or a nice coleslaw.
Smoked Hot Dogs
If you are using a pellet smoker, these are ideal. You can add so many to the smoker rack at once and serve so many people in no time. Remember all of the toppings.
Smoked Chili
This is very easy to make in extra-large batches. And you can serve your friends at the tailgate.
Smoked Brisket and Beer Queso
Everyone loves this nutritious snack. You can make this brisket ahead of time, and it is also easy to blend and smoke on a game day.
Smoked Chicken Wings
You should wait to get yours as you smoke these, given the fact that they do not last long. Your friends will grab theirs as soon as they come off the smoker.
Burnt Ends Recipe FAQ
Can You Make Burnt Ends on a Grill?
The straight and short answer to this is yes. Just get your grill ready for indirect cooking.
Do You Cover Burnt Ends in Foil?
Well, it is not necessary to cover your meat with foil. You even prevent the pieces from crisping properly by doing so.
I recommend you wrap the whole roast part way through cooking if you intend on making this Chuck Roast Burnt Ends in a smoker or on a Traeger.
This will help prevent burning and also hold in that mouth-watering flavor.
Final Thoughts: Chuck Roast Burnt Ends in Oven
You can store your burnt ends in the refrigerator if you have any leftovers. You can be sure that this will allow them to last for up to three days.
But you must remember that you must first seal them in a tightly sealed container before you put them in the refrigerator.
And, when it comes to the reheating part, you can always reheat your burnt ends in a microwave.
However, this has to be at 30-second intervals due to the fact that there is so much sugar, which will spill when it gets too hot in the microwave.
You also need to make sure that you cover your burnt ends, as this will make cleanup easier.
This brings us to the end of our guide on the best recipe for chuck roast burnt ends in the oven.