This guide on "Burnt Ends without a Smoker" will be about learning how to make burnt ends with a smoker.
We will be going with the poor man's burnt ends. They're also made with a low-cost chuck roast, which results in very soft and juicy meat with a delicious smoky flavor.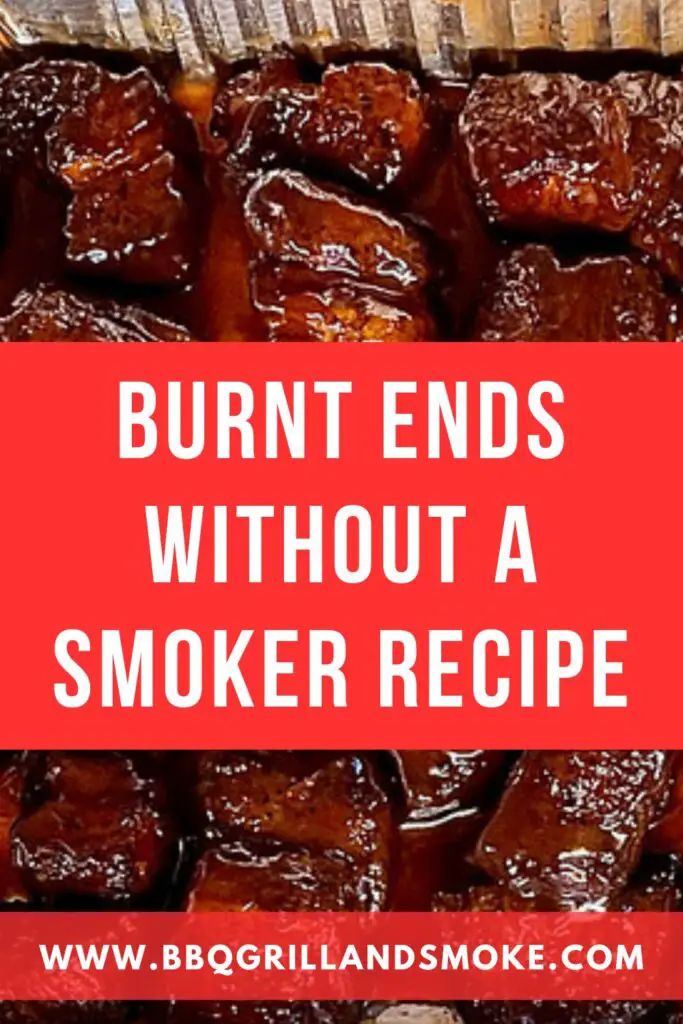 These little meat nuggets are certainly quite addictive; once you take a bite, you won't seem to be able to stop.
What Exactly Are Poor Man's Burnt Ends?
The question remains, however: what exactly are the poor man's burnt ends?
Well, normally, burnt ends are made on a smoker with the pointed end of a beef brisket.
However, in this guide, you will learn how to make burnt ends without a smoker. So, on the other hand, a poor man's burnt ends are made with a chuck roast.
And, normally, a chuck roast can be bought in smaller amounts, like 3 – 4Ibs.
Brisket, on the other hand, is typically sold in much larger quantities, weighing 10Ib or more.
Although the price per pound is not significantly different between the two cuts of beef.
The smaller the chuck roast, the less expensive it becomes. This is where the name "Poor Man's" came from.
Chuck Roast Burnt Ends
You can't go wrong with oven-roasted chuck roast burnt ends. And, with a dry rub and sauce at the end, these steak bites always come out tacky, delicious, and tasty.
How to Reheat Burnt Ends
Fortunately, burnt ends reheat well, and I will be showing you how that is done. You can use your oven, stovetop, and smoker to reheat your burnt ends.
How to Reheat Burnt Ends in the Oven
The first step is to preheat your oven to 350 degrees Fahrenheit, then proceed to place the burnt ends in a disposable aluminum pan.
After that, you are to apply a fresh coat of BBQ sauce. With that being done, using aluminum foil, you are to wrap the pan and proceed to warm it in the oven for 20 to 24 minutes.
How to Reheat Burnt Ends on the Stove
First, using a vacuum sealer, you are to seal them in a bag, then proceed to take a large pot and add 3 quarts of water.
That's for each pound of meat. After that, bring the water to a boil. Now, put your vacuum-sealed bag inside the pot.
That being done, you are to then turn off the heat and remove the pot from the hot burner. For 15 minutes, you are to allow the burnt ends to cool in the water.
Then, remove the bag. Cut open the vacuum bag and remove the burnt ends.
If you want to use the sous vide method to reheat your brisket without drying it out, you can follow a similar process for that.
How to Reheat Burnt Ends in the Smoker
You will also learn how to reheat your burnt ends in the smoker in this guide.
The first step of this process is to preheat your smoker to 225 degrees Fahrenheit.
With that being done, you can now place the burnt ends in a heat-resistant disposable tray.
Then, lightly reapply your sauce and warm them for 30 minutes.
What to Serve with Burnt Ends
Now, burnt ends are a sought-after appetizer in their own right, although originally they were given away for free as scraps.
Below are some things you can serve with your burnt ends:
Baked Beans
If you are looking for the ideal complement to the intense smokiness of burnt ends, both in texture and flavor, then I suggest you go for the fresh sweetness of Southern-style baked beans.
BBQ Sauce
Most burnt ends are the perfect vehicle for coating in barbecue sauce, and that is thanks to their tough texture.
This helps add moisture and also balances the smoky flavors with a spice and sweet taste.
Mac and Cheese
Mac and cheese, which is a rich barbecue side dish staple, offers a satisfying contrast to burnt ends.
Are Burnt Ends Pork or Beef?
I'm sure this is something you might be curious about. Particularly from the brisket point cut, most traditional burnt ends come from beef.
Although they are extremely popular now, some modern pitmasters prepare pork belly in the same style as brisket burnt ends.
This is to recreate this soft-centered, crispy-edged dessert with pork meat.
You need to expect to get beef burnt ends when you order burnt ends at a BBQ restaurant, except if it is labeled as pork belly burnt ends.
You should ask your server to confirm whether the burnt ends are brisket or pork belly meat if you have a food allergy.
Final Thoughts: Burnt Ends Without A Smoker
Actually, there are low-sugar sauces that you can find online. This is if you intend on cooking a keto dinner.
If you prefer to serve this without grains, you can always bake some frozen vegetables in the oven.
Given the fact that you can just throw them in at the end on another rack. And as previously stated, this will also go well with mac and cheese.
So, you now have the best recipe for burnt ends without a smoker, which in turn concludes this guide.