The Chuck Roast Burnt Ends in Oven, also called the Poor Man's Brisket Burnt Ends, have incredible flavor and bark, and you will get to love and crave them.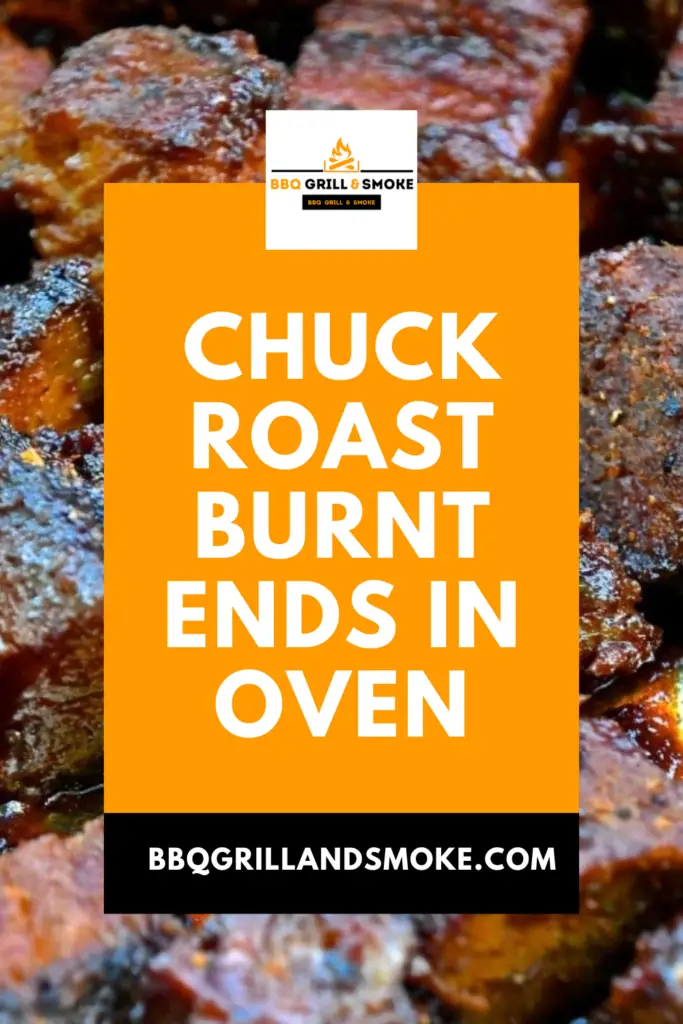 In comparison to traditional brisket point burnt ends, the cooking time for this will be just half of that, and it is also more affordable.
I can tell you that the cooking time of a good number of camping smoker recipes is very long, but this easy chuck roast burnt ends-in-oven recipe will be a quick version of the crowd's favorite.
What Are Burnt Ends, Exactly?
But, exactly, what are burnt ends? They originated from the time when competition pit masters would cut the brisket, then leave the point pieces that were crunchy and rather hard for consumption.
Since nobody really likes to waste things, those pieces of "barbecue gold," as they are referred to, were taken, then they were doused with butter, sugar, and BBQ sauce.
With that being done, they proceed to heat them up, which results in tacky, chewy bites of paradise.
You can make use of the term "burnt ends" for any meat you'd prefer. However, for all their beef equivalents, hot dogs and bologna are hard competitors.
Chuck Roast Burnt Ends in Oven
This quick Poor Man's Burnt Ends is made with dry-rubbed, succulent beef chuck, cooked low and slow for a crunchy exterior. You'll enjoy this easy oven-burnt ends recipe.
Prep Time: 10 minutes
Cook Time: 3 hours, 30 minutes
Total Time: 3 hours and 40 minutes
Course: Main
Cuisine: American
Method: Oven
Servings: 5 people
Equipment
Wire rack
Rimmed sheet pan
Kitchen knives
Ingredients
Burnt End Ingredients
3 pounds of chuck roast
1 – 2 cups of barbecue sauce (I recommend Sweet Baby Rays)
8 tablespoons salted butter and 1 stick salted butter, cut into 1 tablespoon pats
2 tablespoons of spice rub
BBQ Spice Rub Ingredients
1 tablespoon of paprika
1 teaspoon of chili powder
1 teaspoon of smoked paprika
1 ½ teaspoon of sea salt
½ teaspoon of dried mustard
1 teaspoon of garlic powder
1 teaspoon of onion powder
1 teaspoon of coarse black pepper
½ teaspoon of cayenne pepper
Laid-Out Instructions
First, you are to get a small bowl, then proceed to blend the ingredients for the spice rub in it. Mix until they are well combined.
After that, measure out 2 tablespoons of the mixture, and then store the remaining rub in a sealed container.
With that being done, you are to preheat the oven to 275 degrees Fahrenheit. Then, you are to spray 1 to 2 tablespoons of spice and rub bountifully over the whole chuck roast.
You can smother it with your hands. And make sure you completely coat all sides. When that is done, get a sheet pan and then proceed to place the seasoned roast on a roasting rack that is placed over the sheet pan.
Now, bake for around 3 hours. After that, you are to remove the roast from the oven and then slice it into 1″ cubes.
Afterward, get a baking sheet and spread the chunks of meat on it. And, then, you are to toss it with BBQ sauce.
After that, you are to place the strokes of butter over the meat and then put the sheet pan back in the oven.
Now, for roughly an extra 30 minutes, you are to bake at 450 degrees Fahrenheit until the edges of the meat are crunchy and deeply seared.
Mix the meat halfway through cooking, at the 15-minute mark. When that is done, based on your preference, you are to serve it with an extra BBQ sauce.
Frequently Asked Questions
Is Pot Roast The Same As Chuck Roast?
Well, the short and simple answer to this is no. Pot roast is a cooking method, whereas chuck roast is an actual cut of beef.
Chuck is gotten from the shoulder part of a cow. On the contrary, as previously stated, a "pot roast" is a method of preparing a cut of meat by slowly simmering it in liquid.
Can Chuck Roast Burnt Ends Be Made Ahead Of Time?
The simple answer is yes. You can make this easy chuck roast burnt ends ahead of time. Fortunately, you can even make it up to three days ahead of time.
All you need to do is store them in a sealed container in the fridge until you are ready to serve them.
How Do I Make Sure My Chuck Roast Is Tender?
The most important thing to remember is slowly cooking your simple chuck roast with burnt ends. This will help make them succulent.
I'm sure you are ready to smoke your chuck roast for the required hours until it becomes nice, succulent, and juicy. When that is done, you can either finish it on the grill or in the oven.
What Type Of Wood Is Best To Make Burnt Ends?
I recommend cherry wood chunks or wood chips, as they are my favorites. I also prefer apple, it is also one of my approved fruitwood. I also use oak or hickory sometimes.
Storage and Reheating Chuck Roast Burnt Ends
If you have any leftovers of these chuck roast burnt ends, you can store them in the refrigerator, where they will last for up to three days. However, remember to keep them in a tightly sealed container.
And, for reheating, you can reheat the leftovers in the microwave. And this should be done in 30-second intervals.
Also, ensure that you cover it when you place it in the microwave. This is for easy cleanup, as there is a lot of sugar in it, which will splash once it gets too hot in the microwave.
Substitutions for Chuck Roast Burnt Ends
Meat
You can use this healthy recipe with pork belly and brisket. All you need to do is follow the laid-out instructions.
Sauce
The possibilities here are limitless. You can make your own smoked bourbon BBQ sauce, beer BBQ sauce, or Dr. Pepper sauce. However, the best options are still Sweet Baby Ray and Stubbs.
Rub
Always use a rub that you love, and you can test some out. You can also make rubs yourself, but they can't be compared with All Purpose Rub and Beer Can Chicken Rub.
Modifying the rub is an easy task. All you need to do is add smoked paprika, celery seed, black pepper, garlic salt, kosher salt, or some red chili flakes.
Final Thoughts: Chuck Roast Burnt Ends in Oven
You can serve your chuck roast burnt ends in various ways, and you will also be tempted to eat them right from the pan.
However, if you are looking for what to serve with your poor man's burnt ends, I've got some beautiful ideas for you.
You can serve these easy burnt ends with your favorite barbecue sides, such as potato salad, coleslaw, or baked beans.
Alternatively, a bun with sliced onion and pickle can suffice. This is for a smoked burnt ends sandwich.
And, lastly, you can chunk your burnt ends on top of queso cheese, shredded cheddar, tortilla chips, sour cream, and green onions for barbecue nachos.
So, this concludes this guide on "Chuck Roast Burnt Ends in Oven," as you now have detailed instructions and tips on chuck roast burnt ends in the oven.