With these London broil burnt ends, you will get that perfect burnt end look and flavor without the cost when you smoke it right.
These London broil burnt ends will have you feeling rich.
It is also an excellent alternative to brisket burnt ends; they are a must-have and always an excellent option if brisket prices are too steep or you just don't want to cook such a large cut of meat.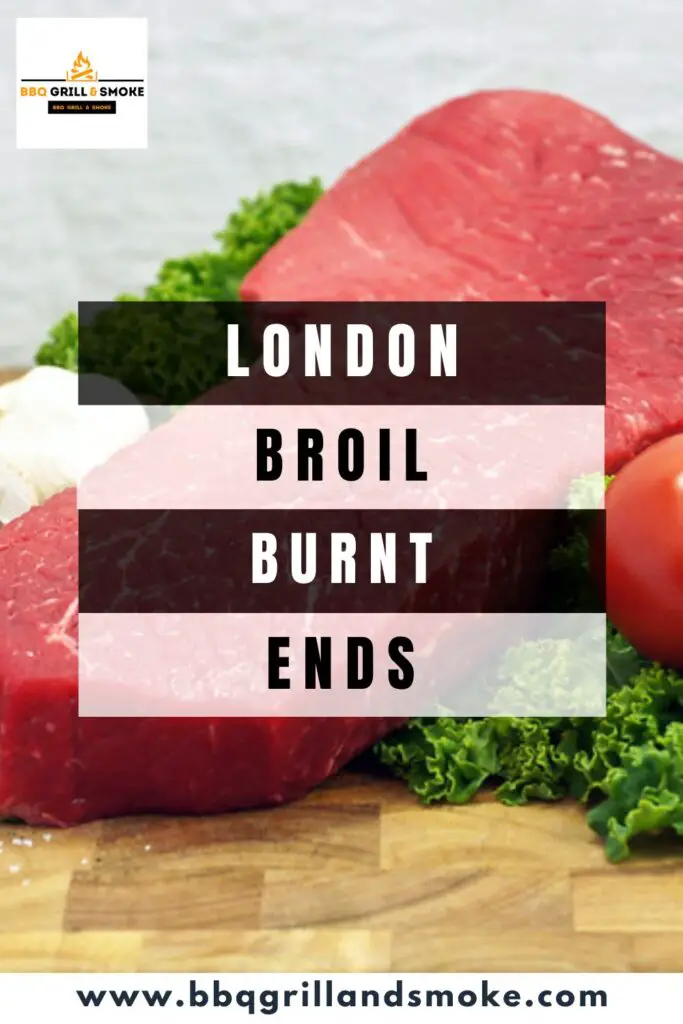 Just fire up the smoker to create the most incredible smoked London broil ever, so you can just skip broiling your London broil in the oven.
To create a first-rate steak, all you need to do is marinate this meat and infuse it with a great smoky flavor.
What Is London Broil?
London broil was made initially with flank steak; however, the name has been applied over the years to several other lean, thick cuts of beef, like top round.
In general, London broil is available and is marketed as anything from a 1-inch steak to a 4-inch roast that is gotten from the sirloin or round sections of beef.
However, keep in mind that these cuts all have something in common, which is that they are lean and likely to be more challenging.
Even so, the label might not instruct you or any other consumer on how to cook the piece of meat.
A London broil is meant to be marinated and cooked over high heat.
It is just an excellent way to get a really good meal out of an inexpensive cut of meat.
Smoked London Broil
It's time to make your London broil burnt ends in the smoker and just forget about broiling your meat in the oven.
So go ahead and fire up your smoker. Get your meat marinated and infused with a tasty smoky flavor, which will yield the best steak.
Cuisine: American
Course: Main Course
Prep Time: 15 minutes
Cook Time: 45 minutes
Marinade Time: 8 hours
Total Time: 9 hours
Servings: 6 people
Ingredients
1 1.5–2 pounds of beef top round roast (also labeled London broil)
Smoked London Broil Marinade
1 teaspoon of red pepper flakes
½ cup of olive oil
¼ cup of honey
¼ cup of red wine vinegar
5 cloves of minced garlic
5 sprigs of fresh thyme
2 tablespoons of Worcestershire sauce
1 ½ teaspoons of salt
1 ½ teaspoons of black pepper
Laid-Out Instructions
First, make the marinade. To do that, get a zip-top bag or a non-reactive glass bowl and combine all the ingredients for the marinade in it.
Then, mix and massage. Just place the London broil in the marinade and massage or throw the steak to make sure that it is evenly coated on all sides.
After that, marinate the steaks. So, place the container or bag of marinating steak in the refrigerator and let the steak marinate for 4 to 8 hours.
That being done, preheat the smoker to 225 degrees Fahrenheit with your favorite hardwood. I suggest you go with cherry, pecan, or oak for this simple recipe.
Afterward, remove the steak from the marinade and shake it lightly to get rid of any excess herbs.
Close the lid after you place the meat on the smoker and smoke for 45 minutes or until the internal temp reaches your desired doneness.
Preheat a cast-iron skillet over medium-high heat if you want to add a nice crust to your steak.
Get around 1 tablespoon of avocado oil and spray the pan with it.
Place the smoked London broil in the pan when the oil begins to shimmer and cook for 2 to 3 minutes per side, or until it becomes nicely browned.
That being done, get your cutting board, transfer the finished London broil to it, and let it rest for 5 to 10 minutes before you slice it thinly against the grain.
These slices should not show long strands of muscle but rather just circular muscle fibers, and when pulled, they should easily break apart.
What to Serve With London Broil
You have some serving suggestions for this London broil roast recipe, and below are some of them:
Salad
I so much enjoy pairing my London broil recipes with kale crunch salad or BLT salad.
Toppings
In this case, you can always try chimichurri sauce or compound butter.
Veggies
You can serve this recipe with green beans, almondine, roasted asparagus, or sautéed broccoli.
Potatoes
A well-known side dish for steak has always been roasted potatoes.
But you can always try air fryer sweet potatoes, roasted sweet potatoes, or mashed cauliflower for lighter options.
Storing, Reheating, and Freezing
Storing
Get a tightly sealed container and store your leftover meat in it, or place it in a resealable bag. This will allow it to last for 2 to 3 days.
Reheating
First, bring the leftover meat to room temperature. Then, you reheat the steak in a skillet over low heat.
Make sure you turn the steak frequently, as this will help prevent it from overcooking.
You also have the option of reheating the beef in a lower-temperature oven (around 300 degrees F).
Just place the meat in a baking dish and add a few tablespoons of broth, then cover and bake until it becomes warm through.
Freezing
It is highly recommended that you do not freeze the steak raw in the marinade.
The meat can become mushy when you allow it to sit in the marinade while defrosting.
However, when properly stored in an airtight container or freezer-safe resealable bag, you can freeze the smoked London broil for up to 2 to 3 months. Just thaw overnight in the refrigerator.
Recipe Frequently Asked Questions
Why Is It Called A London Broil?
The truth is that London broil is actually not a cut of meat but rather the cooking method of marinating and broiling the steak.
Keep in mind that it is actually an American creation, even though it is known as London broil.
Can I Cook London Broil On The Grill?
Well, yes, you can cook London broil on the grill. Just allow the grill to heat up for around 10 minutes and become very hot.
After that, cook for around 3 minutes per side and ensure you are keeping an eye on the beef as it is cut in size.
However, also remember that the cooking time might differ depending on the grills.
Final Notes on London Broil Burnt Ends
Talking about doneness, 125 degrees Fahrenheit is for rare, and 135 degrees Fahrenheit is for medium rare.
And I personally do not suggest that you cook London broil any more than this because of the texture and tenderness.
Now, that being said, this concludes this guide, as you now know how to ideally make London broil burnt ends.