Tri-tip burnt ends are a well-defined variation made from a trimmed tri-tip roast, which is then prepared using a smoking method that yields intense flavor.
And, then transferred to a simmering butter bath. The result is always a smoky, sweet, and peppery treat on its own.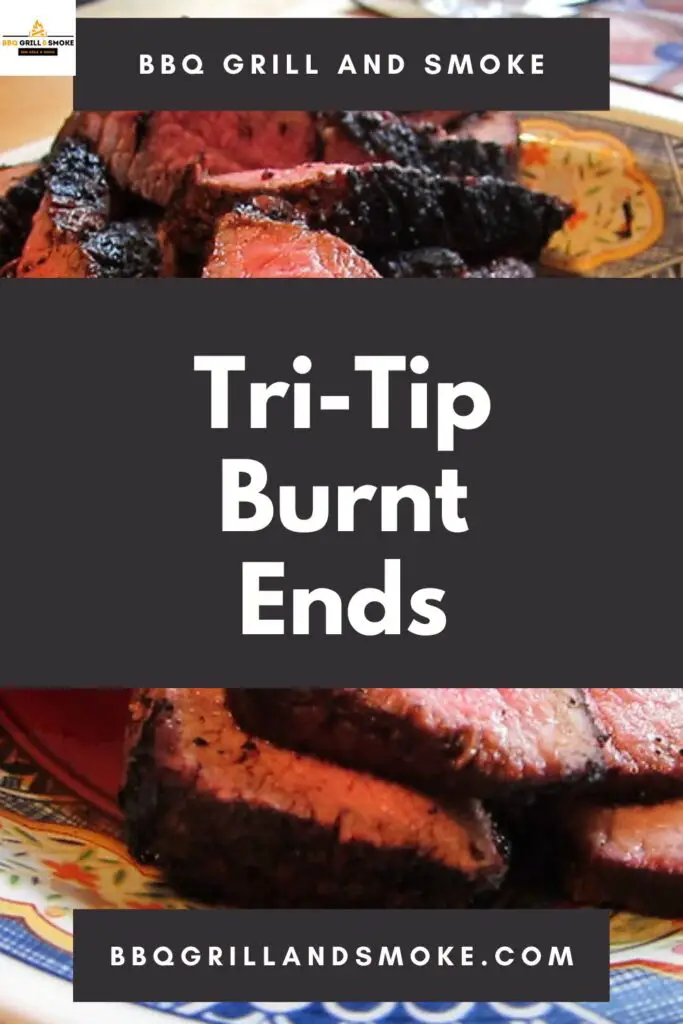 However, they are also ideal for topping mac and cheese or stews.
Burnt ends are simply a must-have for people who love and enjoy a finger-licking delicious barbecue.
In my opinion, tri-tip burnt ends represent the only way you can bring your taste buds to BBQ dreamland, and this goes for whatever your desired application might be.
What Is Tri-Tip Roast?
For several years, the tri-tip was included in the ground beef pole, and as such, in comparison with the sirloin steaks or the rib-eye, it is rather unknown.
Traditionally, butchers cut up the whole carcass themselves. There's limited space on their counter, so the space would be kept for only the prime and costly cuts.
The rest were chucked on the ground beef pile or taken home for their families.
Presently, as a result of most meat being cut and packaged as a whole by big manufacturers, more or less every cut is available, and you can find it at both supermarkets and butchers alike.
This is actually to our advantage, given that tri-tip is actually one of the greatest smoking meats.
It is one of the best steaks for grilling if shared into steaks.
A group of butchers started spit-roasting the tri-tip back in the 1950s in California, and they did it alongside ready-to-go hamburgers.
In no time, it became a new favorite and profitable 'grab and go' hot food that was provided for the masses.
Immediately after the word got out, people began to ask for it as a joint that they could cook at home for friends and family.
And that was when the huge interest in tri-tip started and grew.
What Are Burnt Ends?
Burnt ends are simply cubed-up slices of smoked point meat from the point of the brisket.
They are cubed, then sauced, and placed back into the smoker to sear, which will yield a juicy and succulent beef bite.
They are said to have been brought from Kansas City by a few early BBQ explorers.
You can get to taste the version of the KC origin story at Jack Stack or Joe's Kansas City (formerly Oklahoma Joe's).
Tri-Tip Burnt Ends
Category: BBQ
Prep Time: 10 minutes
Cook Time: 2–3 hours
Servings: 8
Tri-tip burnt ends will definitely satisfy any and all your meat cravings, and this goes the same no matter how you serve them.
From simple preparation to extreme caramelization and soft glaze, in no time, these special cubes of beet will become a favorite amongst a lot of barbecue lovers.
That being said, I will say it is now time to crack open a cold beer and switch on the grill, as these delectable cubes of beef are simply one cooking session away.
What to Serve With Tri Tip Burnt Ends
This meat is so mouth-watering. It is very likely that you will eat it straight off the cutting board, dipped in white BBQ sauce.
However, if you want to be more civilized, you can just serve it with sides for dinner, a BBQ, or a party.
Below are some great side dishes you can serve it with:
Smoked mac and cheese, which is something you can just throw on the smoker right next to your tri-tip.
Pasta salad with Greek yogurt dressing
Blue cheese salad: This is more or less a chopped wedge salad.
Red white and blue cheese potato salad—you will definitely love this.
Baked sweet potatoes
Instant Pot mashed potatoes
Air fryer baked potato
Sautéed mushrooms; this is a great option to be paired with beef.
Crock Pot creamed corn
BBQ baked beans
Storing Tri-Tip Burnt Ends
When it comes to storing your smoked tri-tip, just place the leftovers in a tightly sealed container in the fridge.
And it can last for up to 7 days. You can actually eat your leftover tri-tip cold or reheat it.
Reheating
In the case of reheating the leftovers, just drop the slices in boiling beef broth for 30 seconds.
This helps heat up the tri-tip without overcooking it. It will help keep it juicy and succulent.
You can just eat the slices all by yourself, or you can decide to use them to make a delectable tri-tip sandwich.
Final Thoughts on Tri-Tip Burnt Ends
The tri-tip roast is a West Coast favorite, and its popularity has increased in no time.
It provides great value for money and a massive train of flavors when marinated or rubbed with the right ingredients.
And, the interesting thing about this roast is that you can cook it in any way you like; basically, it is based on your preference.
This will then be the wrap-up of this guide, as you now have the best recipe for your delicious tri-tip burnt ends.