This is a simple chicken breast pellet grill recipe. It is perfect for fast weeknight dinners and can be prepared with a simple dry rub before it can be cooked low and slow over applewood.
This chicken breast pellet grill recipe is proof that barbecue can be fast and easy.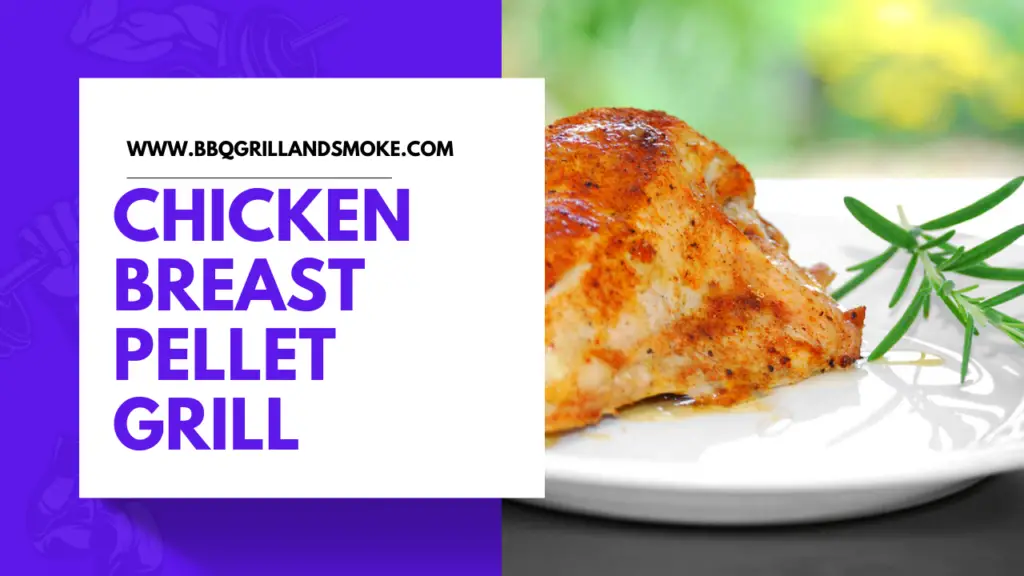 No marinades, no brines, and you don't have to wait all afternoon for them to be all done.
Just spend at least an hour on your pellet grill, and they will be ready to plate up.
This healthy smoked chicken dinner is proof that pellet grill recipes can be simple without being boring.
You will learn how to smoke chicken breast on a pellet grill today, from picking your wood pellets to making delectable BBQ dry rub.
Just learn how to make juicy Traeger smoked chicken breasts without brine and cook the best chicken breasts in the smoker.
This extremely smoky main dish recipe has two seasoning ideas. So, go ahead and smoke juicy and flavor-packed chicken on the pellet grill.
Smoking Traeger chicken breast is extremely simple. Poultry is incredible at picking up smoky flavor, and leftovers are excellent in smoked chicken sandwiches and on salads.
Now, let's get on with this recipe, which will become a real crowd-pleaser in your home.
Chicken Breast
Chicken breast is the best white meat that can be used for more or less anything.
The white meat can be used as a blank canvas on which to imbue your favorite flavors, whether it is a taco filling, a curry dish, or just served on its own.
Even though they can be sold with skin-on and/or bone-in, however, I will suggest you go for skinless and boneless.
This option results in much easier and faster cooking, and it also provides you with more room to be creative.
They will also cook more evenly and won't have the skin or bone getting in the way of the smoke.
It is a fact that a good chicken breast can be just as yummy and succulent as any other chicken cut.
The most interesting part is that it is an affordable cut with respect to beef or pork, which makes this an excellent jumping-off point for barbecue beginners.
Pellet Grilled Chicken Breast
Pellet grilled chicken breast is an incredible way to cook chicken breast.
The meat comes off the grill yummy and mouth-watering, with a nice smoky flavor that you won't get on a regular grill alone.
Course: Dinner, Main Course
Cuisine: American, BBQ
Prep Time: 15 minutes
Cook Time: 35 minutes
Total Time: 50 minutes
Servings: 6 people
Ingredients
6 chicken breasts
1 cup of Everything BBQ sauce
2 tablespoons of sweet rub
1 tablespoon of avocado oil or olive oil
Laid-Out Instructions
First, you are to preheat your pellet grill to 325 degrees Fahrenheit, then spray the chicken breast with olive oil and pat it to coat on all sides. Also, season the oiled chicken with Sweet Rub, and make sure you do this on all sides.
After that, you are to place the seasoned chicken on the grill grates of the pellet grill, close the lid, and proceed to cook for 15 minutes. Then, you are to turn each chicken breast over on the grill, close the lid, and cook for an additional 10 minutes or just until the chicken reads 150 degrees Fahrenheit internal temperature.
That being done, baste each chicken breast with some BBQ sauce, close the lid, and continue cooking for 5 to 10 extra minutes until the chicken reaches 160 degrees F.
Afterward, you are to remove the chicken from the grill to a rimmed plate or platter to rest, then proceed to the tent with foil and allow the carry-over cooking to bring the chicken up to a finished internal temp of 165 degrees Fahrenheit.
Now, it's time to serve with extra BBQ sauce on the side and enjoy.
What to Serve with Smoked Chicken Breasts
The truth is that just about anything goes well with chicken, whether you are looking for an easy and healthy meal or just something a bit more indulgent.
Below are just a few side dish recipes that pair well with smoked chicken:
Roasted garlic red skin potato salad
Spiralized apple cranberry salad
Balsamic Dijon roasted root vegetables
Air fryer carrot fries
Bacon wrapped pineapple
Fresh tomato pesto pasta salad
Pressure cooker mushroom risotto
Storing
You can store the leftover chicken breasts in a tightly sealed container and place them in the fridge, which will allow them to last for up to 3 to 4 days.
In addition, they can freeze well and will last for up to 3 to 4 months.
Make sure you allow the chicken to defrost overnight in the refrigerator before reheating.
If you have extra unused marinade, then store it in a tightly sealed container and place it in the fridge, which will make it last for up to a week.
You are to get rid of any leftover used marinade, as it can contain harmful bacteria from the raw meat.
Recipe FAQs
How Long Does It Take to Smoke a Chicken Breast?
The time that it takes to smoke chicken breasts is based on how thick or thin the chicken breasts are.
The cooking process of extremely thin chicken breasts, if that is what you have, will take less than an hour.
But, you can actually expect the process to take anywhere from 1.5 to 3 hours, if your chicken breasts are on the thicker side.
That being said, I strongly suggest, as always, that you use an internal read thermometer and when the internal temperature reads 165 degrees Fahrenheit, you are to pull the chicken breasts off of the smoker.
How Do You Know That Your Smoked Chicken Breasts Are Done?
As previously mentioned, when the internal temp reads 165 degrees F, you are sure your smoked boneless chicken breasts will be done.
You get this when you measure it using an instant-read meat thermometer inserted into the thickest part of the chicken breast.
How Do I Serve Smoked Chicken Breasts?
Your options are limitless when it comes to what to serve with smoked chicken breasts.
Your smoked chicken breasts can be served in several ways. You can slice it for a sandwich or slider.
You can also add it to a salad, use it as a topping for smoked mac and cheese, or simply serve it with a side like smoked mashed potatoes or smoked baked potatoes.
What Temperature Should I Smoke Chicken Breast?
You can smoke your boneless chicken breasts at 225 degrees Fahrenheit.
How Long Does It Take to Smoke Chicken Breasts on a Traeger at 400 degrees F?
It will take around 15 to 20 minutes for boneless and skinless chicken breasts of a 1-inch thickness to cook at 400 degrees F.
Then, it will take roughly 30 to 40 minutes for bone-in chicken breasts or thighs to cook.
That being said, remember that these cooking times might differ depending on the size and thickness of the chicken.
Conclusion
Keep in mind that large, thick chicken breasts will take longer to cook.
However, you can cut each breast in half and pound them to an even 1-inch thickness before marinating in order to speed up the cooking time.
You are also free to reserve the leftover marinade and use it as a baste, then brush it over the chicken as it cooks.
You can try different wood pellets in order to adjust the flavors. Apple, mesquite, and hickory wood pellets will also add distinct smoky notes and not overpower the chicken's natural flavors.
With all that being said, this will bring us to the end of this guide, as you now have the best chicken breast pellet grill recipe.