Looking for a delicious and fast recipe that has the taste of ginger, soy sauce, garlic and more. Well, the BBQ Korean chicken is just the right food for you.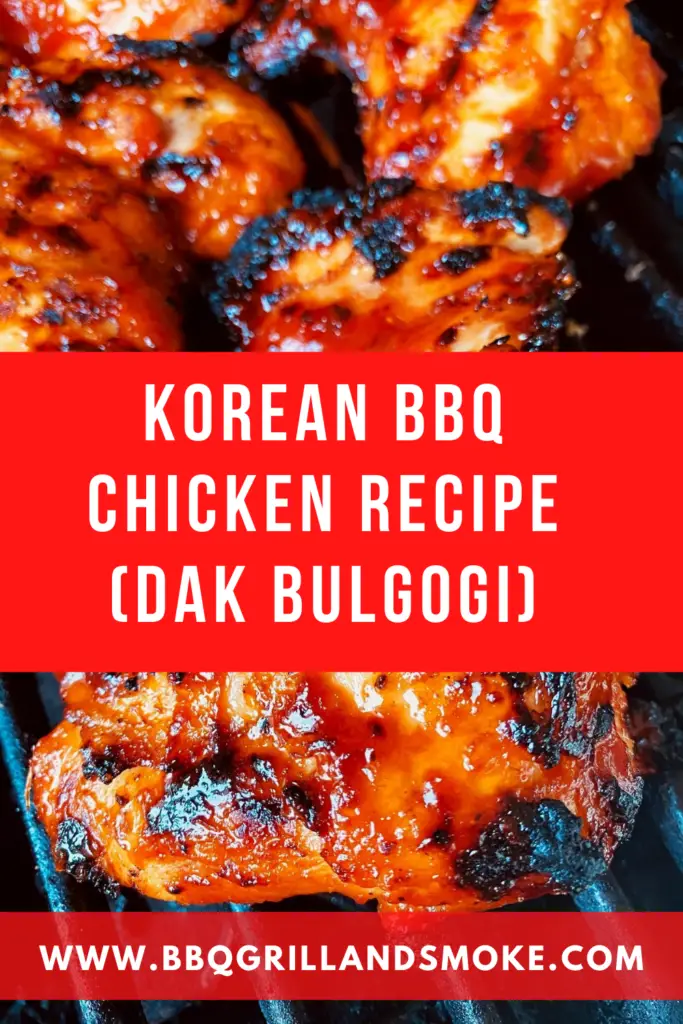 An amazing recipe that is easy to make, and comes with ease and comfort. You don't want to miss out on the flavours of this food.
The BBQ Korean chicken is paired with a delicious and appealing sauce that also serves as a marinade. This is just the right food to taste now.
Does it take a long time to prepare Korean BBQ Chicken?
I know so many people do not like the long preparations that some foods take. Preparing the Korean BBQ with chicken is quite easy and super-fast. No, you don't have to waste much of your time preparing this meal.
The average preparation time is within 5 – 7 minutes to make the sauce, and also, it is quite easy to make. You don't have to be an executive chef to do this.
The sesame oil in it gives it that perfect and nice taste, as well as the sweet honey taste – of course, thanks to honey being part of the ingredients.
With the BBQ Korean chicken recipe, you have a chicken that combines two major elements of taste – sweet and salty; as well as being sticky and toasty. This is just the perfect meal for you.
One thing is, if you can get it right with the taste of this chicken BBQ, you will always like to come back and get it done again.
Why is this Recipe the Best for Me?
You might ask, why is this particular recipe the best for me? Well, it's simple, because it's simply the easiest and most convenient.
Let me walk you through why this is the best BBQ Korean chicken recipe for you.
The ingredients are quite simple
Ingredients used in making this recipe are quite easy to come by, in fact, they are what you already have in your kitchen or something you can easily buy.
Works with other types of meat
This right here is about Korean chicken BBQ, however, you can always use the same recipe for other meats, such as steak, pork, tenderloin, tofu, thick fish etc.
Clean-up is fairly easy
Cleaning up after you must have finished is quite easy. What is most essential you wash immediately is the saucepan you used in mixing the sauce. The rest utensils can be washed later.
Traditional Korean BBQ Chicken
Also known as the Dak Bulgogi recipe or Chicken Bulgogi recipe. It is classic Korean food.
The 'Bulgogi' in the name means 'fire meat'. It is a thinly sliced mead grilled on a stovetop grill or a barbecue.
Another amazing thing about the recipe is that it can also be cooked as a stir fry recipe.
It is a very fast meal to make, easy to make, irrespective of the time of the day you want to make it.
Marinating the Korean BBQ Chicken
This is where the uniqueness of the chicken Korean BBQ comes to play – marinade. These special ingredients give it the flavour and taste of Korean BBQ.
The ingredients for marinating BBQ Korean chicken include garlic, ginger, sesame oil, soy sauce, honey and chicken drumsticks.
It is important to create a thick sauce for this BBQ.
Recipe Ingredients for Korean BBQ Chicken
Below are the ingredients for our Korean Chicken BBQ:
Chicken – a total of 2 pounds of boneless chicken breasts, drumsticks or thighs are great for this recipe.
Soy sauce – go for a gluten-free soy sauce
Sesame oil – this ingredient adds a nice flavour to your cooking
Sriracha – it adds natural spice to your recipe
Ketchup – ketchup is one ingredient that you may or may not add. However, it tends to add more taste to your Korean BBQ chicken
Spices – adding spices to this recipe will give it great flavors and taste. Spices like garlic powder, paprika, ginger and cumin are great spices to add
Honey – gives your meal a sticky feel
Corn-starch
Cilantro
Sesame
Cilantro
Things to note
Preparation time: 5 minutes
Cook time: 35 minutes
Serving: 8 servings
Calories: 343 calories
How to Prepare BBQ Korean Chicken
Add all the sauce ingredients (garlic, honey, ginger, soy sauce, olive oil, and sesame oil) together in a bowl and mix.
Combine the chicken broth and corn starch in a separate bowl and mix.
Pour the sesame oil into a large pan and heat.
Add the chicken to the sesame oil in the large pan and cook for 4 minutes until it gets white on the outside. Ensure it is not fully cooked.
Add the sauce to the chicken.
Stir to mix well and cook for about 4 minutes.
Afterwards, pour in the chicken broth mixture, and cook for about 5 minutes until the chicken is well cooked and the sauce thickened.
Serve hot!
What to Serve with Korean BBQ Chicken
Would you like to know what you can serve with this sumptuous meal? Well, below are what you can serve with it.
White rice
Noodles
Crunchy cucumber
Chopped Asian salad
Steamed vegetables such as peas, corn, asparagus, zucchini, and broccoli
Asian grilled corn on the cob
Mashed potatoes
Kimchi
Bib lettuce
Creamy polenta
How to Preserve Leftover Korean Chicken BBQ
You can keep your leftover Korean chicken BBQ in:
Fridge
You can store it in a fridge for about 3-4 days. Whenever you want to take it, just microwave it.
Freezer
You can as well preserve leftover Korean chicken BBQ in freezers. How do you go about this? Place drumsticks on a baking sheet and allow them to freeze. Put in a freezer bag or an air0tight container and place in the freezer. With this method, you can preserve leftover Korean BBQ chicken for up to 6 months.
You can just reheat it if you want to eat it. You only have to defrost it in the fridge overnight and reheat it in an oven at about 350˚F.
Final Thoughts on BBQ Korean Chicken
What do you think about this tasty and delicious meal? Did you prepare it as described? How was the taste?
Well, you can't get it wrong with the recipe and preparation method of Korean BBQ chicken as described in this guide.