This simple Crispy Baked Chicken Breast recipe is relished and deep-fried, then baked till it becomes crispy.
This easy recipe for baked chicken is actually simple to make in the oven, and its result is always better than fried, even healthier.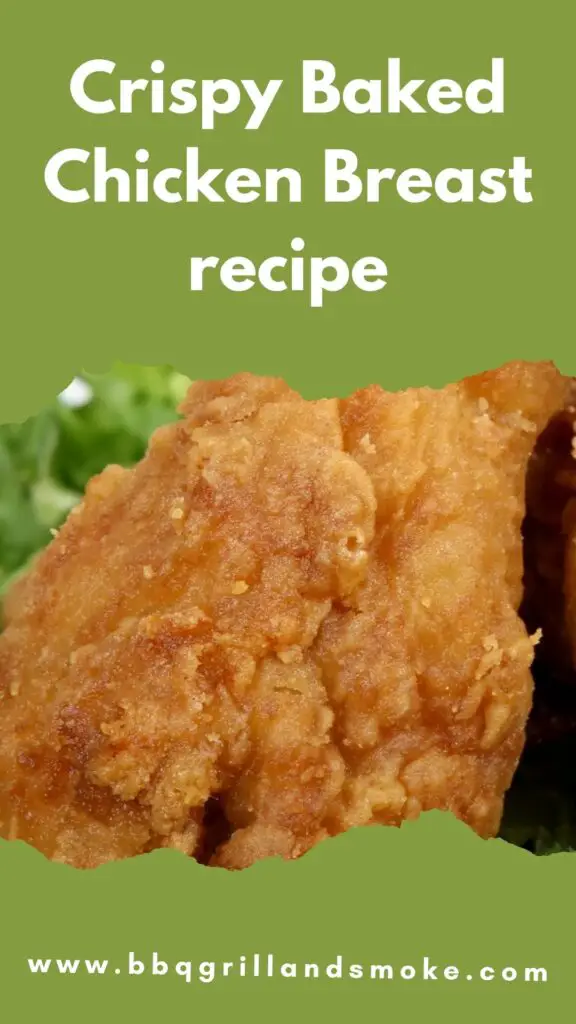 You can serve it for dinner tonight or on any night of the week. Dive in to learn how to perfectly make a crispy baked chicken breast.
Baked Chicken Breast
This Baked Chicken Breast is perfect as a main dish, to make a chicken sandwich, or as a salad topper for Cobb Salad.
In this recipe, I will give you every necessary piece of information you need to avoid dry chicken breast for good, which will always yield a juicy, mouth-watering result.
I'm sure this will be your go-to, first-rate crispy baked chicken breast recipe, as it is amazingly versatile and can be served in several special and delicious ways.
Plain chicken breast is likely to come out dry and bland, except if you are making fresh chicken marsala or stuffed chicken breast.
This is a flawless technique that will yield an extremely delectable, soft, and tasty chicken breast. You are also going to love the simple seasonings.
Recipe for Crispy Baked Chicken
This baked, crispy deep-fried chicken breast recipe is a juicy and healthier substitute for traditional fried chicken.
The dish has a crunchy panko coating and soft, delicious chicken that is definitely a crowd-pleaser.
It is also a fast and stress-free dinner solution that will surely be ready in under 40 minutes.
Course: Appetizer, Main Course
Cuisine: American
Diet: Low Fat
Prep Time: 10 minutes
Cook Time: 25 minutes
Total Time: 35 minutes
Servings: 4
Ingredients
1.5 lbs. of Chicken Breast (around 4) skinless, boneless
1 tablespoon of olive oil
1 teaspoon of garlic powder
1 teaspoon of Italian Seasoning
1 large egg
2 tablespoons of milk
1 teaspoon of smoked paprika
1 tablespoon of fresh chopped parsley
¾ cup of panko or Italian-style panko
¼ cup of freshly grated parmesan cheese
Avocado cooking oil spray
Sea salt and paper, to taste
Laid-Out Instructions
You are to first pound each chicken breast to an even ¼ inch thickness in order to prepare the cutlets.
After that, you are to rub the chicken with Italian seasoning, pepper, salt, and olive oil.
I suggest you marinate it for 1 hour overnight; however, this is if there's time to do so, as this will result in the softest and moist chicken.
That said, you should now preheat your oven to 400 degrees Fahrenheit and then get parchment paper and line a rimmed baking sheet with it.
Also, get a large bowl and whisk together the milk, egg, and a pinch of salt and pepper in it.
Proceed to get a shallow dish and mix the panko with parmesan, smoked paprika, and garlic powder in it.
Get the chicken cutlets and dip them into the egg mixture, then proceed to coat them in the panko mixture.
And, to dredge, make sure the pressing is done lightly. When that is done, get the prepared baking sheet and place the chicken on it.
Afterward, spray the chicken with the cooking oil spray. And, for 15 minutes, you are to bake it in the preheated oven.
Then, you are to turn over the chicken cutlets and bake for around an extra 5 to 8 minutes, or just until they become golden and cooked through.
That being done, you are to now spray it with fresh chopped parsley and proceed to serve immediately.
Serving Suggestions
Well, you can serve this crunchy baked chicken with several side dishes like pasta salad, sweet potato fries, mashed cauliflower, or Hasselback potatoes.
There are also other serving options, and they include:
You can chop the baked chicken and add it to salads.
Or, you can slice it into strips and serve it with dipping sauces such as ranch, BBQ, or honey mustard.
Also, for a great chicken sandwich, you can serve it on a homemade bun.
You can also pair it with roasted Brussels sprouts, grilled vegetables, or air-fried broccoli.
And, by topping the crispy baked chicken breast with marinara sauce and mozzarella cheese and baking it until the cheese is melted and bubbly, you can make it into a chicken parmesan.
How to Store and Reheat
You can store the leftovers, if you have any, in a tightly sealed container or a resealable bag. This way, it can last up to 3 days in the refrigerator.
However, I suggest you wrap each piece in foil or just get paper towels and layer the pieces with them, as this will help soak up any moisture that might collect in the fridge.
Doing this will definitely help keep the breading nice and crunchy.
And just place the pieces in the oven at 350 degrees F when you want to reheat them. Do this until it is fully cooked through.
Frequently Asked Questions
Can You Freeze Oven-Baked Chicken Breast?
The short answer to this is yes; you can freeze oven-baked chicken breast.
All you need to do is get a baking sheet lined with parchment paper and assemble the chicken in a single layer.
Then, proceed to place it in the freezer and ensure it's uncovered.
Afterward, transfer the chicken to a freezer-safe bag immediately after it's completely frozen. And, it can last up to 3 months.
What Are the Other Spices To Add To Oven-Baked Chicken Breast?
You can pinch the chicken seasoning with onion powder, cumin, garlic powder, chili powder, taco seasoning, Cajun seasoning, or any other dry spice you like. This is based on your preference.
In addition, you can also add dried herbs such as basil, parsley, oregano, or thyme.
How Do You Cook Oven-Baked Chicken Breast Without Drying It Out?
Ensure you pull the chicken breast immediately after it reaches a safe internal temp is the key to cooking it without drying it out.
Just always check the internal temperature of the chicken before taking it out of the oven if you intend to air it on the safe side. And I will say that it is safe to eat immediately after it reaches 165 degrees Fahrenheit.
Final Thoughts on Crispy Baked Chicken Breast
Just make sure that you do not overcrowd the baking sheet; otherwise, the chicken will steam rather than fry.
The coating will also become soggy. So, just leave some space between each piece, as this will help ensure that they cook evenly and have a crispy texture.
Also, ensure that you cut your chicken evenly, given the fact that thin chicken breasts will cook faster and more evenly this way and won't release too much moisture.
With all that being said, this will be the wrap-up of this guide on "Crispy Baked Chicken Breast," as you now have the best recipe to make the perfect crispy baked chicken breast.