This simple recipe for a boneless skinless chicken breast in an air fryer is succulent and flavor-filled, and you will be using just a simple seasoning mix for this recipe.
I can assure you that after you try this in the air fryer, a dry chicken will be a thing of the past.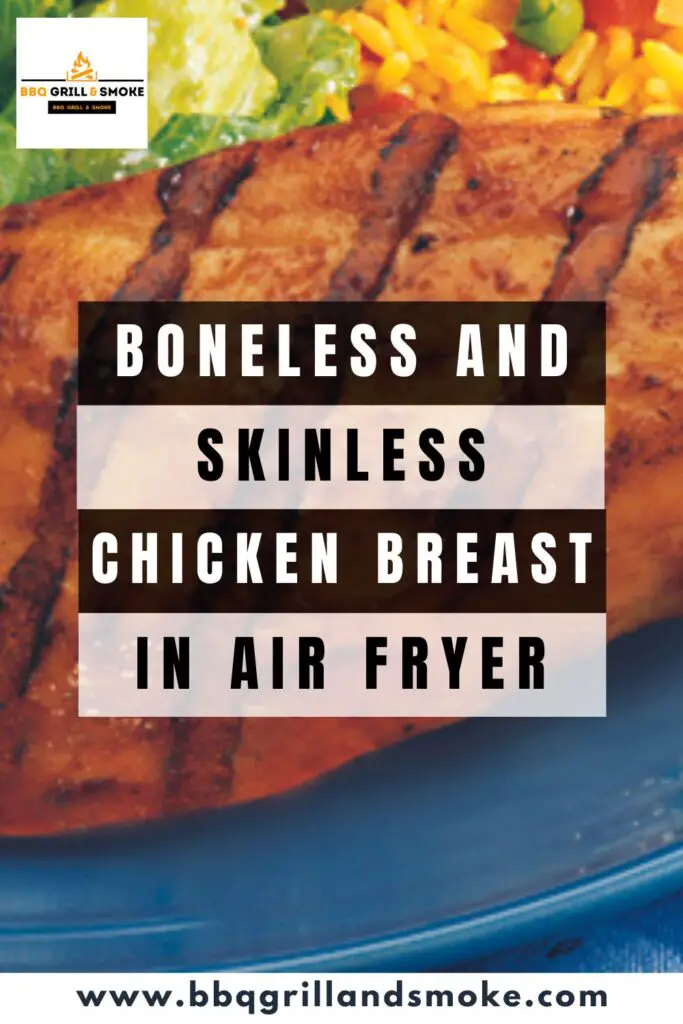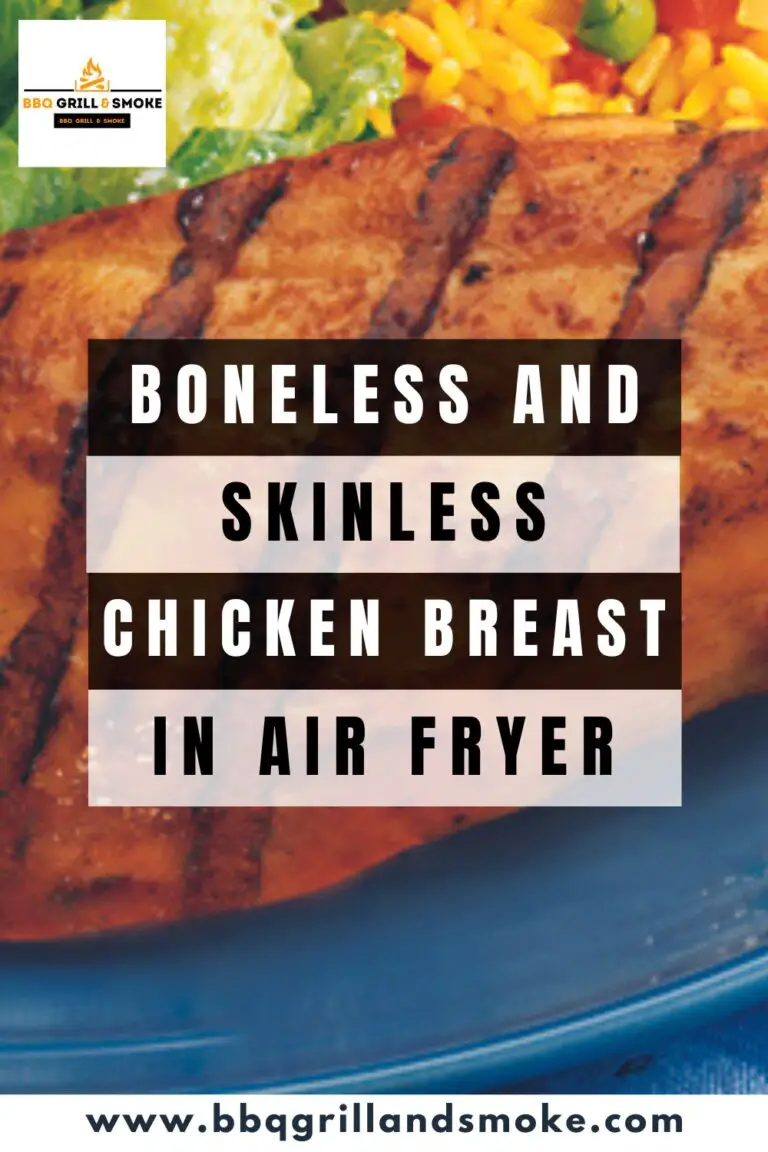 You are actually in for a treat if you've never cooked a boneless, skinless chicken breast in an air fryer before.
You will have a chicken breast that is tender, delectable, and cooked to perfection in under 30 minutes.
It is pretty stress-free and straightforward when you make chicken breast in an air fryer.
The air fryer cooks the entire chicken breast evenly by passing hot air around it, which is unlike baking or pan-frying.
What Is Chicken Breast?
As the name implies, chicken breast is a lean cut of meat gotten from the pectoral muscle on the underside of the chicken, which is also commonly referred to as the breast area.
It is categorized under the "white meat category" cut of the chicken, and this is unlike the dark-meat cuts such as the leg and the thigh.
Chicken breast can be enjoyed baked, boiled, grilled, or, in this case, fried.
It is a well-known protein source that is the star of dishes such as sheet-pan chicken fajitas and chicken parmesan.
This poultry option graces a lot of dinner plates regularly due to its enjoyable taste, somewhat low cost, and ease of preparation.
Make the Best Air Fryer Chicken Breasts
Air fryer chicken breasts are simple to prepare and take just a few minutes to cook.
If you are new to this, you now know that you can make juicy, delicious chicken breasts in the air fryer.
Course: Dinner
Cuisine: American
Prep Time: 5 minutes
Cook Time: 20 minutes
Total Time: 25 minutes
Servings: 2-8 servings
Ingredients
1-4 pounds of chicken breast (skinless/boneless)
¼ teaspoon of garlic powder (per breast)
2 teaspoons of olive oil
¼ teaspoon of pepper (per breast)
¼ teaspoon of salt (per breast)
Laid-Out Instructions
First, you are to brush the chicken breast with olive oil, then proceed to spray one side with pepper, garlic powder, and salt.
After that, you are to get the air fryer basket and place the breast in it. Make sure that the seasoned side is facing down.
With that being done, you can now season the other side. You are to cook at 360 degrees for 9 minutes.
This is for an 8-ounce chicken breast. Afterward, turn over the breast and cook for another 9 minutes.
As you know, larger chicken breasts will require more cooking time, whereas smaller ones will require less.
Now open the air fryer immediately, as this will stop the meat from cooking in the heat.
Using an instant-read thermometer, you are to take the temp in the thickest part.
The temperature should read around 158 to 160 degrees Fahrenheit. Just close the lid of the fryer if the temp is below that.
You are to allow the chicken to cook in the residual heat for a few minutes. Then you can check it again.
That being done, you can now place the breast on a plate and loosely cover it with foil. Also, allow it to cool for 5 minutes.
It will continue to cook in the residual heat. It will also allow the juices to return to the meat.
You are to retake the temperature after 5 minutes. The temp should be at least 165 degrees F.
After that, you can now serve immediately, have another recipe, or decide to save for meal prep.
Serving Suggestions
You can serve this delicious air fryer chicken breast with nutritious vegetable side dishes like sautéed zucchini, roasted broccoli, or roasted sweet potatoes.
It is also mouth-watering when paired with air fryer potatoes or potato salad.
The chicken is also ideal for chopping or slicing and adding to wraps, sandwiches, salads, and casseroles.
You can also try it in a Cobb salad or add it to an orzo salad or southwest quinoa salad.
Storage Tips for Air Fryer Chicken Breast
To Store
You can refrigerate your chicken breasts in a tightly sealed storage container, and they will last for up to 4 days.
To Reheat
And, when you are ready to eat, just gently rewarm your savory chicken in the air fryer or oven. And make sure it is at 350 degrees Fahrenheit.
To Freeze
You are to place the leftovers in an airtight, freezer-safe storage container and freeze them. Doing it this way will allow it to last for up to 3 months.
And before you reheat them, make sure you allow them to defrost overnight in the refrigerator.
Recipe FAQs
Can You Cook Raw Chicken In The Air Fryer?
Well, the answer to this is yes; you can cook raw chicken in the air fryer. And, it is completely safe to do so.
Do I Need To Brine The Chicken First?
That is not necessary for this recipe. What brining does is that it adds so much moisture to the chicken.
However, since this simple recipe uses the air fryer, brining is not needed.
The meat is succulent, thanks to the fact that the air fryer seals in the natural juices.
Can I Cook Frozen Chicken In The Air Fryer?
Yes, you can cook frozen chicken in the air fryer. This is one of the things people love about air fryers.
They just make everything more straightforward. Although, keep in mind that the method to do this is a bit different.
Can You Put Aluminum Foil In The Air Fryer To Make This Recipe?
It is safe to place aluminum foil in your air fryer, but you need to make sure that you only put it in the basket.
However, even if you don't, you will still get better results when you cook chicken breast in the air fryer.
Foil can block airflow in the air fryer; this way, your meat will not cook as evenly as desired.
Well, there's another safer option that I would recommend, and that is air fryer parchment paper.
Final Thoughts on Boneless Skinless Air Fryer Chicken Breast
Just know that your chicken breast is overcooked when it is dry. There's a fine line between undercooked, perfectly cooked, and overcooked chicken.
So, it can be quite a task to master and get it right. It is much easier to avoid overcooking when you cook boneless skinless chicken breast in an air fryer, particularly if you use a meat thermometer to check for the right temp.
With that being said, this will be the wrap-up of this guide on boneless skinless chicken breast in an air fryer.