Fried chicken sous vide comes with a crunchy and crispy crust on the exterior, along with the most succulent and delicious meat on the interior.
I consider it to be the easiest way to fry chicken, given that sous vide results in evenly cooked meat, which is then covered with flour and buttermilk.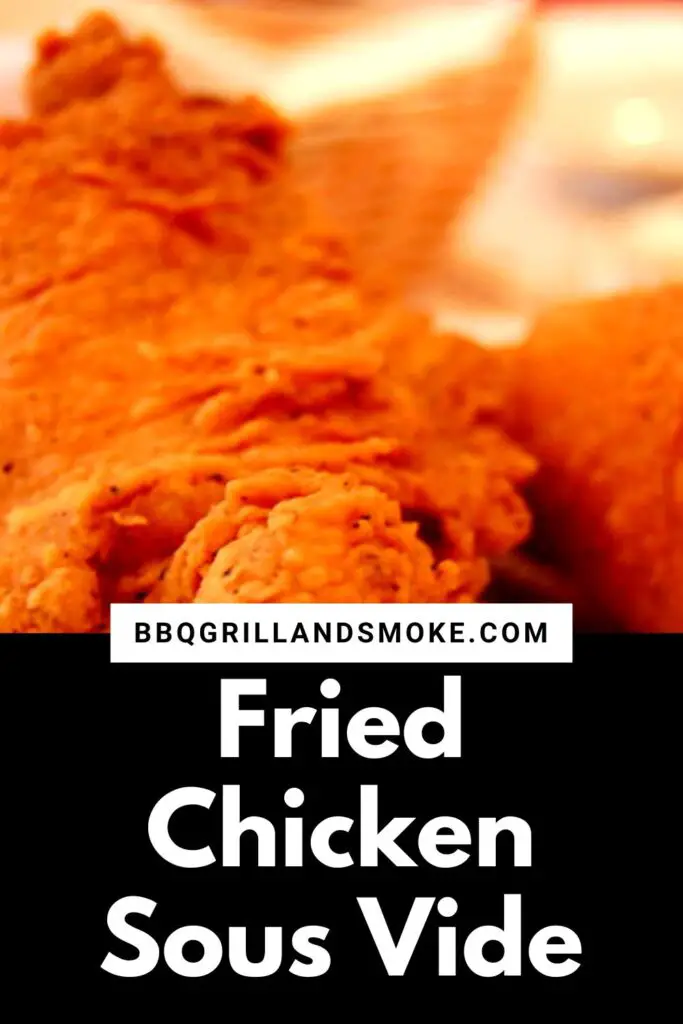 After that, it is deep-fried quickly to golden perfection. It is perfect for a picnic or potluck.
What is Sous Vide?
Basically, sous vide is a cooking technique that uses what is called an immersion circulator.
This immersion circulator circulates water in a temperature-controlled water bath at a specific temp to cook your food all the time.
It helps keep your meat, vegetables, dessert, and so on at the same temperature due to the fact that the temp does not change.
And, in turn, it drastically reduces the risk of overcooking.
With that being said, let's get right into how to make your crispy and tender fried chicken sous vide.
Serving Options
There are several amazing side dish options for fried chicken sous vide. Below are a few of my favorites:
If you want to lighten up your meal a bit, then you should opt for baked parsnip fries and grilled corn.
You can go with southern green beans if you are interested in keeping the southern vibes going.
In addition, you can go with easy air fryer baked potatoes.
There's also the option of truffle mashed potatoes, Instant Pot collard greens, mashed sweet potatoes, or crockpot au gratin potatoes to help you complete your comfort food meal.
Lastly, for this guide, just serve your fried chicken with jalapeno hush puppies and tangy mac and cheese to keep your whole meal on the tangy side.
How Do You Store Sous Vide Fried Chicken Leftovers?
Just get a tightly sealed container and store any leftovers in it.
After that, place it in the fridge. This will allow them to remain fresh for 2–3 days.
How Do I Reheat Fried Chicken?
This is where your air fryer comes in. It is just ideal for reheating fried chicken.
I suggest you reheat your fried chicken at 380 degrees Fahrenheit for around 5 minutes.
However, you can also reheat your meat in the oven at 375 degrees F for 15 minutes.
Frequently Asked Questions
Can I Cook Sous Vide Fried Chicken in an Air Fryer?
Of course, yes. It is very possible for you to use an air fryer to cook sous vide fried chicken.
However, keep in mind that you won't be getting the same delectable crispiness as your fried chicken, but it will definitely be healthier.
How Long Does It Take to Cook Chicken in a Sous Vide Machine?
This is actually determined by the type of cut of meat you are cooking.
In general, white chicken, such as chicken breast, takes 3–4 hours, whereas, on the other hand, dark meat takes between 4 and 6 hours.
Do You Need To Fry The Chicken In Oil After It Comes Out Of The Water Bath?
Yes, this is very important. You are still required to bread and fry the chicken at the end to get that signature crispy fried chicken coating while the sous vide evenly cooks it.
Can You Sous Vide Frozen Chicken Thighs?
The straight answer to the above question is yes; you can cook frozen chicken thighs in the sous vide.
However, you will be adding an extra 45 minutes to the cooking time.
Final Thoughts on Sous Vide Fried Chicken
Another good thing about this recipe is that it is very hard for you to overcook chicken using the sous vide cooking method.
You can even leave them in the water bath for up to 3 hours before they overcook and, in turn, become mushy.
And do not be alarmed, as sous vide chicken can sometimes be pink because of the nature of the long cooking process.
That being said, it is definitely completely cooked and safe for your consumption.
Go ahead with your best recipe for fried chicken sous vide to create the best fried chicken ever.
Crispy and Tender Fried Chicken Sous Vide Recipe
When you combine two of my favorite cooking techniques, sous vide and deep frying, you will never have to worry about a raw center in your fried chicken again.
The chicken is sous-vided and then deep-fried, which will result in a better texture and flavor and make sure that it is completely cooked through.
The interesting thing about this method is the fact that you can use it on any cut of chicken you like, including breasts, wings, and thighs.
Course: Appetizer, Side Dish, Dinner, Snack
Cuisine: American, French
Prep Time: 5 minutes
Cook Time: 2 hours, 5 minutes
Total Time: 2 hours and 10 minutes
Servings: 6 servings